Learn from the past, plan for the future
With challenge comes opportunity and, here at nbn, 2021 has been no exception.
Here at nbn this year has been marked by myriad challenges just as it has for every other company, regardless of industry or size. I am proud to say that our people have risen to every challenge presented, and our unique purpose and resolve has remained clear.
Off the back of an also-tough 2020, it's fair to say there is a collective exhaustion across the country from COVID-19 restrictions and the natural disasters that have really tested the resilience of our communities.
In response, I believe that nbn has stood tall, playing a vital role in keeping people connected.
As we know, it was through access to fast and secure broadband via services delivered over the nbn™ network that countless families could ensure the continuity of their children's education online.
That same access enabled much of the adult population to work remotely.
It was also a key enabler that helped family and friends remain connected to each other in a world turned on its head.
With broadband connectivity never more important, I am proud to say the total number of connected Australian homes and businesses is now more than 8.3 million. While continuing to support the immediate digital needs of the nation, nbn remains determined to also deliver for the future.
A major part of this commitment are our efforts to push fibre deeper into communities.
Under our $4.5 billion network upgrade program, this year we announced the location details of more than 1.6 million premises in suburbs and towns across the nation currently served by Fibre to the Node (FTTN) to become eligible for Fibre to the Premises (FTTP) upgrades on demand.
Expanding our fibre footprint in this way will help make the highest nbn™ speed tiers available to 75 per cent of the Fixed Line network by the end of 2023, ensuring our nation's digital backbone stays ahead of the pace of growing digital demands.
The past year also saw nbn underline the importance of providing access to business-grade broadband services by significantly expanding the network of nbn™ Business Fibre Zones across Australia, which are designed to deliver business-grade fibre access to eligible businesses on request* with no charge for the design and construction of FTTP when ordering a business nbn™ Enterprise Ethernet service.
In 2021, we invested to increase the number of Business Fibre Zones by 44 and added 11 more through co-investment with the Victorian Government to bring our total to 295. By ensuring more than 850,000 locations have access to these services, nbn is handing over the digital keys to help them unlock the door to innovation, growth and success.

Our commitment to sustainability
Recently, nbn published its 2021 Sustainability Report, which included the company's Towards-Zero Carbon Ambition and announced membership of RE100 – an initiative comprising 340 of the world's largest businesses committed to the use of 100% renewable electricity.
Our Towards-Zero Carbon Ambition, supported by an evidence-based emission reduction program to get us there, is part of our commitment to being an environmentally sustainable business.
We truly understand that our role in enabling Australia's digital future also means being a company that delivers social, economic and environmental benefits for our customers, communities and country.

Amongst other initiatives, this year
nbn
also participated in the
ABCN Laptops4Learning initiative
by donating refurbished laptops where they are needed, and our employees continued to donate and raise funds for charities of their choice through our internal
nbn
™ Giving program.
Shining a light on bright ideas
Our commitment to lift the digital capability of Australia extends to helping foster innovation through broadband-enabled bright ideas that have the potential to improve people's lives.
Our inaugural Innovate with nbn™ Grants program did just that, awarding $10,000 grants to seven diverse winners determined to make a difference across the categories of Agriculture, Arts, Education, Health, Indigenous Business, Tourism, and Women in Regional Business. Plus, a further $25,000 grant was awarded to the overall champion.
With applications having recently closed for this year's program, I look forward to seeing what other game-changing solutions nbn can help bring to life.
Nathan Johnston (left), Innovate with nbn™ Grants Program Arts category winner, and nbn's Tom O'Dea (right).
Standing shoulder to shoulder with our communities
Natural disasters are part and parcel of life in Australia and 2021 proved no different.
From the devastating New South Wales floods and Tropical Cyclone Seroja, which struck Western Australia in April, to destructive winds that tore through Melbourne's Dandenong Ranges, nbn worked tirelessly to keep residents informed and connected.
Whether it was deploying our portable Temporary Network Infrastructure to maintain services while we repaired damaged infrastructure or providing generators and emergency Wi-Fi connectivity for affected residents via our satellite-equipped Road Muster Trucks, nbn was proud to be on the front line working alongside other providers and emergency services for impacted communities.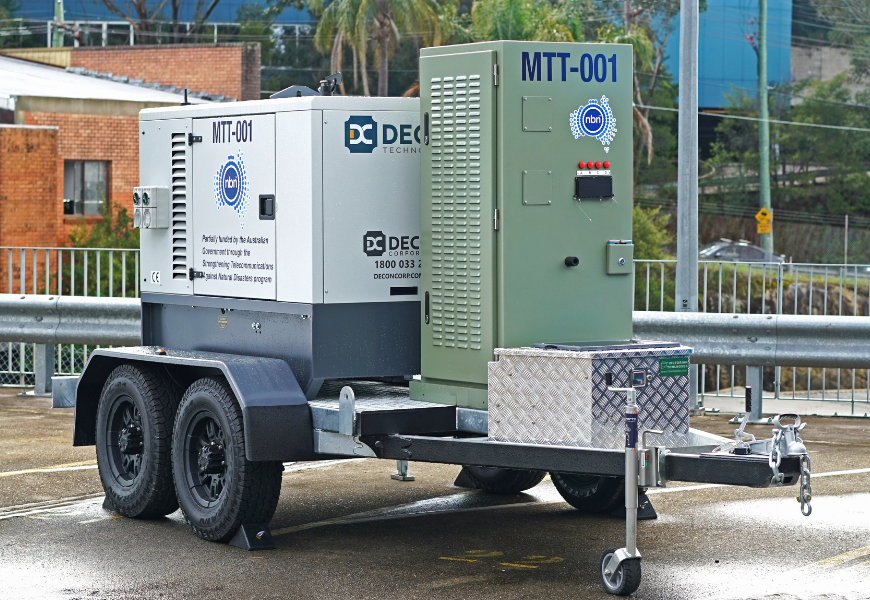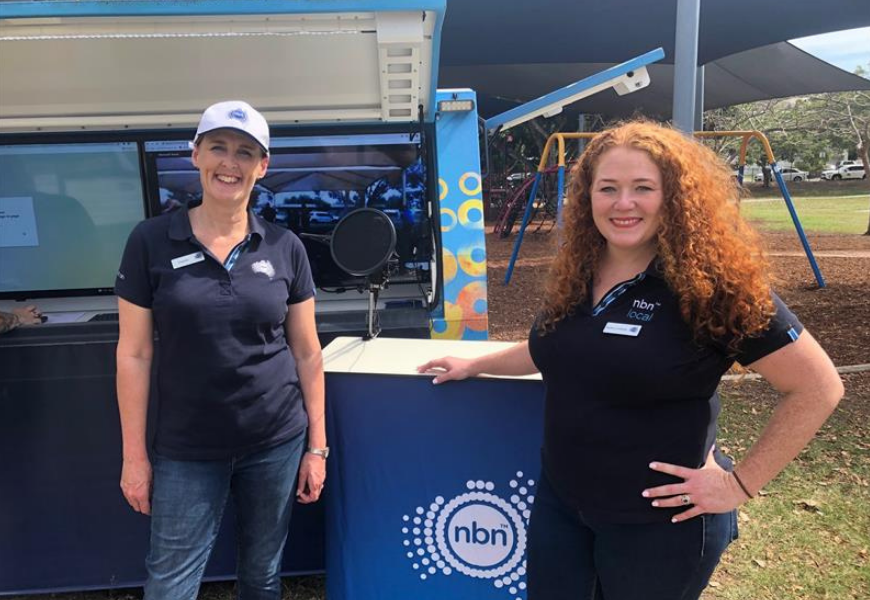 These achievements are only a fraction of the work carried out by nbn on behalf of the community.
What they do convey, however, are the many and varied ways this organisation touches the lives of Australians.
While we all hope 2022 will be a much better year, the coming 12 months will no doubt contain new challenges – and opportunities.
As the evolving digital backbone of the nation, nbn will proudly continue to support the connectivity needs of Australians in the year ahead and beyond.
I wish you a very safe and happy holiday season.
* business nbn™ Enterprise Ethernet is only available in the nbn™ Fixed Line network footprint and at limited premises served by the nbn™ Fixed Wireless and Satellite networks. Costs may apply; customers should contact their preferred service provider to ask about availability and any fees and charges that may be applicable.