Keeping a finger on the nbn™ network pulse
Discover how nbn's Network Management Centre team plays a vital role around the clock in helping to keep customers connected in times of natural disaster.
nbn's Network Management Centre (NMC) is the beating heart of Australia's digital backbone.
Located in Melbourne, it's from here that a dedicated team of specialists monitor the health of the nbn™ network – 24 hours a day, seven days a week.
If there's a service disruption and customers are disconnected from the nbn™ network, the team will know about it in real-time, investigate further and act accordingly to help get things back on track.
Characterised by huge wall-mounted screens displaying a wealth of data ranging from TV news feeds to satellite weather imagery, network technology maps and real-time status updates, NMC Duty Manager David Blott likens his work environment to NASA's Mission Control.
"It's like a pictorial representation of the nbn™ network at that particular time. There's a lot going on.
"It indicates the current status of our network and alerts us quickly to new issues as they arise."
David Blott, NMC Duty Manager at nbn
David joined nbn in early 2016 with ten years of Major Incident Management experience already under his belt, liaising with emergency management teams at organisations including Telstra, the Victorian Department of Justice, ANZ, and National Australia Bank.
"For five years now I've been working across emergency preparedness, response and recovery. The response component has me filling various roles in the Emergency Management Team during emergencies. Outside of emergency events, I'm focused on developing and running training and exercises; ensuring nbn staff are trained and ready to jump into their EMT roles; and ensuring we're learning from each emergency event and improving all the time."

Fiona McGrath, Network Emergency Management Lead at nbn
Responding to natural disaster
The NMC's role in monitoring the status of the nbn™ network around the clock makes it a vitally important part of nbn's response to the impact of natural disasters.
Events ranging from the 2019/2020 bushfires, which ravaged the eastern seaboard, to severe storms that left a trail of destruction through Melbourne's Dandenong Ranges, Tropical Cyclone Seroja in Western Australia, and the devastating New South Wales floods have ensured the NMC team has been in the thick of it over the past 24 months.
From managing the torrent of incoming emails and phone calls during an emergency, to briefing senior managers, and liaising with field staff and frontline emergency services, it's an operating environment that David says can be highly challenging and demanding for all involved.
"You do have to have eyes in the back of your head.
"But, you've just got to stay focused and calm because people are looking to you to get the job done."
nbn responding during a natural distaster.
Despite largely having to work from home during the COVID-19 pandemic, the NMC team has still managed to perform its vital function effectively, connecting with fellow team members remotely.
"While working from home has been a little challenging, we actually haven't missed a beat," says David.
"I'm very proud of the work that our NMC does in the lead up and response to emergency events. Personally living in an area having one of the highest bushfire risks in the world, I'm acutely aware of the reliance the community has on our network to help enable them to be informed and receive emergency warnings and community information. It can quite literally be life and death decisions that people need to make."
Phil Astle, General Manager, Network Management Centre at nbn
During a natural disaster, David and his colleagues manning the NMC work closely with nbn's Emergency Management Team (EMT), which carries out detailed planning around being as prepared as possible to deal with the impact of events such as cyclones, bushfire, flood and storms on the nbn™ network.
The process also helps inform decisions, such as when and where to deploy any of nbn's mobile Temporary Network Infrastructure (TNI) assets, designed to help restore customer services to disrupted parts of the nbn™ network.
"It's all to do with trying to recover the nbn™ network as quickly as possible to restore services to our customers," says David.
"We provide input into the EMT as to the current status of the network impact and assist with the deployment of resources when safe to do so."
NMC team members typically work 12-hour rotating shifts covering a 24-hour period.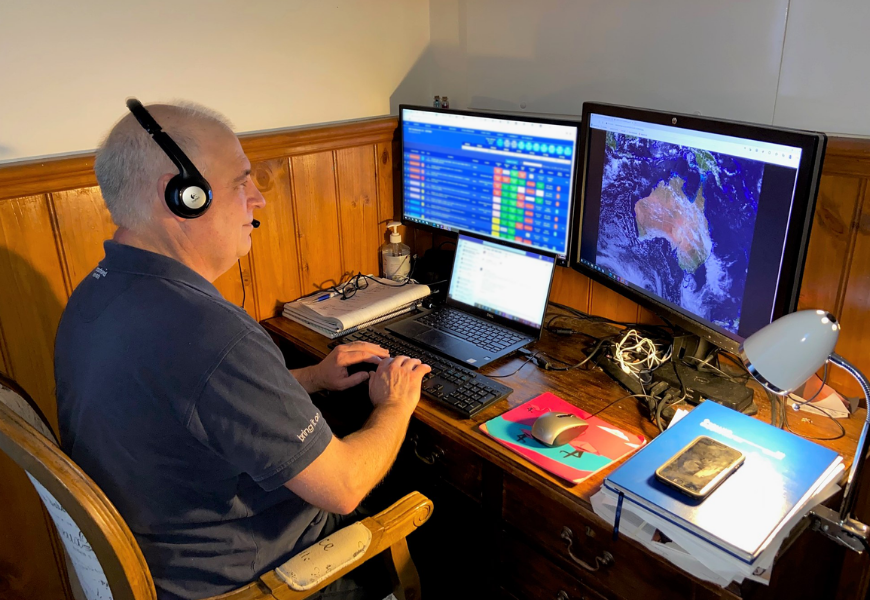 David Blott working from home.
Each new shift begins with a handover huddle where operational updates are passed onto the fresh team on any network incidents and other developments from the preceding shift, ensuring continuity is maintained.
In the event of a major emergency, one Duty Shift Manager such as David will closely work with the EMT, while a second continues to keep an eye on the rest of the nbn™ network and manage any issues.
No matter how much planning and preparedness is involved, David says you never know what to expect.
"We work in the grey. You never know what kind of a day or night you're going to have."
"In times of crisis, that's when people need to be able to remain connected the most. It's critical that nbn is prepared to ensure our network either remains operational or that services are restored as soon as possible during emergency events. Disaster impacted communities need access to public information and warnings to ensure that they can make informed decisions."

Cameron Scott, National Emergency Manager at nbn
Tips to staying connected in an emergency
An emergency communications kit can help you to stay connected in a power outage, or if there is a disruption to services over the nbn™ network.
Any equipment connected to services over the nbn™ network will not work during a power outage.