Innovation key to Emergency Management fleet
Diverse mobile Temporary Network Infrastructure is helping nbn maintain network resilience and keep customers connected during times of natural disaster.
The Australian continent is one of extremes; often at the mercy of fire, cyclones and flooding rains.
Our susceptibility to natural disasters makes it even more important to maintain digital connectivity in these times.
Fortunately, as the digital backbone of the nation, nbn is well-prepared when it comes to portable technology solutions to do just that.
Known as Temporary Network Infrastructure (TNI), these innovative and various pieces of equipment have been developed in-house at nbn and pre-positioned across Australia, each playing an important role in helping to keep customers connected when disaster strikes.
Temporary Network Infrastructure
Cameron Scott, Network Emergency Manager at nbn, says temporary network equipment can be rapidly deployed to support communities during the relief and recovery phases of emergency management.
Cameron Scott, Network Emergency Manager at nbn
"Temporary Network Infrastructure allows nbn to quickly restore services to customers when a network site is badly damaged or destroyed.
"This kind of equipment replicates the site that was destroyed and can remain there until we have built a permanent replacement.
"So, instead of a customer having to wait until we repair or rebuild, they can get their service back quickly and we can do the repairs we need with our customers still connected."
Network on Wheels (NoW) and Wireless on Wheels (WoW)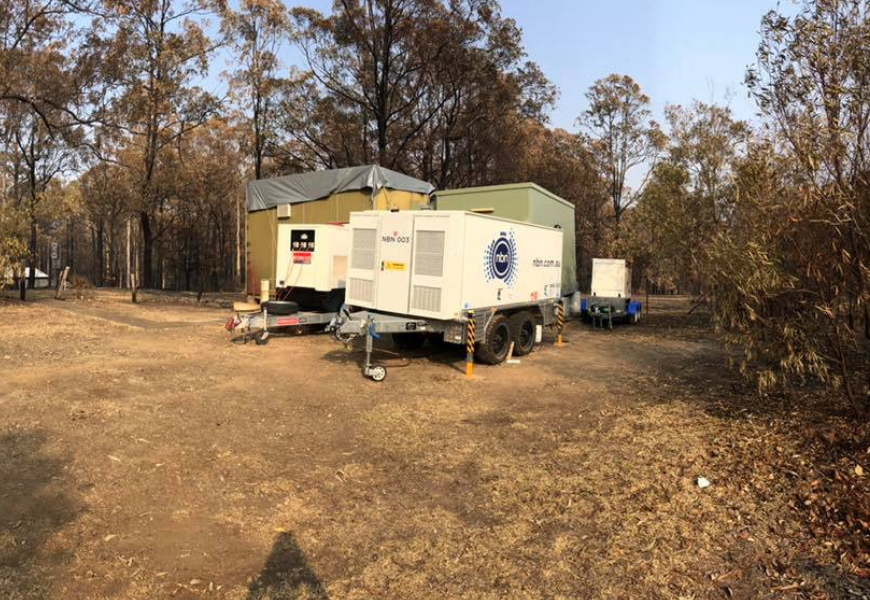 Network on Wheels (NoW) deployed at Diamond Beach, New South Wales
What is it? A versatile, enclosed trailer that contains rack space, cooling, power systems, fibre distribution and devices for a small network exchange that can be towed to where it's needed.
Depending on the configuration, it can be quickly deployed to plug a gap in a section of damaged Fixed Wireless or fixed line technology.
When would it be used? A Network on Wheels trailer was successfully deployed at an exchange site damaged during the 2019/2020 bushfires at Diamond Beach in New South Wales (NSW), remaining on site and keeping residents connected for six months while network repairs were carried out.
Point of Interconnect on Wheels (PoW)
What is it? A semi-trailer sized, towed vehicle designed to mirror one of nbn's 121 Points of Interconnect (POI) across the nation – used by internet retailers to access the nbn™ wholesale broadband network.
When would it be used? To temporarily restore services lost due to an outage caused by damage to an exchange that impacted a POI, resulting in a loss of connectivity for customers.
What is it? A portable trailer with an extendable 18-metre-high mast designed to replicate the equipment on a Fixed Wireless network tower.
When would it be used? For quick and temporary installation of antennas and microwave radios in an emergency event. The Wireless Mast Trailer can also be used to boost wireless access point signals if deployed in conjunction with other capabilities, such as a portable satellite flyaway kit.
What is it? An environmentally friendly, hybrid technology power generation unit combining solar panels, battery, and a compact diesel generator. Designed in collaboration with nbn delivery partner Decon Technologies, it provides solar power to Fixed Wireless hub sites during the day and, for power resilience, relies on excess battery and grid power at night.
Jointly funded by the Commonwealth Strengthening Telecommunications Against Natural Disasters (STAND) program, a total of 40 Hybrid Power Cubes are currently being pre-positioned at Fixed Wireless network sites around the country.
When would it be used? Primarily to enable nbn™ Fixed Wireless facilities to operate for up to six months without a power grid connection.
What is it? A highly versatile, towable enclosed trailer designed for rapid deployment to quickly restore connectivity and power to damaged parts of the Hybrid Fibre Coaxial, Fixed Wireless and Fibre to the Node (FTTN) network.
When would it be used? A prototype Multi Tech Trailer was used to restore FTTN services disrupted during the NSW floods at Bulahdelah in February this year, reducing the time customers were without connectivity from weeks to hours while repairs were carried out.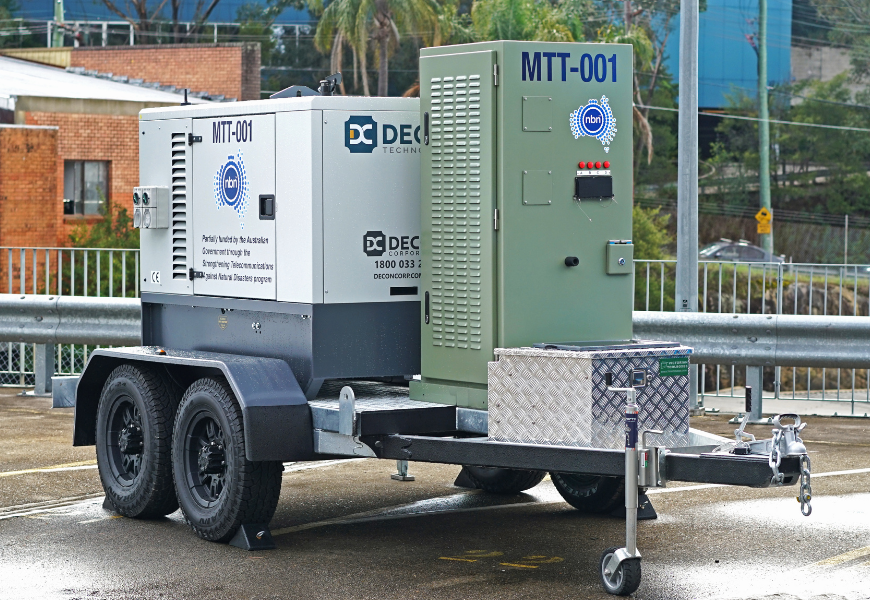 Emergency Response Vehicle
What is it? An expandable, semi-trailer sized mobile command centre.
Designed to be as self-sufficient as possible, the Emergency Response Vehicle (ERV) is packed with equipment ranging from multiple internal and external facing digital screens, kitchen facilities, office workspaces, video conferencing facilities, power generator and nbn™ Sky Muster™ satellite internet connectivity.
When would it be used? Deployed into areas affected by disaster, such as bushfires or floods, where nbn expects a prolonged field response and recovery activities to support its field workforce, along with delivery partners and emergency services on the ground.
nbn's commitment to innovation
Cameron says the diverse array of portable assets has been designed to suit the specific requirements of maintaining the nation's digital backbone in times of natural disaster.
"Most of our Temporary Network Infrastructure has been designed in-house specifically for the requirements of our network.
"We have had a real commitment to innovation, and that is now seeing some great solutions being produced that lead to really good capability to respond to disasters."
Cameron says there's a range of criteria for deploying the TNI, ranging from the type of technology impacted through to safe access to the site.
"We have had a real commitment to innovation, and that is now seeing some great solutions being produced that lead to really good capability to respond to disasters."
"Firstly, we are looking to understand what the impact has been to our network equipment.
"Often, it is then a case of quickly determining whether we need a TNI solution or can quickly repair the damaged asset. Once we decide to deploy, we need to prepare the site for TNI and configure it to replicate the destroyed site."
While COVID-19 travel restrictions continue to pose challenges, Cameron says pre-positioning nbn's portable TNI assets across the country allows nbn to react quickly when needed.
"Fortunately, it is easier to move equipment than people during COVID-19. We have equipment deployed around the country, with people trained in its operation.
"In an emergency situation, we can still support our field teams virtually where we need to."
Tips to staying connected in an emergency
An emergency communications kit can help you to stay connected in a power outage, or if there is a disruption to services over the nbn™ network.
Any equipment connected to services over the nbn™ network will not work during a power outage.