Students benefiting from pre-loved laptops
Committed to helping young Australians reap the benefits that fast broadband can unlock, nbn recently participated in the ABCN Laptops4Learning initiative.

This targeted program helps nbn support students and schools in a tangible way by donating refurbished laptops where they are needed due to affordability, and usually to those located in regional Australia.

Driving accessibility of fast broadband across the nation is important to nbn as it helps foster social, economic and industry innovation.
Clearly, the COVID-19 pandemic has changed the way we all live, especially families with school-age children.

When social distancing restrictions were introduced last year, in many cases, the traditional classroom was replaced with online learning.
Students logged into virtual lessons from home while their parents did their best to make sure they followed a daily schedule and weren't falling behind (all while juggling their own home and work responsibilities).
Combined with a lift in the overall reliance on broadband, online learning brought on a marked increase in digital participation.
Of course, to successfully learn from home, students need access to the right technology – and that's where refurbished laptops from companies, including nbn, can come in.
Digital inclusivity for all students
A student from Dandenong High School with one of the refurbished laptops
According to the Australian Business and Community Network (ABCN), around 20 per cent of students are disadvantaged because they do not have the devices they need to learn remotely.
One reason for this is they are not in a financial position to buy them.
So, to help students have equal opportunity to learn in a digital world regardless of their socio-economic circumstances, nbn recently participated in the ABCN Laptops4Learning initiative.
Working with ABCN and WorkVentures, which supports social inclusion through technology, our nbn™ Local and Segments teams identified schools where students in these circumstances could be supported by providing them with refurbished laptops.
The ABCN schools network includes those whose Index of Community Socio-Educational Advantage (ICSEA)* score is below 1000.
"A huge thank you for organising the distribution of these laptops. The students at Broken Hill School of the Air and I can both see the benefits of having these extra laptops at our school."
State Councillor, ICPA NSW
The digital tools to learn from home
Based on the ABCN's recommendations, 215 refurbished laptops from nbn were distributed to ten public schools in greater Melbourne and five schools in regional areas including Katherine (NT), Yeppoon (QLD), Wee Waa (NSW), Wonthaggi (VIC) and Nubeena (TAS).
This is in addition to 190 laptops distributed to students at six public schools across New South Wales, Western Australia and South Australia earlier this year. These schools placed in the lower 45 per cent of ICSEA scores, and most identified as needing immediate support due to Melbourne's lockdown measures.
Sharon Oldfield, Principal at Katherine High School, with Tianee Dohnt, nbn™ Community Engagement Manager NT
And to further our support of regional students, nbn engaged with the Isolated Children's Parents' Association (ICPA) to provide 105 laptops to School of the Air and Distance Education students in Katherine and Alice Springs in the Northern Territory, and across NSW, including Mungindi Community Preschool.
Having reliable technology and equipment is what helps connect these children to their education, social interactions and the ability to compete on a level playing field.
Some of them live more than 300 kilometres from their school and the nearest service centre – so, if equipment breaks down, they simply cannot participate in online classes.
Now, thanks to joint efforts between these organisations and nbn, more than 500 students have been equipped with refurbished laptops enabling them to connect with their teachers and classmates as they progress their education.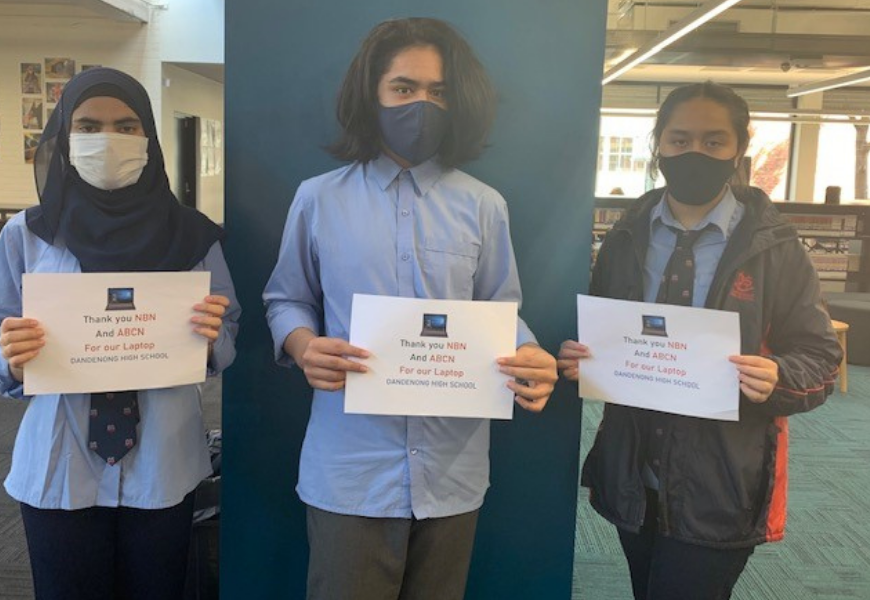 Students from Dandenong High School in Victoria
"Thank you, this is very exciting for our rural and remote children and those children in multistage classrooms sharing one computer."
ICPA Communications Lead for NSW
Lisa Boughton, Director and Teacher at Mungindi Community Preschool, says the laptops have been used in their technology corner for students to experience using computers, and encourage hand-eye coordination and fine motor skills.
"We also use them for a range of purposes, such as literacy games, learning our colours and practicing our numbers. We use them to practice our listening and concentration skills, and learning social skills to take it in turns.
"We have also been able to research as a group to find out more information on children's interests, such as frogs and volcanos," says Lisa.
And the kindy students are rapt!
Thanks to the refurbished laptop, Charlie says he can find all the colours, Henry likes to "draw pictures with my finger" and Izaiah says, "I can listen to stories".
Meanwhile, Maddie says, "I'm like my Mum at work".
A student uses one of the refurbished laptops at Mungindi Community Preschool
Participating in this worthy initiative wouldn't have been possible without the determination and commitment of our people, who have forged great relationships with ABCN and the ICPA, and who are looking to build upon this collaboration in the future.
It's another example of our deep commitment to lifting Australia's digital capability – this time, one refurbished laptop at a time.
Laptops donated by nbn have reached their 'end of use' when their performance is not able to support the workplace needs and are required to be refreshed.
WorkVentures tests the devices and refurbishes only those in suitable condition to be used for longer periods by students, with all other devices disposed of responsibly through recycling.
* ICSEA is a scale that provides a fair and reasonable comparison among schools with similar students and an indication of their socio-economic backgrounds.