Australia's furthest town from the sea: Eromanga
From the world-famous to the almost unknown, and little moments through to big events, we explore what puts nbn™ ready-to-connect towns, suburbs and cities on the map…
When you live on an island, being the furthest spot from the sea is usually not much of a claim to fame.
Take the world's smallest inhabited island, for example.
Located between New York and Canada, and appropriately named 'Just Room Enough Island', there's just room enough for one house and one tree. Oh, and a tiny stretch of sand where 'stretch' is, well, a bit of a stretch.
Living – or visiting – somewhere like this, there's really no getting away from the water.
But what about when the 'island' in question is the world's sixth largest country?
Spanning more than seven million square kilometres, here in Australia, being the furthest town from the sea is a much greater feat.
Just ask the locals at Eromanga in outback Queensland.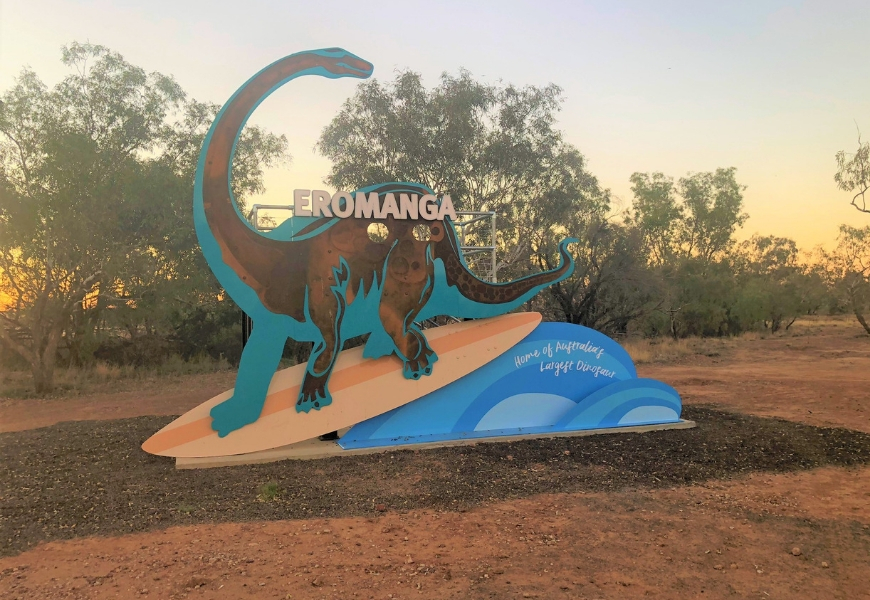 Eromanga – Australia's furthest town from the sea – is now ready to connect to the nbn™ broadband access network.
Did you know: according to Connecting Australia research commissioned by NBN Co, up to 15,520 additional businesses are predicted for Queensland by 2021, with help from services over the nbn™ access network.
Check your address to see when you can connect.
Address
Enter an address and select from the dropdown options
Welcome to Eromanga-saurus
To stick a pin in a map of Australia to mark the town of Eromanga, start at Brisbane, then trace your way out west towards the Queensland-South Australian border.
Want to drive that same distance? Then, buckle up and settle in.
A road trip away from the state's capital (and the ocean) to the town that just 45 people call home, will clock up more than 1,000 kilometres and about 12 hours behind the wheel.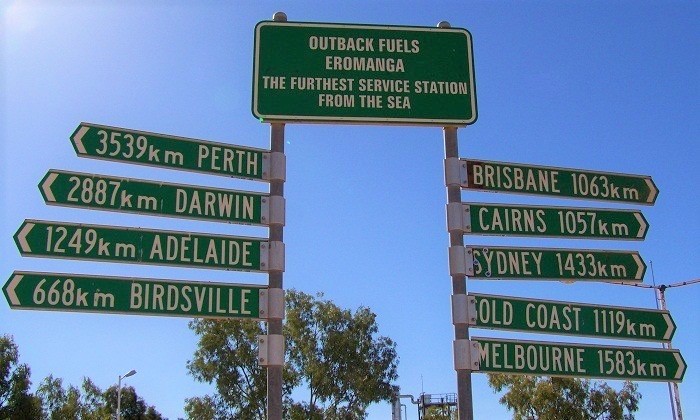 To put it in perspective, that's about the same distance from east coast to west of the world's largest island: Greenland.
Yet, you'll soon find, it's well-worth the effort. Especially if you're a fan of dinosaurs.
No bones about it, what Eromanga may lack in population density, it sure makes up in the natural history stakes.
It's home to the largest dinosaurs found to date in Australia – including Cooper and George – who lived in the region approximately 95 to 98 million years ago.
Hailing from the mid-Cretaceous Period, the pair are Titanosaur Sauropods boasting an estimated body length of between 24 and 26 metres.
Even the dinosaurs are keen to get connected. This one was spotted at one of our Road Muster trucks parked in town.
Three things to do in Eromanga
While it may look like a humble tin shed, it's what on the inside of the Eromanga Natural History Museum that really counts. Here, you'll discover all things dinosaur – specifically the Eromanga Titanosaurs first discovered in the region in 2004. Just some of the dino-mite offerings include: the
Australian Dinosaur Giants Tour
, where you can touch a 95-million-year-old dinosaur bone; the
Fossil Preparation Program
, where you can learn how to prepare (real) dinosaur and megafauna fossils; and
Digging Up Dinosaurs
, where you can venture further afield to dig up actual, real-life dinosaurs with the museum's expert team.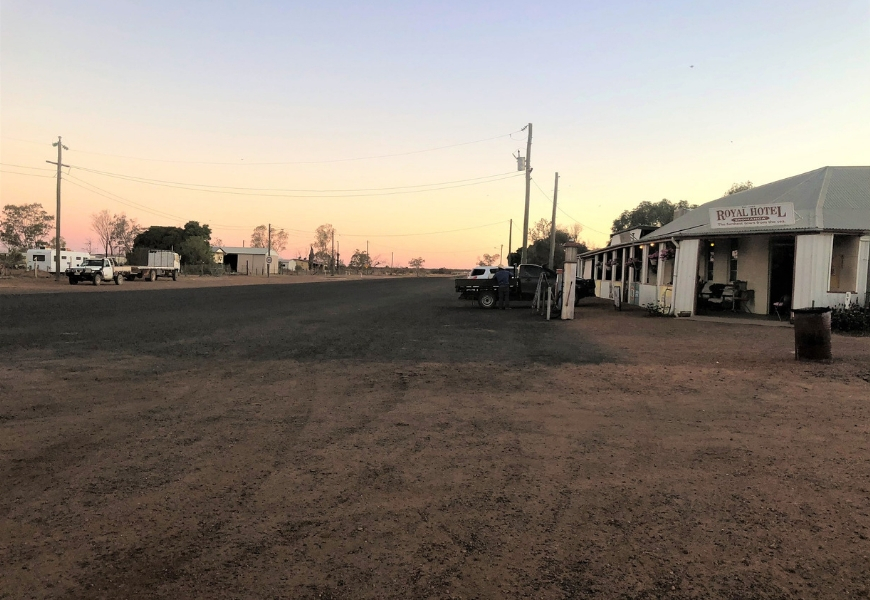 Collect the key here, then head to the Eromanga Living History Centre on Deacon Street.
How often do you come across a tourist attraction where you let yourself in for the free self-guided tour? Once you've collected the key from the Royal Hotel down the road, step back in time at the Eromanga Living History Centre. Pore over the collection of period items donated by locals to discover what life was once like in the region, including for Country Women's Association members during the 1900s. You'll find the centre, which also includes info on the area's dino history, in Opalopolis Park.
There's even more dinosaur action on offer – and an impressive art fix – at Knot-A-Saurus Park. Located on the south side of town, here you'll encounter a Sauropod and her two dino-kids cleverly made from 100-metre lengths of twisted aluminium. Commissioned by the Queensland government in 2014, the surrounding park also features a Chinese garden heritage site, a Chinese well from the 1900s, and a table and shaded area perfect for a picnic-a-saurus.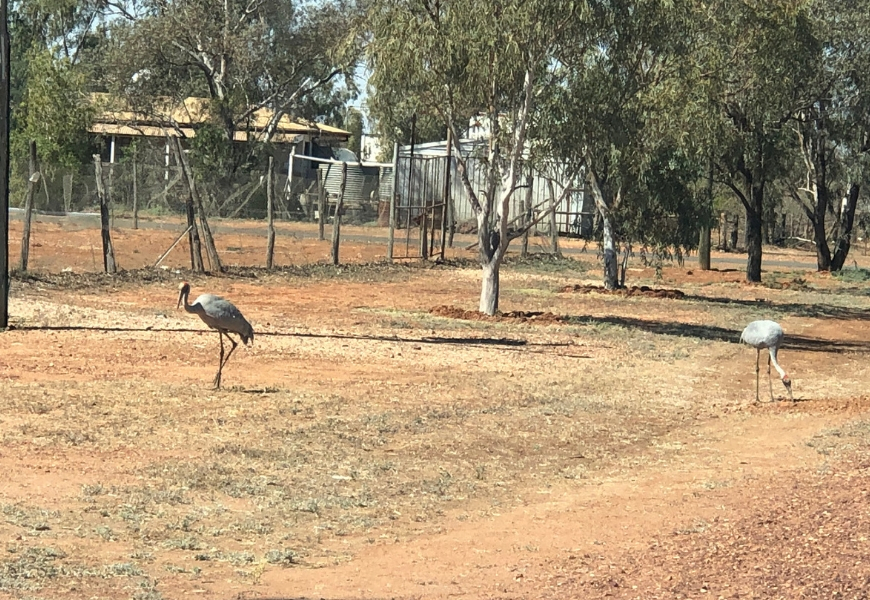 It's not just dinosaurs that like Eromanga, but birds too, like these brolgas.
The region according to nbn™ local's Damon
With only a small number of people living in town, nbn™ local Manager for Southern Queensland Damon Cavalchini explains, most of the population lives on surrounding properties and relies on services like the nbn™ Sky Muster™ satellite service, or mobile data, for connectivity.
"Sky Muster™ is revolutionising outback communication," says Damon.
"With access to speeds and data not previously available – especially with our new Sky Muster™ Plus service – nbn is not just about internet but also about providing key services, like Wi-Fi calling, which means being able to stay in touch with neighbours, friends and family.
"We recently visited Eromanga as part of a coordinated Drought Community Outreach program and heard first-hand stories of how local stations were being helped by access and connectivity, thanks to our Sky Muster™ satellite services.
"Whenever I visit these communities, I'm reminded of the stark beauty of the land, the amazing resilience of its people, and the natural wonders of history never far from mind.
Damon Cavalchini, nbn™ local Manager for Southern Queensland.
"If you're in town, take the time to visit the Living History Museum (key available from the hotel up the road), explore the Natural History Museum, help dig for dinosaur bones, or dodge echidnas as you drive along the road."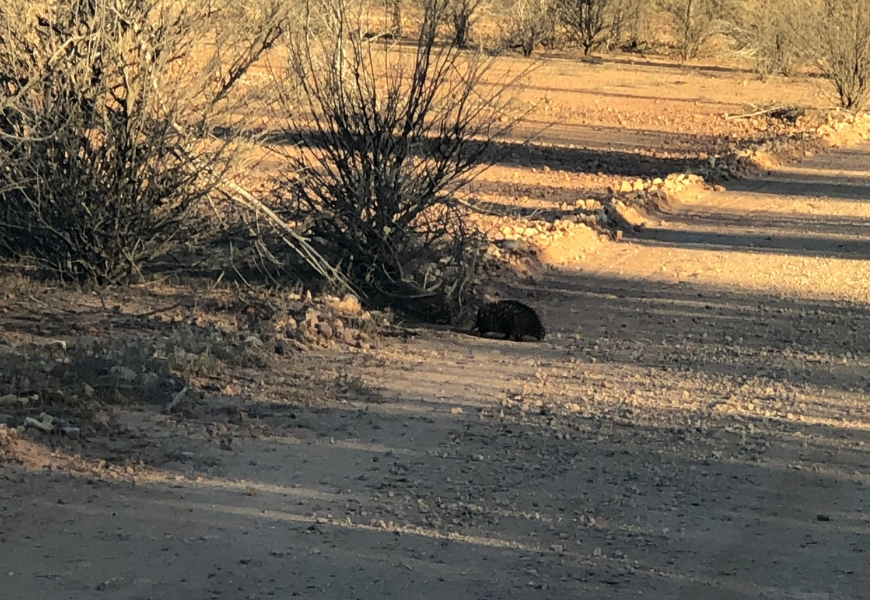 Echidna: successfully dodged by nbn™ local Manager for Southern Queensland, Damon Cavalchini.
Images by Damon Cavalchini, unless otherwise stated.