Treasured islands: connecting Moreton Bay Islands
Queensland's Moreton Bay Islands are now connected to the nbn™ network after a hard – but rewarding – effort.
The region is a playground for migrating whales, as well as boating, fishing, diving and swimming enthusiasts. It's a popular holiday spot and one of the final areas to be connected to the nbn™ network in Queensland.
"The Moreton Bay Islands represent a significant piece in the puzzle for us," says Bruce McDonald, nbn's acting General Manager – Network Deployment in Queensland about the nbn™ network's volume build in Queensland.
"It probably represents some of the most complex build we've done in the entire program [in Queensland]."
Across the five islands, the team would work to connect approximately 9,000 premises to the nbn™ network.
"Some of the areas of new build, for instance, where we've had to install new conduit, is the most significant we've built in any area in the whole state to date."

Delivery partner Visionstream knows firsthand about the build's complex nature and the unique solutions needed to overcome it.
"The original brief delivered to Visionstream called for the widespread use of sea trenching across this region," says Andrew Desmarchelier, Senior Project Manager at Visionstream.
"In our consideration of this project, and of the critical nature of the marine park reserve, we thought there needed to be a better solution. In conjunction with our friends at nbn, we designed and constructed a number of deep-sea horizontal directional drilling (HDD) crossings."
Rolling out the nbn™ network in the Moreton Bay Islands
Declared a marine park in 1993, the Moreton Bay Marine Park spans 3,400 square kilometres, stretching from Caloundra down to the Gold Coast.
Among the habitats it protects are internationally significant wetlands, coral reefs and seagrass meadows, important to seasonal visitors (like marine turtles) and home to resident species (like dugongs).
"In effect, what we did was, we took massive HDD infrastructure and we constructed new conduits that were running deep within the seafloor at depths of up to 50 metres below sea level, at distances up to and well over a kilometre in length, which meant we were able to stay well-clear of the marine park reserve and provide a world-class asset to our client."
But, wait, there's More-ton…
Environmental considerations were only the start – transportation also required precision planning.
"To construct a network of this size, logistically, you needed to move hundreds of staff and contractors on a daily basis and literally hundreds of thousands of tonnes of plant equipment – often at short notice between islands. So, you are relying on barges and ferries and the infrastructure to support that."
And while, fortunately, the COVID-19 pandemic-related travel restrictions only impacted the final part of the build, there were plenty of other important factors to consider before that.
The Moreton Bay region has a very rich cultural heritage for its First Peoples and nbn worked very closely with the Quandamooka Yoolooburabee Aboriginal Corporation (QYAC), who represent the local custodians, the Quandamooka People.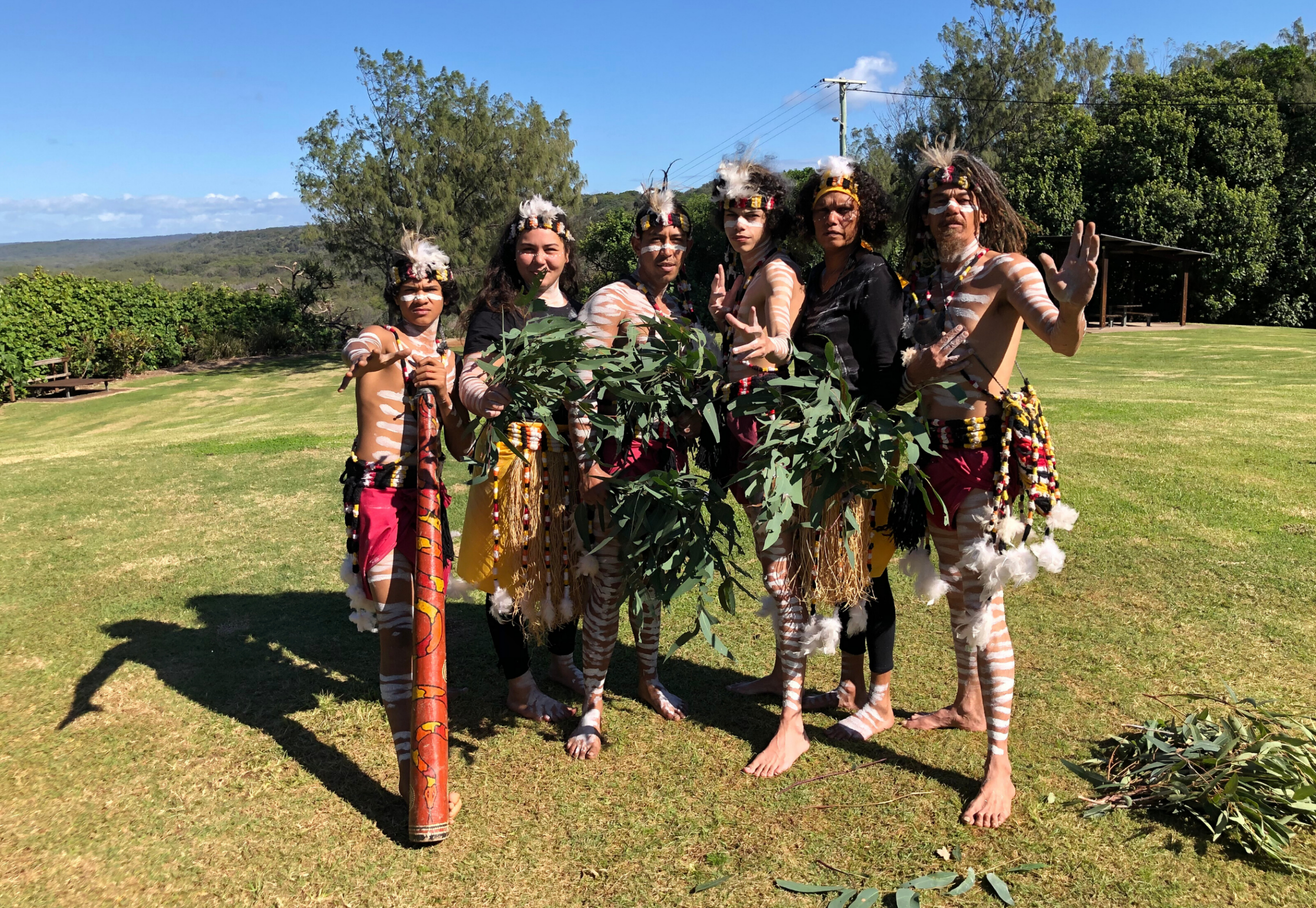 Prior to construction starting in October 2019, nbn and Visionstream participated in a smoking ceremony on North Stradbroke Island (Minjerribah) to pay their respects to Elders past and present.
The relationship continued well into the build.
During construction, says Andrew, the teams worked hand-in-hand with the QYAC provided spotters out in the field to ensure that any sites with cultural significance were identified, managed and treated accordingly.
"None of this would have been possible without the positive engagement with the [QYAC]," says Andrew.
The islands of Moreton Bay also have a plethora of flora and fauna.
Koalas, kangaroos and a variety of rare and threatened marine and terrestrial species all call 'Straddie' home.
A kangaroo and its joey on North Stradbroke Island
"One of the challenges of building over this sort of scale is driving Visionstream's very stringent environmental practices," says Andrew.
"We needed to ensure we have a very small impact environmentally, and maintain a very small footprint – and we were able to do that through a number of means."
This included mandating the widespread use of recycling equipment, and that any liquid or solid waste generated throughout the construction program was removed from the islands.
"We spent an enormous amount of time and effort ensuring a very high level of regeneration and restoration on any sites on which we operated," says Andrew.
Connected, treasured islands
The nbn™ network connection not only involved connecting the islands to each other, but also to the existing infrastructure on the mainland.
To do that, Visionstream installed more than 45,000 metres of new conduit (most of that through directional drilling), hauled more than 350,000 metres of cable, constructed more than 30,000 metres of aerial cable, and 3,000 metres of undersea drilling.
With the mammoth job now complete, connectivity is set to change the way these islanders live.
Connectivity offers locals the opportunity for better work/life balance with the scales likely to tip towards the beautiful Moreton Bay lifestyle, eliminating – for some – a twice-daily, 45-minute ferry commute to the mainland.
"When you think about connectivity to high-speed broadband, it is really important to the people on these particular islands," says Bruce.
"I'm enormously proud of the team at nbn for being able to deliver the final part of the puzzle on these islands.
"This has been the closure to an extraordinary project, and the dedication and passion of our team with our delivery partners is something those people can be enormously proud of."
Header image: Macleay Island