Honouring the past on Mannalargenna Day
In Tasmania, where the nbn™ rollout began, we recently attended Mannalargenna Day to honour the memory of the Pairrebeenne people's revered ancestor.
As we traverse this great country in the course of our work – from Cape York to the north, South East Cape to the south, Steep Point to the west and Cape Byron to the east – we follow in the footsteps of the many who have gone before us.
Not in the sense of rolling out an infrastructure network like ours but, rather, in knowing that the lands upon which we gather and work have held special significance to First People for more than 80,000 years.
Committed to reconciliation, as reflected in our First Peoples Initiative and Reconciliation Action Plan, we recently were privileged to attend special celebrations in Tasmania in memory of the Pairrebeenne people's revered ancestor, Mannalargenna.
Born circa 1775 in Trouwunna (meaning heart-shaped homeland), Mannalargenna belonged to the Pairebenna clan and his homeland was Tebrakunna (known as Cape Portland today).
Among his people, he was a revered bungunna (warrior leader), formidable fighter, wise leader and – in his older age – seer (a person with supernatural powers). Throughout the 1820s, Mannalargenna led his warriors in resistance against the British occupation of the island, now known as Tasmania.
In November 1830, Mannalargenna was among the first to agree to place his people under the protection of the Lieutenant Governor for fear they would be shot by soldiers and roving parties commissioned in a military operation known as 'The Black Line'.
Mannalargenna and the first clans were banished to Swan and Flinders Islands and, upon arriving at the latter, Mannalargenna cut off the physical symbol of his role and status – his long-ochred hair and beard. A seemingly final act after losing his connection to country and traditional practice, Mannarlagenna died just a few weeks later.
Today, a memorial to his life journey stands at Musselroe Bay.
A family event held every year, Mannalargenna Day is presented by Melythina Tiakana Warrana Aboriginal Corporation (MTWAC), whose members are direct descendants of northeast Tasmania's Traditional Custodians.
The day honours Mannalargenna by sharing the clan's culture with the community and anyone interested in participating.
We were invited to attend by Aunty Patsy Cameron, who began the day with a Welcome to Country, followed by an opening address from Her Excellency Professor the Honourable Kate Warner AC, Governor of Tasmania.
Held at the Tebrakunna Visitors Centre Little Musselroe Bay, located at the Musselroe Windfarm, Aunty Patsy and Her Excellency spoke of Mannalargenna's courage and love for his people that saw him accept exile to save their lives.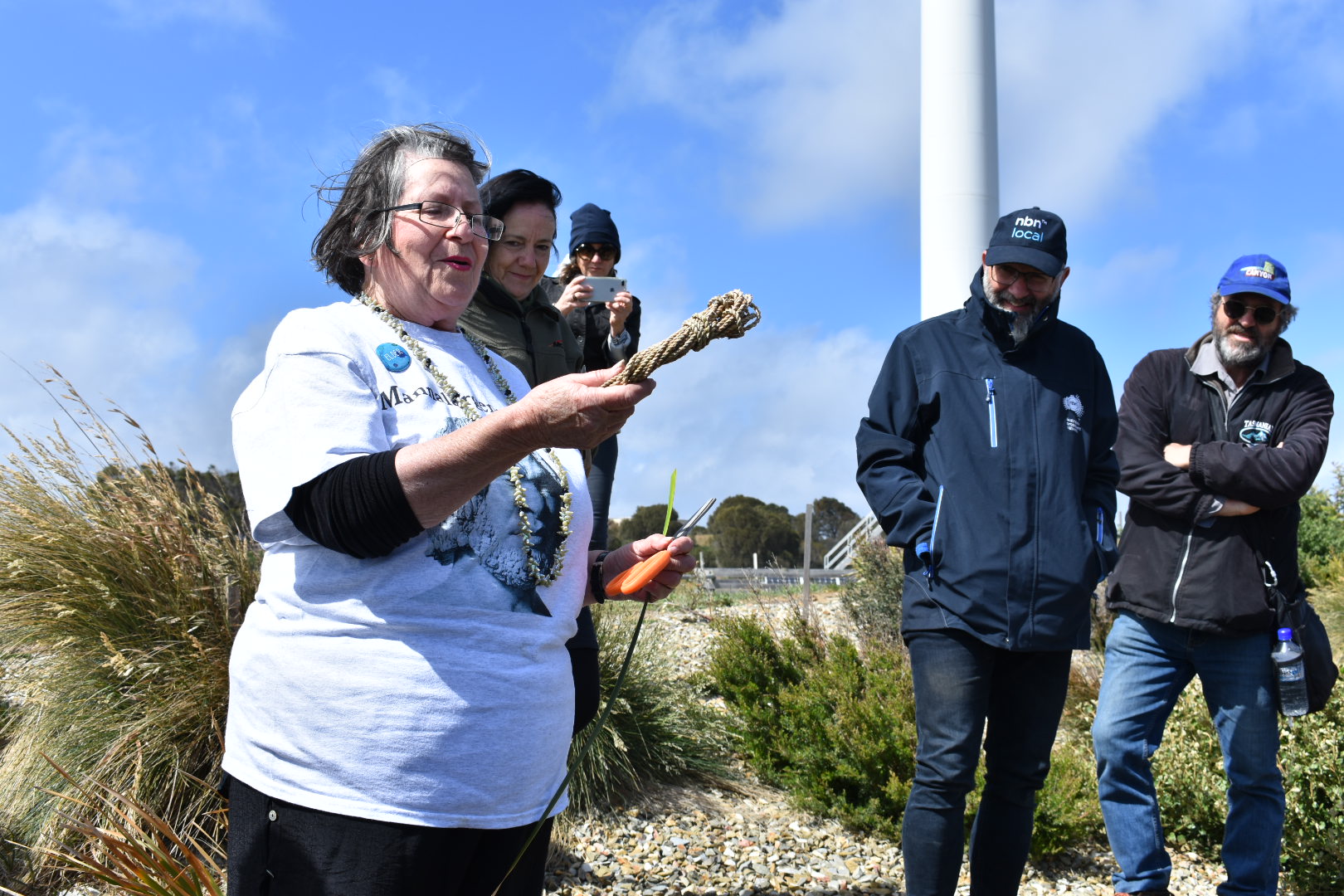 The day was filled with activities for everyone, including spear and music stick making for men ('men's business'), kelp basket, necklace, bracelet and remembrance circle making for women ('women's business'), and digging stick making for all.
There was also an art exhibition and talks about art, singing, dancing and bush tucker walks.
And we were also spoilt when it came to the food.
The Pairebenna clan's cultural food is muttonbird, greenlip abalone (also known as muttonfish), lobster, sea snails and kangaroo. The muttonbird tasted like a gamey fish quail – definitely an acquired taste, while the kangaroo was made into delicious burgers and schnitzels. And for supper, there was kangaroo-tail soup and damper.
Left to right: Russell Kelly, nbn™ local Manager Tasmania; Ryan Watson, Field Resource Planner at NBN Co, member of the Pairrebeenne community and MTWAC; Gavin Williams, Chief Development Officer, Regional and Remote at NBN Co.
Our connection with First People
Not only do we consider ourselves fortunate for the opportunity to help celebrate Mannalargenna Day, we're also thankful for a special gift received more than a year ago.
The Melythina Tiakana Warrana Aboriginal Corporation of the country of Tebrakuna in the region of northeast Tasmania – part of the Tasmanian Regional Aboriginal Communities Alliance, gifted NBN Co with a name to call our First People initiative.
The name was 'Liakukana', which means 'waterfall' or 'water speak' in the language of the Paradareme.
This name is especially significant to us as an organisation given the nbn™ broadband access network's rollout began in Tasmania.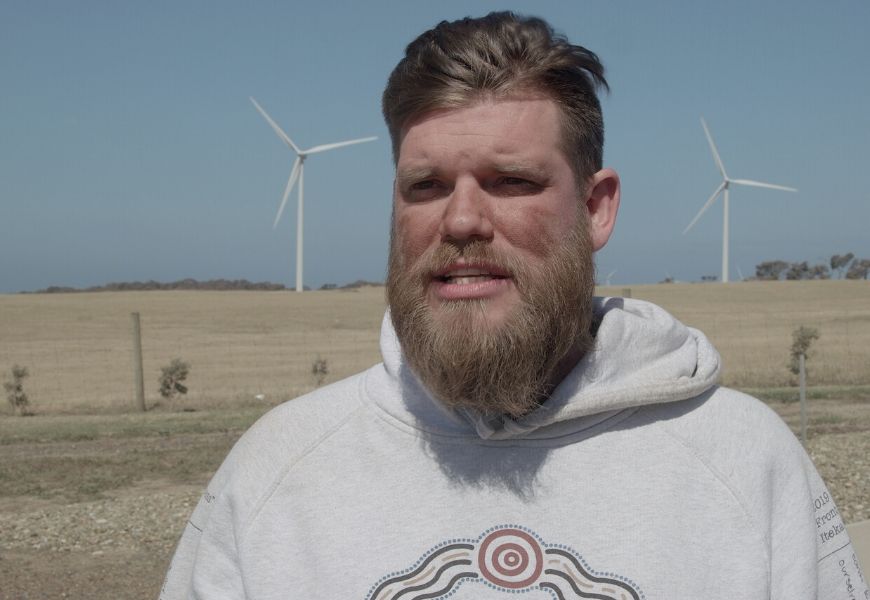 Ryan Watson, Field Resource Planner at NBN Co, and member of the Pairrebeenne community and MTWAC
It was the beginning of the ripple effect that the nbn™ access network has had – and continues to have – on connectivity, education, health and the prospects of communities Australia-wide. It's the storytelling, which also spreads First People culture and history across the nation.
With Liakukana over a year old, there really couldn't have been a better way to celebrate than with the very community who gifted us the name as a symbol of NBN Co's commitment to reconciliation.
Our relationship with MTWAC, and particularly Aunty Patsy, is very special as one of our own, Ryan Watson, is part of the community and a member of MTWAC.
We're grateful that the community is open to teaching us about its culture and history, as we work to lift the digital capability of this fascinating, ancient and significant land.