Touring Aussie towns with nbn™ local
NBN Co's Road Muster trucks have visited 100+ more towns and travelled another 25,000 kilometres as part of the latest information-filled tour of Australia.
Late last year, our fleet of Road Muster trucks visited more than 200 towns and clocked up 40,000+ kilometres as part of the 2018 Road Muster Tour… but that wasn't the end of the journey.
The nbn™ local team is still out and about on the road sharing the benefits of connecting to services over the nbn™ broadband access network and, between January and March alone, ticked over another 25,868km and stopped in at 109 towns.
Here, the team updates you on its latest trip.
Visited: Kimba, Port Pirie, Whyalla

Travelling 250km by air and 536km by road is what it took to visit three towns on the South Australian (SA) leg of the tour.
First stop was Kimba, which describes itself as 'halfway across Australia' and has tourist drawcards like The Big Galah to tempt tourists to stay awhile. Next up was Whyalla, the town that beautifully merges outback scenery with breathtaking coastal attractions. And for the final stop, the SA tour pulled in at Port Pirie nestled between the calm waters of the Spencer Gulf and the majestic Southern Flinders Ranges.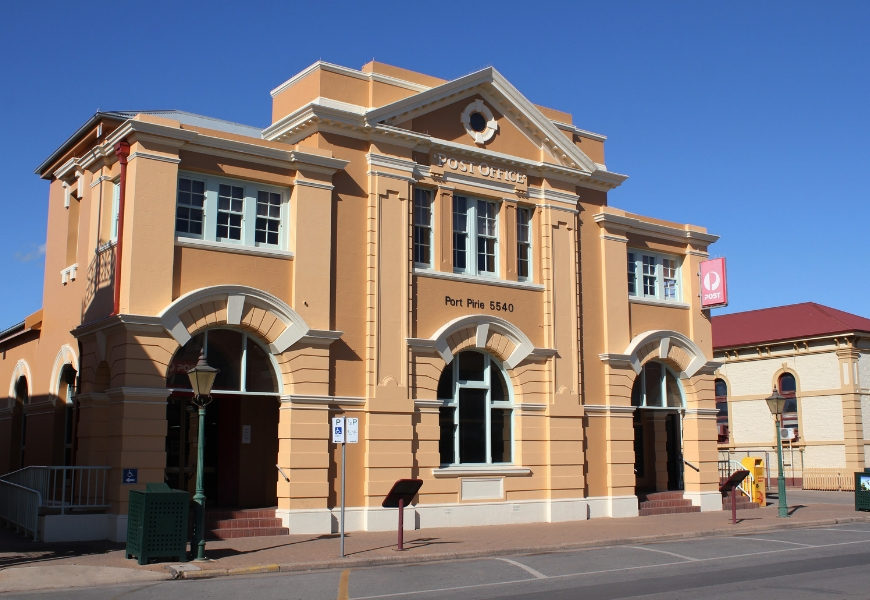 The Port Pirie Post Office
nbn™ local Manager (and returning Road Musterer) Jill Bottrall got to rub shoulders with another CSIRO test farm trialling 'Fitbit for cattle'. One of the highlights in Whyalla for Bottrall was briefing CEO and Mayor, Clare McLaughlin. Outside of turning up the (information) heat on the benefits of connectivity, it was also important to stay cool.
Said Bottrall, "This is the hottest time of the year, so we welcomed being inside the shopping centre in Whyalla for the day. It's where people assemble to save air-conditioning power costs at home, so we managed to access a lot of foot traffic on the day.
"The other common feature of the whole trip was that we managed to create seven new location identifiers [LOCIDs] for people on nbn's Sky Muster™ satellite and Fixed Wireless services who had previously been told that they were not eligible for the nbn™ access network by phone and internet providers. It was all because they had no LOCID. Getting them created took just a few hours, and they were all very grateful for the advice and the assistance."
Visited: Bairnsdale, Beaumaris, Beech Forrest, Birregurra, Brighton, Camperdown, Charlton, Cohuna, Dunolly, Edenhope, Halls Gap, Kerang, Knox, Lakes Entrance, Lethbridge, Lilydale, Loch Sport, Meredith, Metung, Olinda, Orbost, Ringwood, Sale, Sandringham, Teesdale, Terang
It took roughly 3409km for nbn™ local Managers Graham Soawyer (a seasoned Road Musterer) and Elizabeth Simonetti to visit 26 towns in Victoria.
Said Soawyer, "It was a significant journey, not the least being because it took in diverse areas of the state and the full range of access technologies. The various locations gave the crew the opportunity to cover the full list of issues, including a Fixed Wireless tower going 'ready for service', imminent disconnection dates for affected services*, Fixed Wireless network upgrades, rollout updates, upcoming 'ready for service' and more."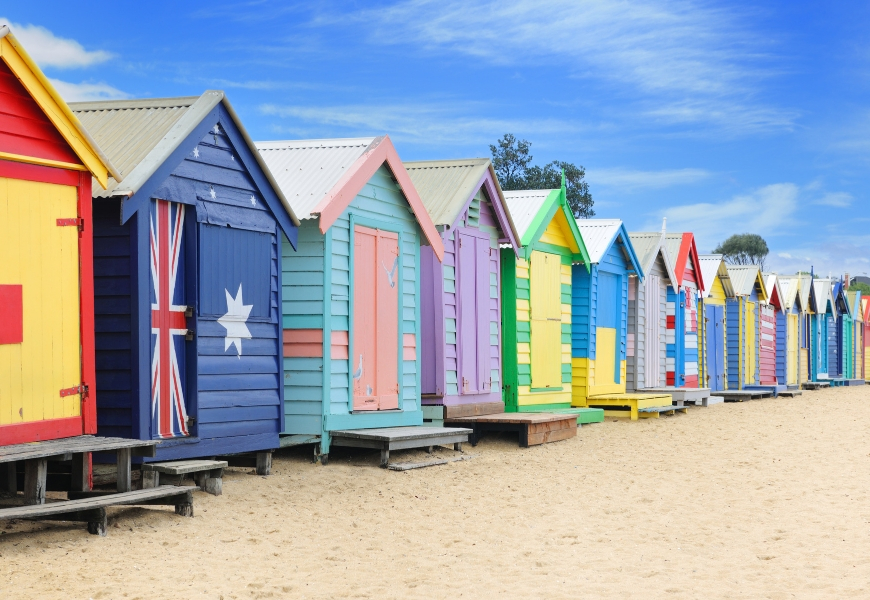 The famous and brightly-coloured bathing boxes at Brighton Beach
That Fixed Wireless tower being made ready for service was complemented by a visit from former MP Sarah Henderson. On another occasion, the Camperdown mayor brought the local media with him to meet the Road Muster crew.
Though a focus of the Road Muster Tour, it's not always about visiting rural towns. Said Simonetti, "Melbourne is really starting to come online with much of Gippsland, Dandenong and Bayside areas 'in build' or live. Residents are so engaged and excited to get on the nbn™ access network."
There were other unexpected highlights, too. For Soawyer, this included an unexpected street parade in Edenhope and the idyllic Halls Gap, which is snuggled in the middle of the Grampians sandstone mountain range.
Visited: Bundaberg, Blackbutt, Gayndah, Goomeri, Monto, Rockhampton, Wondai
If you want further proof of how widespread Australian towns are, look no further than sunny Queensland. It took around 2200km of road mustering to stop in at seven towns of varying sizes.
Populations in these towns range from the hundreds, in rural towns like Goomeri, to the tens of thousands of people found in some of North Queensland's bigger cities, like Bundaberg and Rockhampton.
For the smaller towns, nbn™ local Manager Damon Cavalchini said it was fantastic to see the many different ways the nbn™ access network is helping these Queensland communities. "One of the great things about regional and rural Queensland is the way everyone pitches in and the sense of community that can be harder to find in metropolitan areas.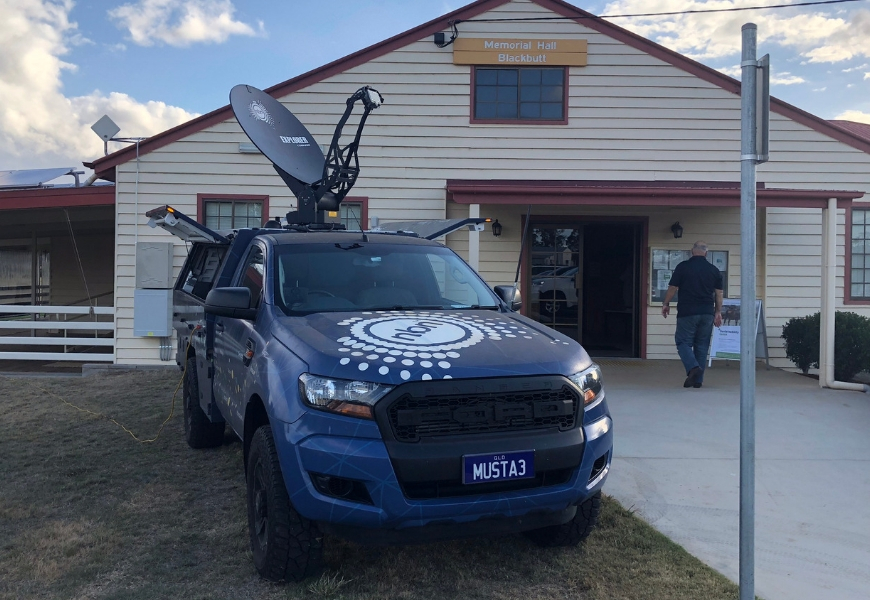 One of NBN Co's Road Muster trucks parked in front of the Memorial Hall in Blackbutt
"This tour brought together several government agencies that shared information with the communities. Coordinated by AusIndustry, the Regional Development Australia Wide Bay Burnett, and Burnett Inland Economic Development Organisation, the tour featured presentations from NBN Co; federal, state and local agencies; as well as invited guests from the local communities."
In these areas, Cavalchini and his team savoured the chance to meet with local businesses and took the time to listen to farmers struggling with drought and other challenges.
For the Queensland towns where the nbn™ access network is already available, Cavalchini enjoyed meeting with smaller businesses to help them make the most of their connection.
Said Cavalchini, "Despite the nbn™ access network having been live for a while, many businesses and residents did not realise just how much they could do with their connection. Connectivity is vital to local communities and the nbn™ access network helps create a connected Australia."
New South Wales and the Australian Capital Territory
Visited:
Adelong, Balranald, Batemans Bay, Batlow, Bourke, Brewarrina, Broken Hill, Canberra, Cobar, Coonabarabran, Coonamble, Condobolin, Darlington Point,
Dubbo
, Eden, Forbes, Gilgandra, Glen Innes, Gunnedah, Hay, Lightning Ridge, Merimbula, Moruya, Mungindi, Narrabri, Narromine, Nyngan, Pambula, Parkes, Scone, Temora, Tenterfield, Tottenham, Towamba, Tumbarumba, Tumut, Tuross Head, Walgett, Warren, Wentworth, West Wyalong, Wilcannia
Visiting a lot of towns means notching up a lot of kilometres. For instance, trekking between 42 towns in New South Wales translated to around 14,425km. Yet visiting lots of towns makes for lots of highlights!
For nbn™ local Manager Lachlan Ceeney, there were a few favourite moments along the way. Helping Towamba Spinners – a social group of fleece-loving knitters, crocheters, dyers, carders, weavers and felters – connect to the Sky Muster™ satellite service. Soaking up the atmosphere of the Moruya Country Markets. Taking in the sights of the Canberra Show. And marvelling at the natural beauty of Tuross Head.
Said Ceeney, "The Road Muster Tour really emphasised the vast and diverse climates and landscapes we call home. From the beach to the snowy valleys, the 'Mighty Murray' and the desert, we at NBN Co were there to listen, to help and to assist in removing the environmental barriers that prevent connectivity."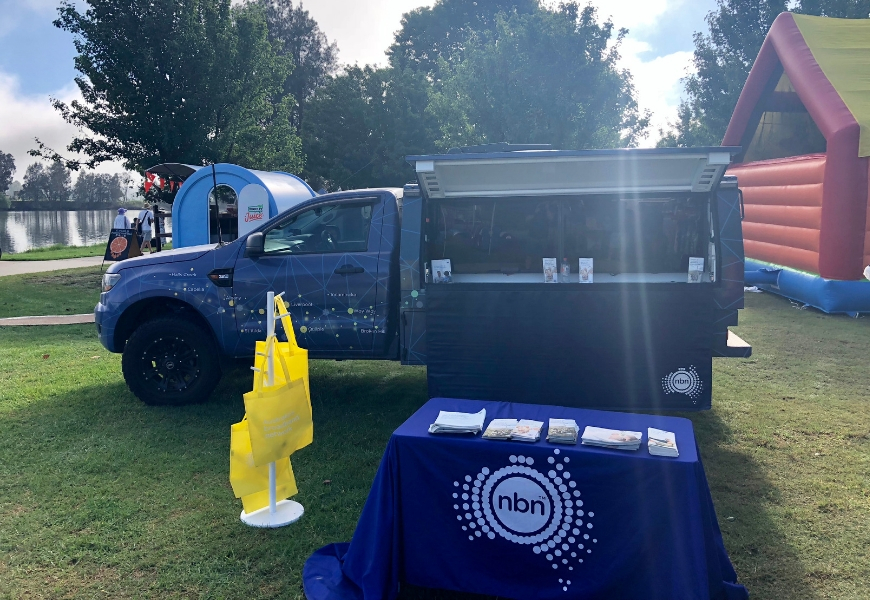 The Moruya Country Markets
The realities of the eastern Australia drought brought a sombre side to the tour, too, which nbn™ local Manager Kate Woodbridge got to see firsthand. This also presented opportunities for Woodbridge and her team to connect with drought-affected farmers to share important information about connecting to the nbn™ access network and the soon-to-be-introduced Sky Muster™ Plus product.
It was also the chance to be among the thousands of people to enjoy the Tenterfield Show and celebrate 150 years of the beloved Glen Innes Show.
Visited: Albany, Augusta, Bridgetown, Brookton, Bunbury, Busselton, Denmark, Dongara, Donnybrook, Dunsborough, Esperance, Jurien Bay, Kalgoorlie, Katanning, Manjimup, Margaret River, Mount Barker, Mount Magnet, Mullewa, Nannup, Narrogin, Norseman, Northam, Pemberton, Toodyay, Wagin, Walpole, Waroona, Williams, York
Journeying through Australia's largest state by landmass resulted in a comparatively sparse count on the odometer. While 5298km is not to be sneezed at, the Western Australia (WA) expedition was broken down into a few 'smaller' trips for nbn™ local Manager Josh Gunputh.
It started with a longer 1698km trek between Esperance, Norseman and, eventually, Kalgoorlie in time for the annual long-running Kalgoorlie Boulder Community Fair.
Then it was a shorter cruise of 700km for the five stops between Bunbury and Waroona.
Albany in Western Australia
Gunputh was then back behind the wheel for a 900km jaunt, driving to Brookton, Narrogin, Williams, Katanning and Wagin. It was at this last stop that Gunputh stopped in at WA's most prestigious rural show, Wagin Woolorama.
The final leg – a further 1000 klicks – was between Mount Barker, Denmark, Albany, Walpole, Pemberton, Manjimup, Bridgetown and Donnybrook.
Head of nbn™ local WA Jane McNamara, another veteran of the Road Muster Tour, stopped in at towns between York and Mount Magnet. Her top highlight was the change in sentiment since earlier tours, noting greater understanding and positivity, alongside boosted awareness around the eligibility of the Sky Muster™ satellite service.
And the great news is the Road Muster Tour keeps rolling on. Look out for the nbn™ local team in a town near you soon as the information-packed tour continues around Australia.
* Services provided over the nbn™ broadband access network will be replacing phone and internet services provided over most of the existing landline networks, including copper and the majority of HFC networks within the fixed line footprint. Services provided over existing fibre networks (including in-building, health and education networks) and some special and business services may not be affected. To find out if your services will be affected, please contact your current phone or internet provider. For more information, visit nbn.com.au/switchoff or call 1800 687 626.
The copper network within nbn™ Fixed Wireless and Sky Muster™ Satellite areas will not be switched off. Premises within these areas will have the choice to keep their existing landline phone service over the copper network active, or switch over to a VoIP (Voice over Internet Protocol) service on the nbn™ access network through a preferred phone and internet provider – connecting your new phone via the nbn™ supplied equipment. Your phone and internet provider can assist with your phone and internet services. Check your address to see what technology you will receive at your premises.