Rolling out across the country: seaside Torquay
As we roll out the nbn™ broadband access network, we're fortunate to explore the breathtaking locations that grace our wide and sunburnt land. This week we head to Torquay, where eligible premises are now ready for service, to find out what puts it #OnTheMap…
It's anchored at the starting point of one of the world's great driving roads and, appropriately, calls Victoria's epic Surf Coast home… welcome to seaside Torquay.
Located just a hop, skip and short Kombi ride from Melbourne (complete with surfboards in the back), the popular coastal town and its charms aren't simply known by locals.
Thanks to its reputation as Australia's surfing capital, Torquay is also no stranger to the global stage.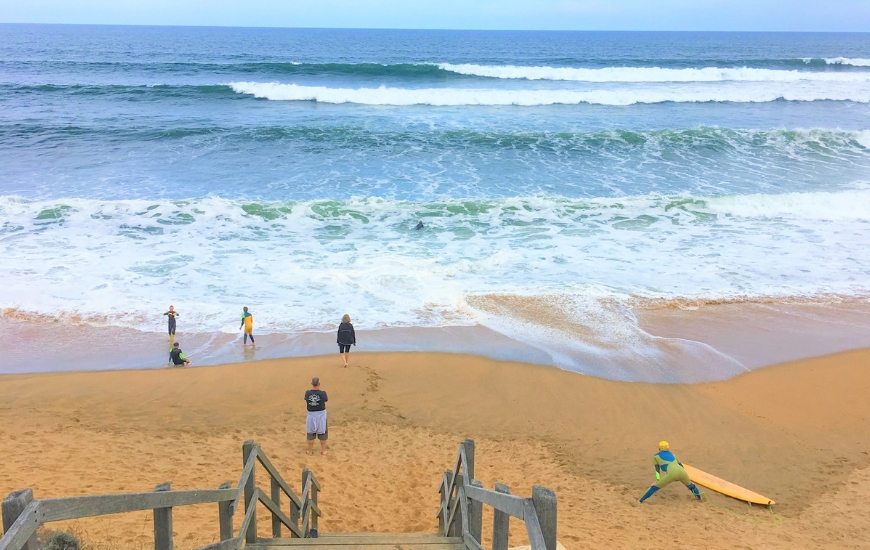 Bells Beach. Image: Jennifer Kiely
Eligible premises in Torquay are now ready for service on the nbn™ broadband access network, helping to bring connectivity and access to fast broadband to the local people, business owners and visiting tourists of the region.
Research from Connecting Australia, AlphaBeta's first national economic and social study into the impact of the nbn™ access network (commissioned by NBN Co), suggests that regional Australians are happily benefiting from connectivity. These connectivity benefits include helping to prevent social isolation, helping to inspire entrepreneurship (especially among women) and helping to improve education.
The number of businesses in regions where rollout of the nbn™ access network is more than 90 per cent complete is outpacing the national growth at twice the rate, with this figure expected to grow as the rollout nears completion.
The research shows up to 19,470 businesses in Victoria are expected to be created with the help of the nbn™ access network by 2021.
Says Elizabeth Simonetti, nbn™ local Manager for Victoria, "Torquay offers residents, and the thousands of tourists that pass through each season, an amazing mix of relaxing and adrenaline-filled activities coupled with fantastic food. And it's all set in the laidback, surf lifestyle that makes Torquay, Torquay."
Bells Beach, home of the Rip Curl Pro
One of the most famous stretches of sand anywhere in the world, Bells Beach is a quick ten-minute drive from Torquay's main street.
For almost 60 years, Bells Beach has been home to the iconic Rip Curl Pro.
Part of the World Surfing League World Tour, 'Bells' is the longest running world championship level contest on the tour, and is said – including by "the greatest surfer of all time" Kelly Slater – to be the most coveted trophy in professional surfing.
Fanning, Beachley, Gilmore… these are just some of the famous names in Australian surfing to carve up the waves – and take out the title – at Bells Beach. Let alone international surfing superstars like Richards, Irons and Slater himself.
And it's not just its beach that's world famous – Torquay is also the birthplace of two of surfing's most revered brands: Rip Curl and Quiksilver.
Torquay's Traditional Custodians
Long before Torquay became world-famous for its surfing, the Wadawurrung (Wathaurong) people called the region home.
Arriving in the Torquay region some 40,000 years ago, the Traditional Custodians were one of five language groups to make up the Kulin Nation, which lived prosperously around Port Phillip and Western Port Bays.
"Do you want to start making surfboards together?"
These words, uttered in 1969 when Doug 'Claw' Warbrick ran into surfing buddy Brian 'Sing Ding' Singer in Gilbert St Torquay, were all it took to launch one of the best-known brands in surfing history: Rip Curl.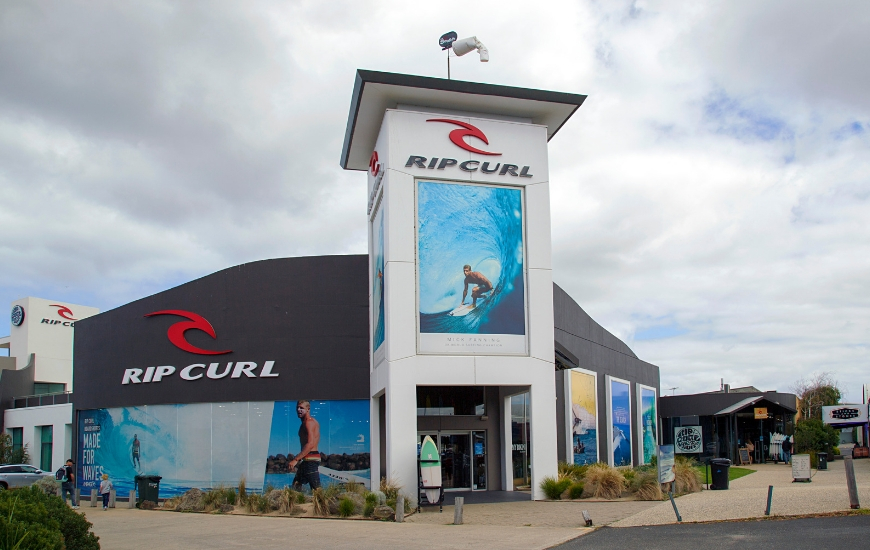 It started in Singer's garage at 35 Great Ocean Road with an output of four surfboards per week, before upgrading to the Old Torquay Bakery to churn out a dozen weekly.
Another iconic product and onto another Torquay location, this time a house behind the Torquay pub when fellow surfer Alan Green joined the business and began making wetsuits.
By 1973, Green would go on to start a new venture: a little business called Quiksilver.
Together with another local, John Law, the pair "went into business so that they could make a living in Torquay … and go surfing".
Their first product – and the billion-dollar company's flagship to this day – was that other beach and surfer staple: boardshorts.
Today, you'll still find Rip Curl's headquarters at 101 Surf Coast Highway in Torquay, where the brand has been decking out surfers from far and wide since 1980.
And – with a little help from connectivity – there may be more locally-grown global success stories in Torquay's future.
The Rip Curl Pro Bells Beach trophy at Rip Curl in Torquay. Image: Jennifer Kiely
"Torquay offers residents, and the thousands of tourists that pass through each season, an amazing mix of relaxing and adrenaline-filled activities coupled with fantastic food. And it's all set in the laidback, surf lifestyle that makes Torquay, Torquay."

Elizabeth Simonetti, nbn™ local Manager for Victoria

An example of a local business taking advantage of connectivity is F45 Training Torquay.
Specialising in high-intensity team training sessions that keep members engaged, motivated and inspired, owner Tyler Lewis shares how access to fast broadband is helping his business.
"The nbn™ access network has been essential in the running of F45 Torquay. We have 9 TVs in the studio that show the exercises, timings, schedule and heart rates of clients in the gym, which are all connected via Ethernet or WiFi.
"They require a fast internet connection so that all the information can be passed on in a timely manner, and so new programs with associated videos can be downloaded quickly for the next day so that the trainers aren't waiting long."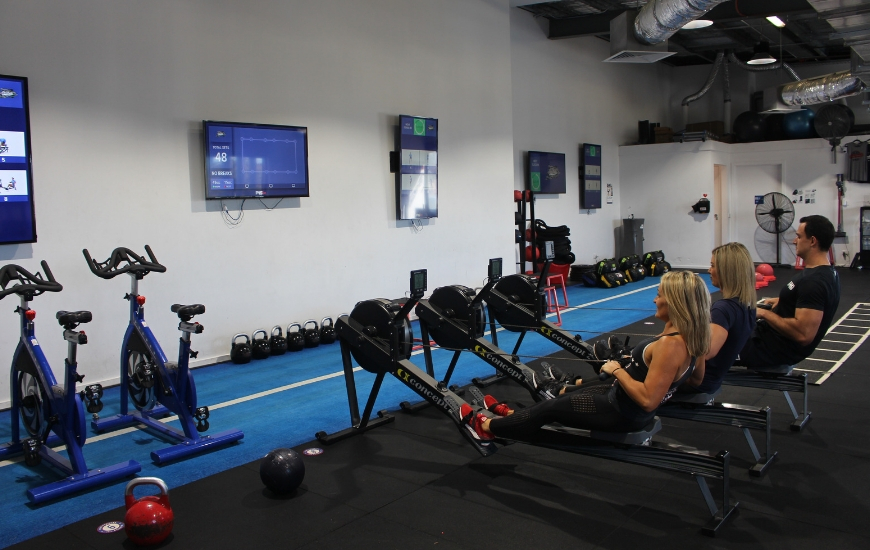 Owner Tyler Lewis with trainers Cherie and Bianca. Image: F45 Training Torquay
While Rip Curl and Quiksilver are two 'greats' born in Torquay, another globally-recognised 'great' is also right on its doorstep: the Great Ocean Road.
Officially beginning at Torquay, the Great Ocean Road snakes 243 kilometres towards the South Australian border, taking in the stunning sights of Victoria's rugged south-west coastline – like the famous 12 Apostles.
Just some of the towns dotted along its way include Anglesea, Glenaire and Port Campbell.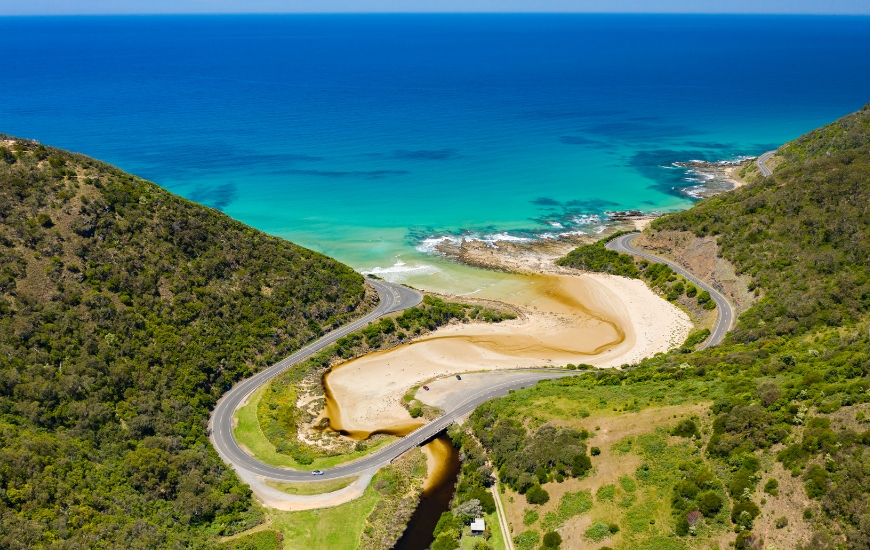 A section of the Great Ocean Road
As described by Visit Victoria, the road is a "permanent memorial to those who died while fighting in World War I carved in rock".
The Mayor of Geelong at the time, Alderman Howard Hitchcock, formed the Great Ocean Road Trust to raise funds for the project, which would employ returned servicemen for its construction.
As well as a beautiful monument, Hitchcock's vision was for the road to be a tourist drawcard for the region, thanks to its stunning ocean, mountain, river and fern gully views.
The Great Ocean Road historical marker
Construction began in 1919 and – incredibly – only picks, shovels and horse-drawn carts were used by the thousands of returned soldiers to literally carve out a path along the rocky shore.
Officially opened in November 1932, the Great Ocean Road brought new opportunities to locals and visitors alike who previously battled dense bushland to traverse the area.
Much like the way, today, services over the nbn™ access network can help to open up a new world of possibilities, both near and far.
To learn more about its history, head to The Great Ocean Road Story: Building Australia's Most Famous Road, a permanent exhibit in Lorne, down the road from Torquay.
Know someone who worked on the Great Ocean Road?
This year marks 100 years since construction began on the Great Ocean Road. Production company Clothesline Content is searching for stories, photos and memorabilia from those who worked on the road for an upcoming documentary. Know someone?
Head here
.
While there's plenty more to see and do in seaside Torquay, its surfing culture really takes pride of place throughout town.
To immerse yourself in all things surfing, head to the Australian National Surfing Museum. Here, you'll find exhibits like the Australian Surfing Hall of Fame, the 'Board Room' – where you can learn about the evolution of surfboards from timber through to fibreglass, as well as artefacts, trophies and other surf culture memorabilia from the past 100 years.
Want to snag some surf threads of your own? Catch a ride to Surf City Plaza, where you'll find brands including Rip Curl, Quiksilver, Gash and Strapper. Or, for a bargain, there's the surf seconds outlets at Baines Court.
Prefer to get back to nature? Torquay has you covered there too.
Take a walk on the surfside with the Surf Coast Walk.
Meander 44kms from Torquay all the way to Aireys Inlet, or take advantage of the 12 distinctive trails and pick a route to suit.
Like the Torquay Promenade leg, a flat and kid-friendly 1.6km, ending at Point Danger. But don't let the name put you off!
Perfect for a spot of snorkelling, Point Danger Marine Sanctuary may be 'danger' by name but not by nature.
Whichever way you choose to hang ten in Torquay, there will always be something – online or off – for you to do.
Check your address to see when you can switch.
Address
Enter an address and select from the dropdown options