Meeting the people behind the nbn™ network: Brent
One of the biggest-ever changes to Australia's telecommunications infrastructure requires hardworking people out in the field. In this series, we shine a light on some of them…
Australia is a big place. You don't have to think long about what's required to deliver the nbn™ broadband access network to every nook and cranny of our sunburnt land to know it's a massive job.
But it's one that's well on its way to the finish line. In 2020, the rollout of the nbn™ access network will be complete and, with it, not only the biggest evolution of Australia's telecommunications industry so far, but also one of the biggest in the world. A task of this scale requires a lot of hard work from a lot of dedicated people. Currently, approximately 23,000 Australians are contributing towards this momentous achievement.
This, our 'Meet the people' series, is an opportunity to learn more about some of the individuals behind the nbn™ access network. Previously, we've chatted to Product Prototype Operations Manager Geoff; field engineers Sean, Ant and Melanie; field technician Jacob; and Product Development Manager Moj.
Now, we're turning our attention to far-afield field engineer Brent.
Meet Brent, field engineer at NBN Co
About halfway between Brisbane and Darwin, in the far north-west of Queensland, you'll find the nbn™ access network helping to empower the good people of Mount Isa. And helping to uphold the network and customer experience for the locals is Brent Sheppard.
It's about as 'regional' as Australia gets, with Brent not only providing support to Mount Isa but also a huge parcel of the surrounding countryside, too.
"I look after everything from Mount Isa to Hughenden, all the way across the border of the Northern Territory to Avon Downs, and I'm lucky enough to also go down to Boulia," explains Brent. "So it's quite an extensive area."
It equates to around 350,000 square kilometres of territory: the size of Germany. But things didn't begin this big for Brent.
"I originally started out nine years ago as a trainee in Mackay for Visionstream: one of NBN Co's early Delivery Partners," says Brent. "My ultimate goal was [working for] nbn as I'm very passionate about technology.
"After progressing through the ranks at Visionstream, I saw an opportunity to come out to Mount Isa and really take ownership of part of the nbn™ access network construction. It was a really, really good thing for me.
"I try to maintain the network and uphold community awareness through the end users, and represent nbn the best I can."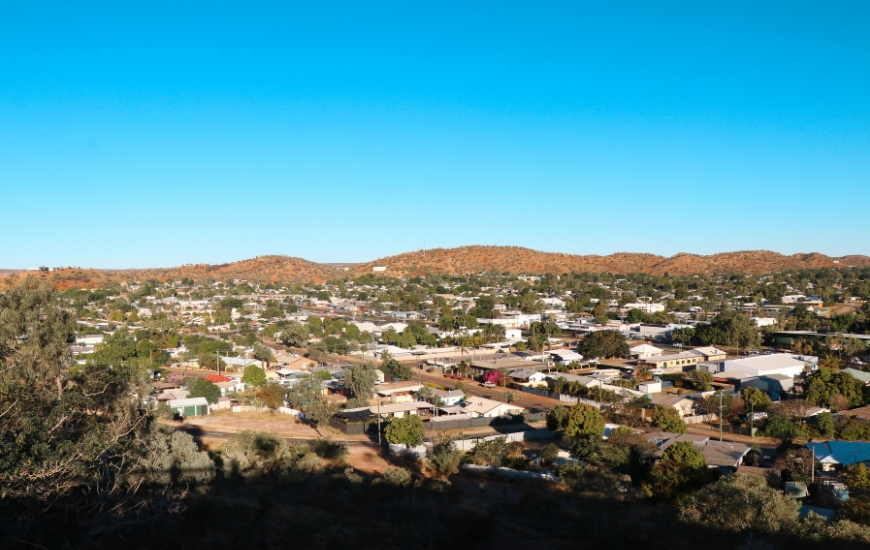 Looking out over Mount Isa
Given the area he controls, it's no surprise that a lot of Brent's time is spent travelling.
"I could go to a fault in Winton, which is almost 600 kilometres away, for example," says Brent. "In which case, I have to arrange for a three-day turnaround to make sure I can meet all the driving times and don't overdrive.
"So the majority of my time is spent on the road and speaking with the community. I'm the only person out here as the face of NBN Co."
Despite the physical and mental effort required in the role, Brent hasn't become jaded.
"I look forward to all aspects of my job. As I'm the only field engineer for over 1000 kilometres, my role can change quite significantly and I have to be very adaptive to what issues may come my way. Even if that issue is snakes.
"We've got both aerial and underground networks out here. Plus we've got business customers, too, so I have to come up with a solution as soon as possible because there's nobody else they can turn to."
Making a difference to the community
With so many people in his local community relying on access to fast broadband to help run their businesses and day-to-day lives, Brent is never short of a challenge.
"Being that we're regional, I'm frequently faced with trying to help the community understand exactly what the nbn™ access network is all about," says Brent. "I think having somebody here to be a representative for NBN Co is definitely helping because the majority of people want face-to-face contact. And, being regional, a lot of people feel that Mount Isa gets pushed aside for a lot of things."
The hard work seems to be paying off.
"I feel I've almost changed that stigma," says Brent. "I think a lot of people would be surprised by the interactions I have in my role, not only with the end users but also with the subcontractors."
When pushed for a recent rewarding example of an interaction with the community, Brent turns to the arts… of sorts.
"We had a significant ongoing issue here with graffiti. Some people see a node as a landscape they can put their paint on. So we worked very closely with the Happy Valley and School of the Air schools to get 12 paintings from students that we've wrapped around our nodes throughout the town.
"I think the artwork has improved nbn's brand among the community because they can see we're willing to give back."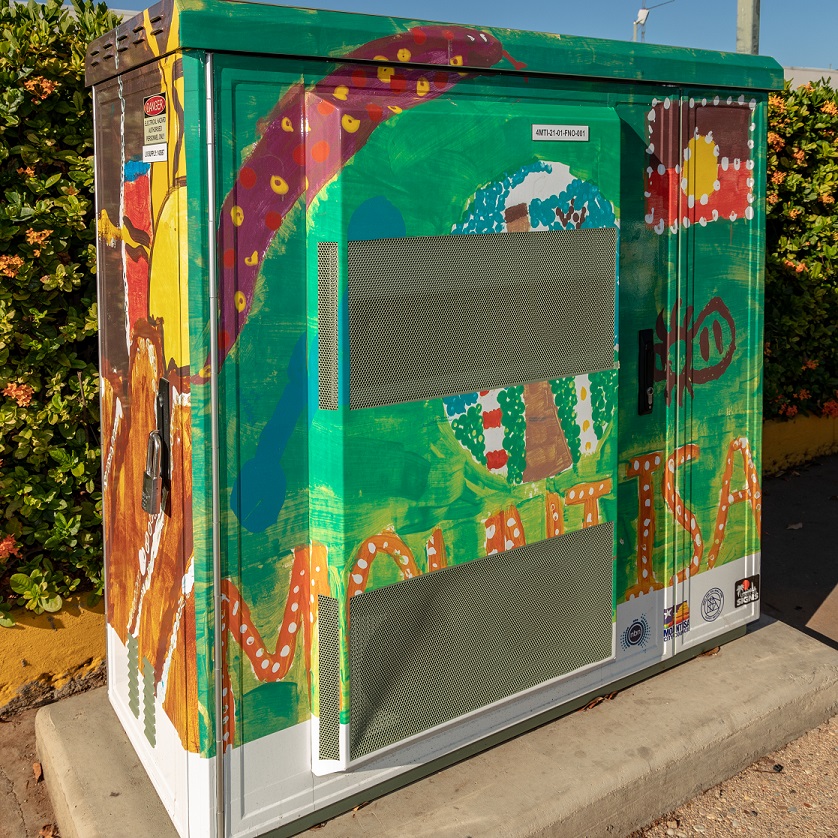 A passion for telecommunications
It may be tough work, but Brent has no regrets about his move out west from Mackay and into the heart of the Australian outback.
"Being with one of the leading telecommunications network providers in Australia is something that, as a young man, I thrive on. nbn also supports and allows me to develop my skills in many different areas, too."
While reflecting on his move to Mount Isa, Brent reveals that he is, technically, based out of the Townsville office.
"So I actually work closely with a team of four on a rotational basis to make sure the network is maintained between here and Townsville. We're a very close-knit team. We're always in constant contact and I think that North Queensland, as a whole, is definitely progressing as an organisation: together, rather than as individuals."
Brent has no doubts about the positive impact the nbn™ access network is making to regional Australians, especially those around Mount Isa. And, as a result, he's feeling great about the work he is doing to contribute.
"Any contribution to anything you do feels great, but to actually physically sit back and see the experience people are having out here with fast broadband is such a rewarding experience. I take pride in wearing the nbn shirt. I love it."