The family behind the Far North's most festive farm
Here, we drop into one of just a few real Christmas tree farms in Queensland to see how nbn™ Fixed Wireless and connectivity is helping one family make Christmas dreams come true.
If I've ever met a family that doesn't do things by halves, it's the Adobergs.
I first spoke to Alex Adoberg while he was part-way through the 347-klick journey south from his Christmas tree farm in Upper Barron, on the Atherton Tablelands, to Townsville.
He was personally delivering two freshly-cut trees, destined to be the centrepiece of the local council's first public Christmas 'do' of the festive season the following day.
After the year Townsville's had, still recovering from the devastating February floods, many can't wait to see the end of 2019 – and it's the little things that count, like a sprinkling of Christmas cheer.
Upon delivery, where I meet Alex, you realise there's nothing like a real Christmas tree and that unforgettable pine smell. And the farmer is the first to admit, despite living and breathing pine, it's a fragrance of which he never tires.
Fast forward to a couple of days later and I pull into the Atherton Christmas Tree Farm, 15 kilometres outside of Atherton towards Ravenshoe, to see for myself where the magic happens.
I'm meeting the rest of the Adoberg clan at the start of their busiest month of the year.
We jump on a quad bike and weave our way through rows of trees, more than 8,000 of them. How many exactly? They've lost count these days. Here, it's Christmas all year round – and what a sight.
The average 6-foot tree can take more than four years to grow. And, in these parts, they've battled cyclones and drought. But they're resilient, much like the family that grows them.
I'll soon leave with a feeling I'll never forget. This story is as much about resilience, family and selflessness, as it is about connectivity.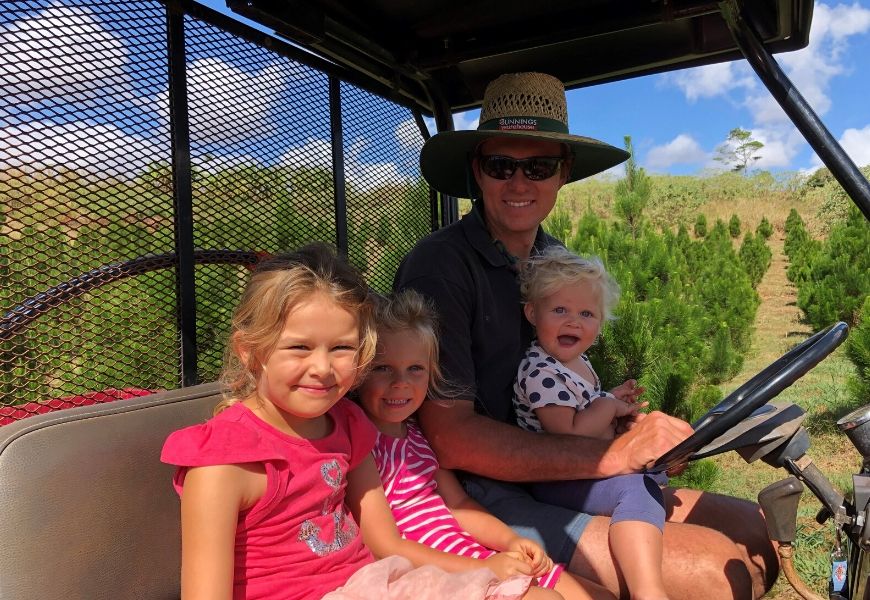 Victoria, Emily, Alex and Hannah Adoberg
Alex and his wife Juana Adoberg – along with their five children, Eli,10, Scarlett, 8, Victoria, 6, Emily, 4, and Hannah, 17 months – have called their grown-from-the-ground-up Atherton Christmas Tree Farm home for the past six years.
"Six years ago, we sold twelve trees," says Alex. "Now, we're selling up to one-to-two thousand trees a year, so it's really cool. It's definitely a game changer in the last six years.
"I go around these trees four times a year to shape and trim them up to make them look like a tree. It has to go through droughts, heaps of water, heaps of rain, then back to flooding, back to droughts again, so the trees are pretty hardy."
The Christmas trees seem content on the tablelands, says Alex.
"They like it here. They don't like it in Cairns or Mission Beach, or on the coast, they tend to die there."
Making spirits bright online
Like many rural areas, word of mouth is pretty good round these parts, so recommendations along with repeat customers – families that come back each year – have kept them pretty busy up until now. And still do.
But – this year – the Adobergs have stepped it up a notch.
"It's our first year online now so we're really excited about it. It's nice to be out here and be like a normal person in the city," says Alex.
Where 'normal' equals being connected to fast broadband.
It means customers can shop for their perfect Christmas tree without even stepping foot on the farm.
"You can order trees online now, with destinations, pickup places and stockists around Cairns, Townsville, Mackay, and it's just as simple as click and collect.
"A lot more people are doing the online, which is really good for us, it's a bit more work behind the scenes, but it gets a wider audience."
They also now sell to wholesalers across half of the state, right down to Rockhampton.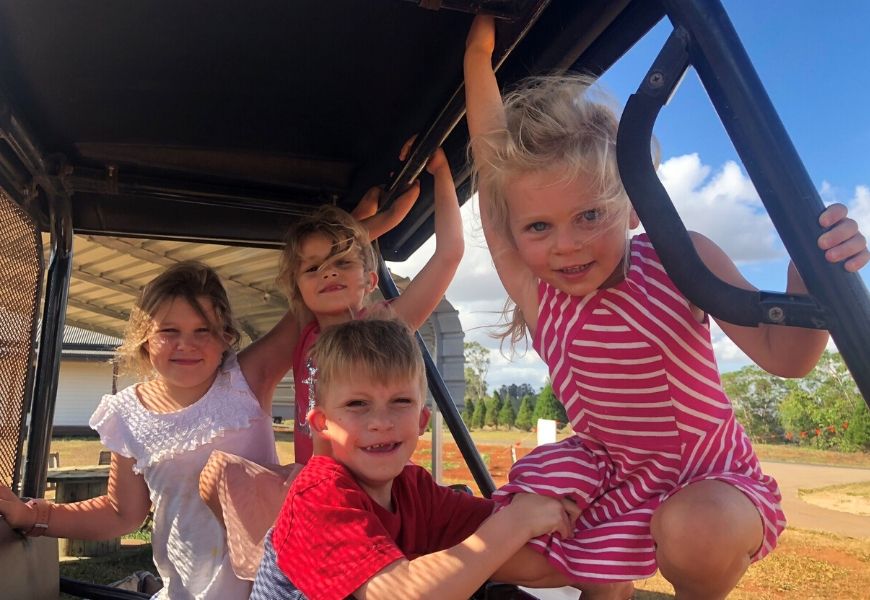 Scarlett, Victoria, Eli and Emily Adoberg
The family took the plunge, reassured by the fact they had – for the first time – a fast internet connection behind them, via services over nbn™ Fixed Wireless.
The outdoor antenna sits pride of place on the roof of their home with sweeping views of the rugged Tablelands, receiving radio signals from a nearby nbn™ Fixed Wireless tower.
Alex chuckles when I ask him what their internet connection was like before they connected to services over the nbn™ broadband access network.
"Morse code," he laughs, "but the nbn™ [access network] has really helped. Before, we had a very slow connection. It might take five minutes to load one single page but now it's just very, very quick.
"We can get everything very, very quickly and we can get our orders very quickly as well – we can do everything the business has to do to run."*
And business has gone off like a Christmas cracker.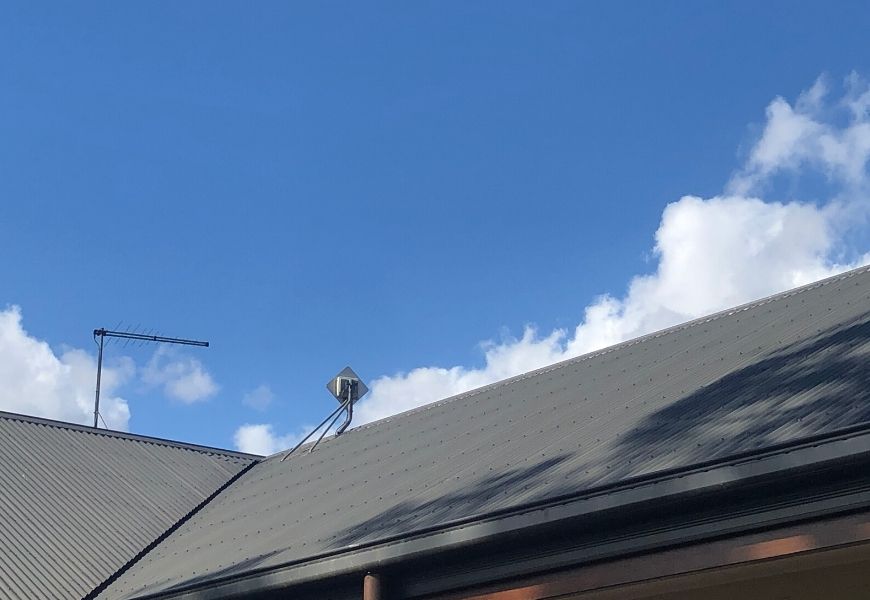 The Adobergs' connection to services over the nbn™ access network
Since launching their new website, half of their orders this year have come through online, and they attribute many more to increased online advertising via Facebook and Instagram.
Connectivity is not just important for business but also for the education of the young Adobergs. Mum Juana home schools the kids, from the farm, and access to online educational resources will continue to be critical.
I've never met kids so grounded and so happy. They love it here on the farm, and it's not hard to see why.
One by one, they came out to greet me when I arrived and couldn't wait to show me around. Oldest child, Eli, 10, suffers from a rare medical condition – the only one in the world – and Alex tells me the peace out here was a big factor in them moving.
Then there are the Adoberg girls, who excitedly recount the tree-cutting and netting process to me like a well-oiled machine, much to the proud ears of their Dad. It's not hard to get good help round here.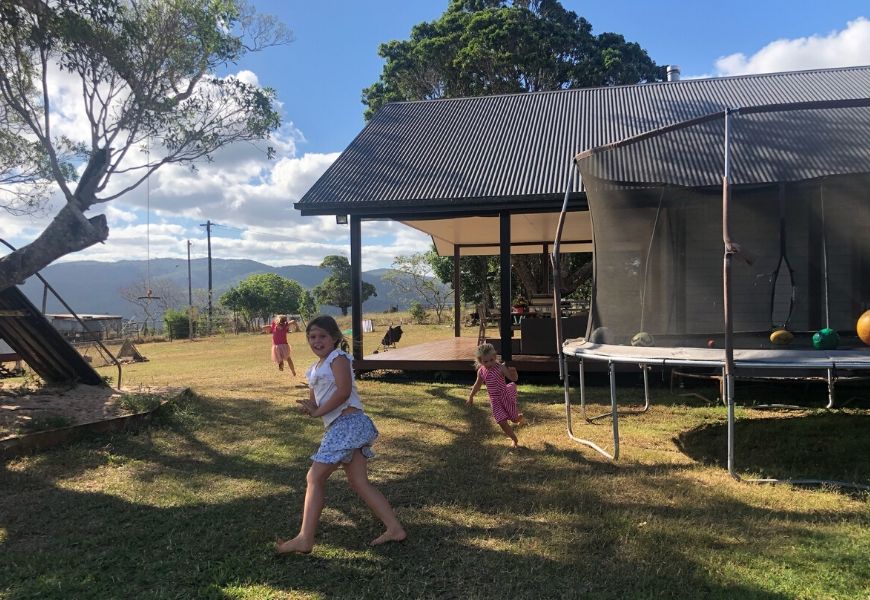 And this family's been through more than most recently.
It's only been a little over a year since Alex and Eli survived a horrific car crash not far from the farm, which saw them escape their burning 4WD.
Somehow, while still recovering from a broken leg from the crash, Alex built a barn. It's now fitted out with decorations and other locally made products they now sell, diversifying the business.
Mum Juana is also still recovering from a recent broken leg.
And just late last month, the Adobergs suffered a heartbreaking personal family loss, just days out from December – what's supposed to be their busiest, but happiest month of the year. Yet, you wouldn't know.
They're selfless, determined to keep the Christmas spirit alive for other families.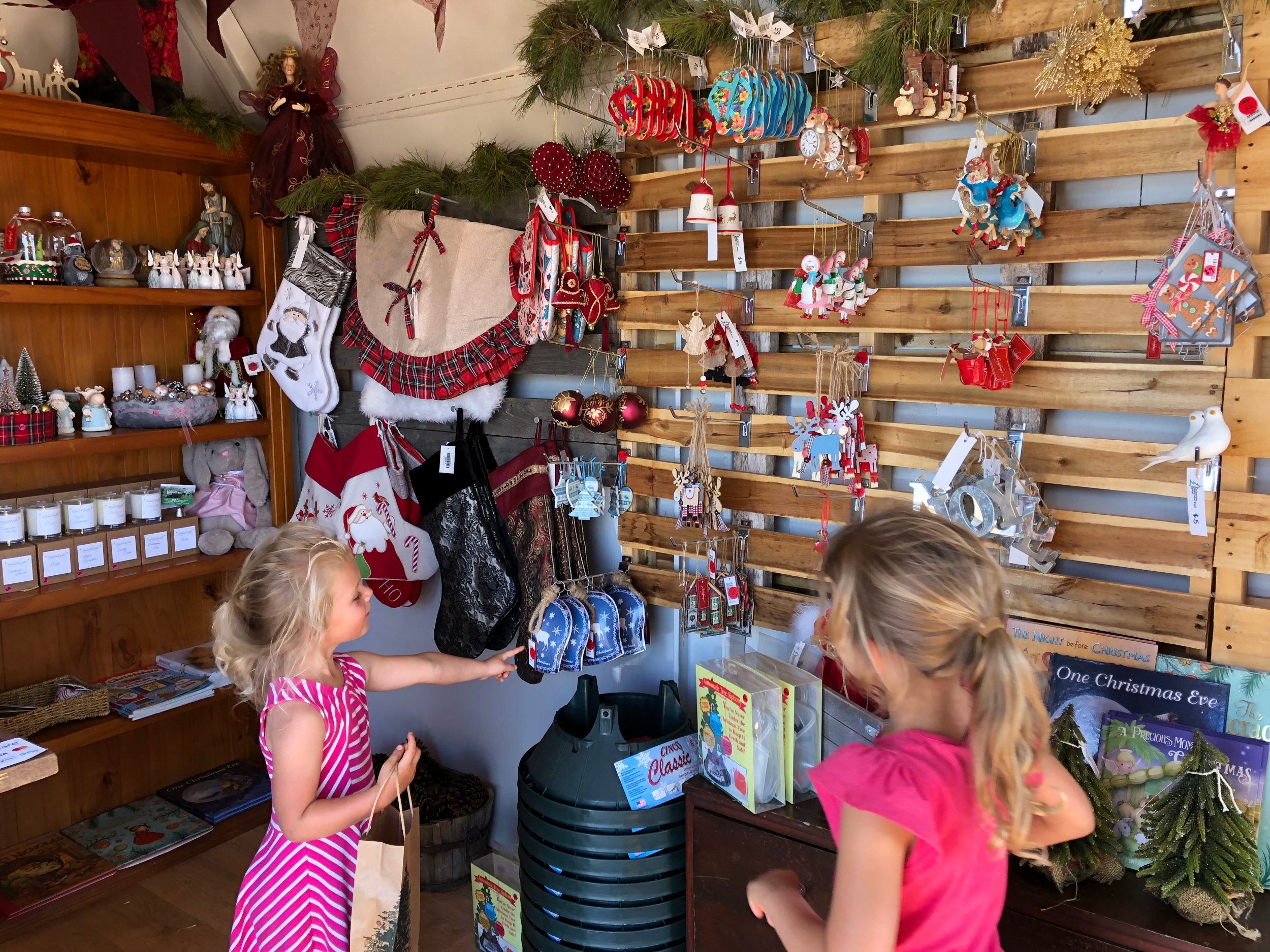 "All weekends in November people come and tag their trees, then in December, they come back and pick up their tree.
"When the actual families come out, it's really nice that the kids run out and find their tree, the parents come around and take it home, sit it inside their home, and every year it's a tradition for them as well."
It's a far cry from the big smoke, but the Adobergs wouldn't have it any other way – and they don't need to.
Creating traditions and memories from the heart of the Tablelands, they're doing it together and we're proud the nbn™ access network is doing its part to make life that little bit easier for them.
"It's 11 hard months of work, then one month of flat out work, and then in January [we] get to chill out a little bit and get ready for the following year."
We can't wait to see what the future holds for the Adobergs… but we're guessing it will be merry and bright.
* nbn is very happy with the Adobergs' experience with the nbn™ broadband access network. Of course, end customer experiences may vary. An end customer's experience, including the speeds actually achieved over the nbn™ broadband access network, depends on the nbn™ access network technology and configuration over which services are delivered to their premises, whether they are using the internet during the busy period, and some factors outside of nbn's control (like their equipment quality, software, chosen broadband plan, signal reception, or how their provider designs its network). Speeds may also be impacted by the number of concurrent users on the nbn™ Fixed Wireless network, including during busy periods.