Online opportunities for Australian retail business
How global online retail events, like Black Friday, offer opportunities for Australian businesses – and how to stay safe from cyber scams at the same time.
Shopping.
Some people love it and some people hate it. But one thing's for sure – there's always plenty of it happening around the world, in-store and online.
And with improved connectivity, such as via services over the nbn™ broadband access network, businesses and consumers are no longer limited to staying local. Rather, the (online) world is their oyster when it comes to buying and selling.
This is especially true in the lead up to the festive season with global retail events like 'Black Friday' and 'Cyber Monday' helping online shopping activity to soar.
With $3.46 trillion predicted to be spent online around the world in 2019, it's more important than ever for Australian retail businesses to be competitive, all while staying savvy to potential cyber scams.
Black Friday = Friday 29 November 2019

Cyber Monday = Monday 2 December 2019

While they may have started out life as shopping days in the United States of America, today Black Friday and Cyber Monday are prime examples of the continuing transition to a digital – and globally – connected economy.
Taking place on the Friday following North America's national Thanksgiving Day holiday, Black Friday deals can be purchased in-store and (these days) online, while Cyber Monday – the Monday after Thanksgiving – is an exclusively online offering.
With both days increasing in popularity and participation by Australian consumers – and the potential for businesses to reach global customers – when it comes to Black Friday and Cyber Monday, what's important for interested retailers?
A fundamental, of course, is broadband connectivity.
Now predominantly online experiences, being connected to fast internet means businesses in Australia can participate in such global online retail events.
From sole traders to small and medium-sized businesses, right through to large-scale enterprises, there's a business grade broadband service to meet specific data, voice, and service assurance (fault fix) needs.
And, according to Connecting Australia, investing in technology is especially important for small business success.
In How technology is levelling the playing field for small business, the report commissioned by NBN Co and prepared by AlphaBeta with the support of Xero, research shows a strong correlation between digital investment and benefits to small businesses.
Yet, the research also shows that, despite 99 per cent of businesses in Australia having access to broadband in 2019, only 43 per cent of small businesses have a website and 34 per cent receive orders online.
Given the online retail opportunities available in the lead-up to the holiday season alone, it makes sense for businesses not yet embracing the benefits of connectivity to make doing so among their New Year's resolutions.
And what about those businesses already taking advantage of the likes of e-commerce, online productivity tools and cloud-based applications?
Focus on cybersecurity by doing your homework and being prepared.
The Australian Cyber Security Centre (ACSC), as part of the Australian Signals Directorate, provides cyber security advice, assistance and operational responses to prevent, detect and remediate cyber threats to Australia.
To help small businesses understand, act and increase their cyber security resilience against ever-evolving cyber security threats, ACSC has developed the Small Business Cyber Security Guide.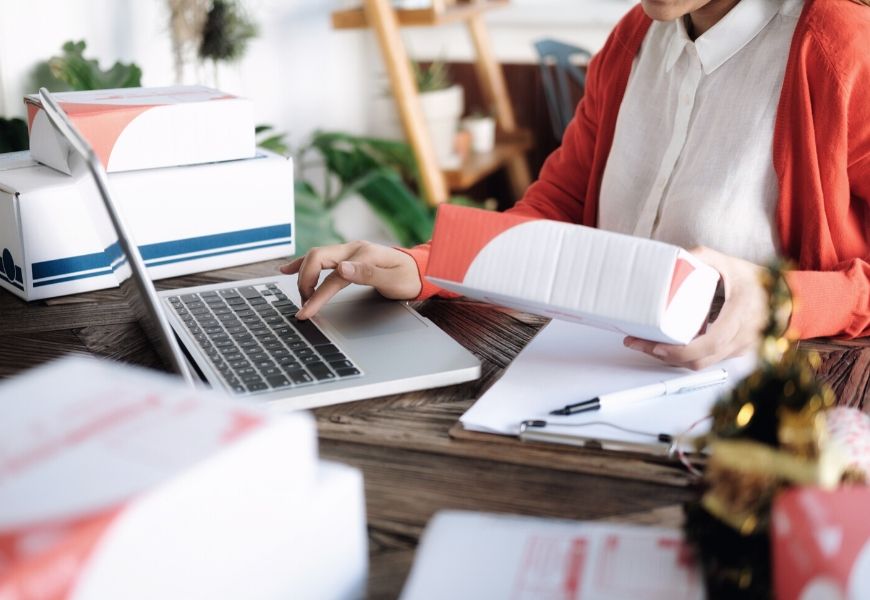 The language is clear, the actions are simple, and the guidance is tailored to small businesses with topics including: malware; scam emails (phishing); ransomware; managing your software (updates and backups); and people and procedures.
It also features a great checklist and step-by-step guides.
More advice and guidance is available from ACSC, plus easy steps to help secure your online information.
Avoiding nbn-related scams
With the volume rollout of the nbn™ access network on track for completion, and more than 100,000 homes and businesses connected to it each month, we've seen an increase in nbn-related scams.
To help keep your business safe from such scams, remember:
We won't call you with automated assistance ('robocalls') to advise you'll be disconnected – if you receive a call like this, we suggest you hang up the phone.
Never give an unsolicited caller remote access to your computer by installing programs, such as Team Viewer.
If someone claiming to work for NBN Co has contacted you trying to sell you an internet or phone service and you're in doubt, ask for their details, hang up and call your phone and internet provider to check they're legitimate.
Don't share your bank or personal details with an unsolicited caller or with doorknockers claiming to be from NBN Co trying to sell you a service or seeking payment for related services.
NBN Co is a wholesaler – to purchase a business nbn™ powered plan, you'll need to contact a phone or internet provider. We only accept direct payment from the public in certain circumstances. For example, switching technologies at your premises.
To help protect others, report suspected scams to the Australian Competition & Consumer Commission via Scamwatch.