Rolling out across the country: bohemian Byron Bay
As we roll out the nbn™ broadband access network, we're fortunate to explore the breathtaking locations that grace our wide and sunburnt land. This week we head to Byron Bay, which is now ready for service, to find out what puts it #OnTheMap…
There's a little piece of paradise nestled against the coast in far north New South Wales that we're sure you've heard about.
Perhaps you know it for its many music festivals, which see people from all over the country congregating to dance under the stars.
Maybe it's because legendary Australian actor Paul Hogan (aka Crocodile Dundee) famously calls it home. Or it could be the numerous – and excellent – surf spots that have caught your attention.
More than likely, though, you know Byron Bay simply for its vibe.
The one-time hippie mecca is still very much powered by the 'flower children' who bring a tangible sun-on-the-face, hair-in-the-breeze, toes-in-the-grass sense of peacefulness to all who visit.
But an off-the-grid attitude doesn't mean Byron Bay's residents and businesses are literally off the grid. Far from it.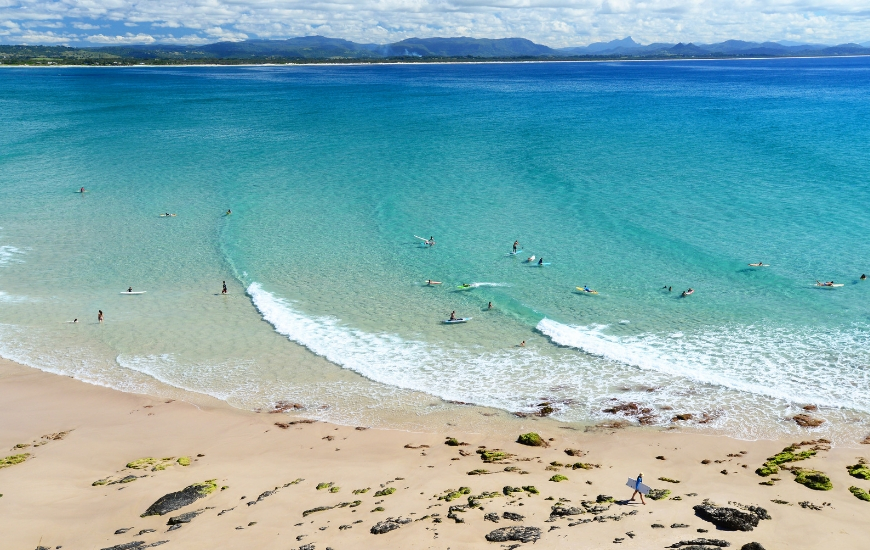 Byron Bay is now ready for service on the nbn™ broadband access network, helping to bring connectivity and access to fast broadband to the local people, business owners and visiting tourists of the region.*
Says Ian Scott, nbn™ local Manager for New South Wales – North and West, "Byron Bay is the destination of many successful individuals who want to mix work with pleasure, and who have made a mindful choice to move to this region because they could literally work from anywhere in the world – providing it had good internet access.
"Byron has a vibrant community that punches above its weight heavily in the film and TV production space, and supports about $200 million per annum worth of local industry in that area alone. Much of this is in the hinterland on nbn™ wireless and other connections."
It was 1770 when Captain James Cook first sailed past what we now know as Byron Bay.
In a move that perhaps signalled the bohemian future for which the town is now famous, its name has links to poetry. John Byron, the grandfather of famed British poet George Gordon "Lord" Byron, was a fellow sailor Cook admired, and it was for him that Cape Byron was named.
From the deck of the Endeavour, Cook and botanist Joseph Banks studied the Arakwal Bumberlin people: the Traditional Custodians of the land.
With their history in the area dating back a wondrous 22,000 years, the Bundjalung of Byron Bay (as they're known) lived solitarily on the land up until the 1850s. During this time, the area was logged by European "cedar-getters", before goldminers fossicked at the beaches in 1870.
And it wasn't until 1894, when the railroad arrived, that Byron Bay officially received its current-day name.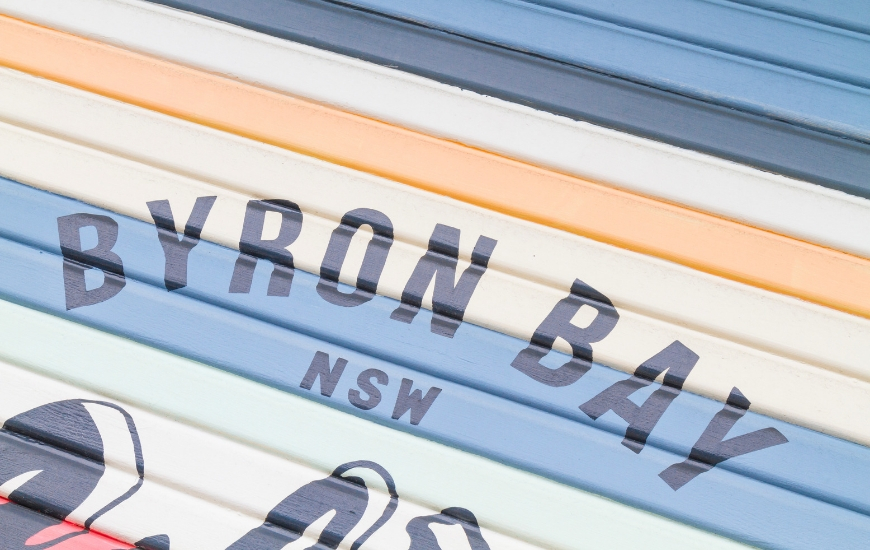 Prior to that, only Cape Byron bore the 'Byron' name; before then, the settlement was named 'Cavvanbah': an Arakwal word for "meeting place". Today, many of the hotels and businesses in the area pay homage to this original name.
Now home to some 5521 people, the town's population may seem like a small number for such an iconic location.
Situated 166 kilometres south of Brisbane and 772km north of Sydney, you'll find the world-famous destination just off the main highway that links the two major cities.
With this ease of access combined with its relaxed reputation, it's little wonder that more than two million tourists visit the town every year.
Standing tall and towering above the Byron Bay landscape is Cape Byron Lighthouse.
No visit to the bay is complete without a stroll up to the headland. Marking the Australian mainland's most easterly point, the lighthouse has been providing illumination since 1901.
With its coastal vantage point, it almost goes without saying that there are extensive views to be had in all directions. And if you look out to sea in winter, there's a strong chance you'll be rewarded with a whale sighting.
Humpbacks, in particular, come awfully close to shore as they migrate along the coastline, with tours available for those keen to get a little closer.
Nature lovers will also find bottlenose dolphins and generations-old turtles beneath the waves, while on land, echidnas, wallabies, brush turkeys and a host of seabirds all call the cliffs and nearby rainforests home.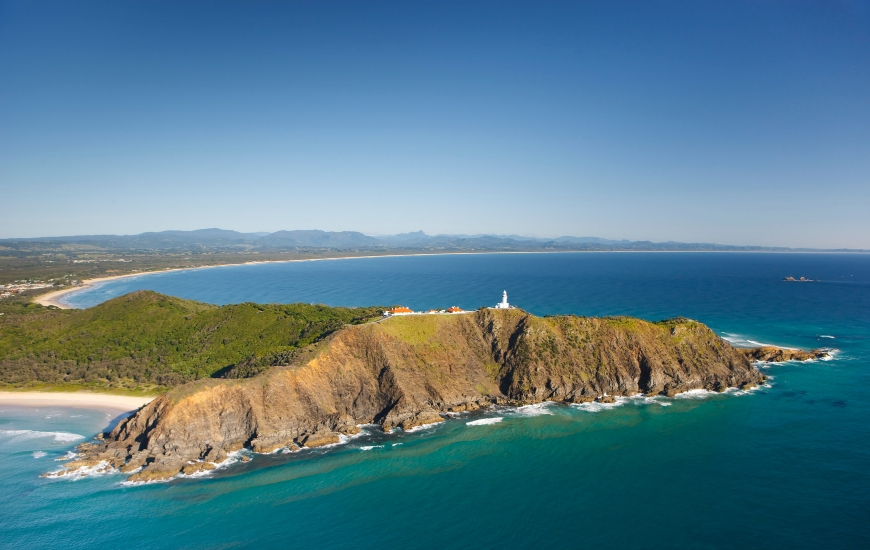 For visitors looking to further enrich their souls, Byron Bay has you well and truly covered.
Sunrises at the beach. Yoga and meditation experiences. Farmers' markets. Countless boutique cafes and fashion-focused shops. Swims in rock pools. Drives to nearby country towns, like Bangalow and Federal. These are all key features of the Byron Bay tourist experience.
Then, of course, there's the surf, with nine iconic beaches to check out.
Byron Bay has been strongly linked to Australian surf culture since its adoption by longboarders in the 1960s. Today, it remains a key stop for those migrating up and down the coast (a bit like those whales) with 'boards often strapped atop colourful kombis.
If there's one thing Byron Bay will always be synonymous with, it's music.
A stroll down to the beachfront on a warm summer's evening will reveal performers and musicians of all flavours jamming with the many surfers and backpackers who move through the town each night.
Yet it's the annual pilgrimages of thousands of Australians to a number of big festivals that take centre stage.
Over Easter, the week-long Bluesfest links the best of the past with modern-day stars. In July, it's the internationally renowned Splendour in the Grass, which always attracts some of the world's biggest headliners to its purpose-built venue.
More recently, the mighty Falls Festival, which kicks off on New Year's Eve, has added Byron Bay to its tour roster. And, with some 18 significant festivals in the region throughout the year, not a month goes by where visitors don't have something majorly magical to attend.
So whether you're there for the music, the wildlife or simply the vibe, you're sure to love your Byron Bay experience.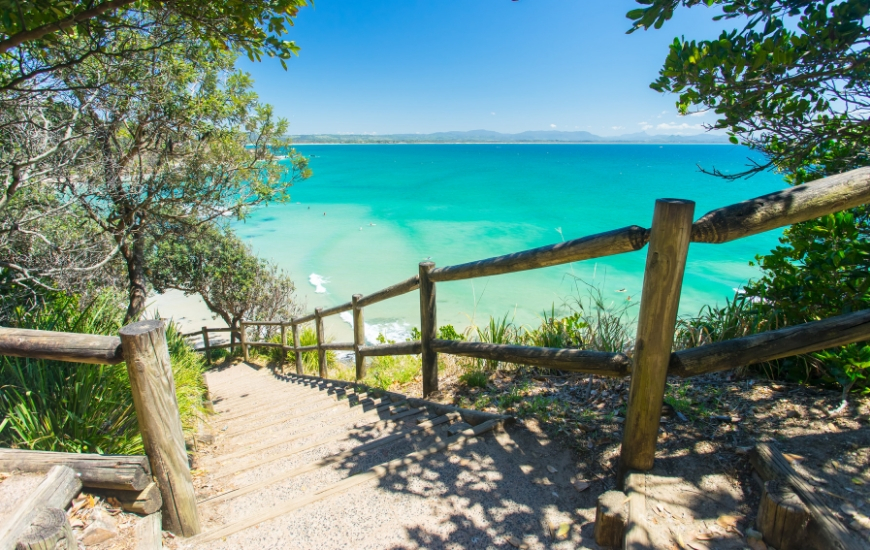 Check your address to see when you can switch.
Address
Enter an address and select from the dropdown options
*An end user's experience, including the speeds actually achieved over the nbn™ broadband access network, depends on the nbn™ access network technology and configuration over which services are delivered to their premises, whether they are using the internet during the busy period (7pm to 11pm), and some factors outside of NBN Co's control (like their equipment quality, software, chosen broadband plan, signal reception, or how their provider designs its network). Speeds may also be impacted by network congestion on Fixed Wireless connections to the nbn™ access network, including during busy periods. Sky Muster™ satellite end users may also experience latency.