Rolling out across the country: captivating Kangaroo Island
As we roll out the nbn™ broadband access network, we're fortunate to explore the breathtaking locations that grace our wide and sunburnt land. This week we head to Kangaroo Island, where eligible premises are now ready for service, to find out what puts it #OnTheMap…
There's a sense of wonder about Kangaroo Island.
Like a land before time, the South Australian territory is a preserved piece of wild Australia mostly untouched by human hands. Its rocky outcrops, beaches ravaged by monster waves, the sense of expanse and awe… it feels a world away from the big cities that pepper the Australian mainland.
No doubt, you'll be surprised by the island's size when you first get there.
Spanning 4416 square kilometres of pristine wilderness, 'KI' as it's known to locals, is Australia's third-largest island, beaten for size only by Tasmania and Melville Island (above the Northern Territory).
A journey the full length of the island is a surprising 155km, offering more than enough space for the mob of kangaroos that first inspired the island's name.
Kangaroo Island kangaroos!
From wherever you are in the world, chances are that heading to Kangaroo Island means going south. Way south, into the Indian Ocean towards the icy-cold waters of Antarctica. Flights to Kangaroo Island depart from both Melbourne and Adelaide or, alternatively, you can drive from the South Australian capital. It's a 210km jaunt to the island's centre with a car ferry interlude. While most visitors to Kangaroo Island make the trip to revel in its natural isolation, the great news is it remains connected to the modern world.
Kangaroo Island is now ready for service on the nbn™ broadband access network, helping to bring connectivity and access to broadband to the local people, business owners and visiting tourists of the region.*
Says Tim Saul, Head of nbn™ local for South Australia and the Northern Territory, "Kangaroo Island is one of my favourite places to visit because of its beautiful beaches, amazing landscapes and great local produce.
"With the nbn™ access network now available to every home and business across the island, I'm looking forward to seeing how the local community embraces the benefits of fast broadband. Whether it's helping business owners, tourism operators and accommodation providers in the region to be efficient and productive, or assisting residents to complement their idyllic lifestyle with access to health, education and on-demand entertainment, it's exciting for NBN Co to be involved in the future of Kangaroo Island."
You don't have to spend long on Kangaroo Island to spot one of its main attractions. The wildlife here is astounding, and it goes well beyond its iconic Aussie namesake.
Koalas, echidnas, black swans, bottlenose dolphins, long-nosed fur seals, brushtail possums, penguins and plenty more are in abundance for all to see. There are even 15 bird species native to the island.
One of the highlights of any visit to Kangaroo Island is likely to be Seal Bay.
Australian sea lions have called Seal Bay home for thousands of years, with approximately 1000 of the cute creatures currently making up this, the third largest colony. Unique to South Australia and Western Australia, this endangered species basks and frolics in the white sand along the shore, allowing tourists to get up close and personal during guided tours and for photos.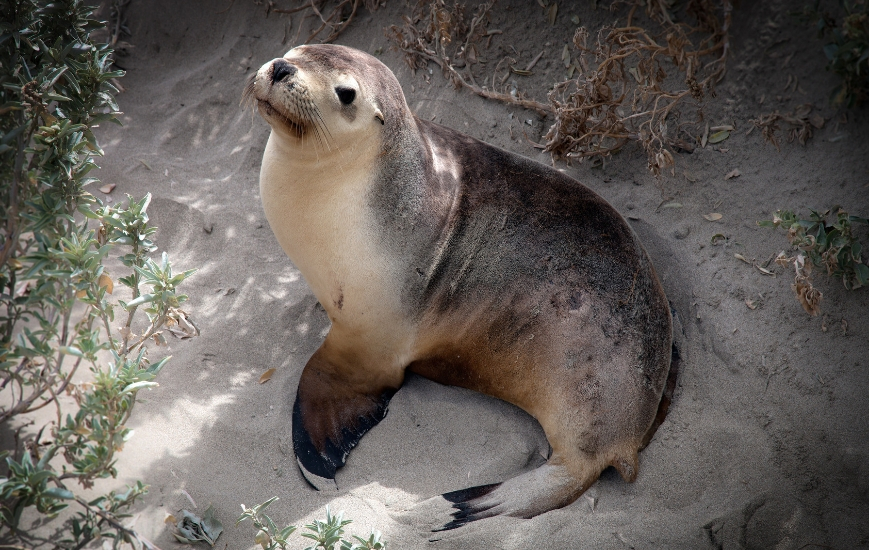 Seal Bay is one of the many national and conservation parks across the island with 50 per cent of the wildlife habitat retained in its original form.
It's even attracted insect immigrants from half a world away.
The Ligurian bee found its way to the island from Italy and thrived, so much so that Kangaroo Island is now home to the only genetically pure form of the species left in existence. No wonder it was declared a bee sanctuary back in 1885; it's the oldest bee sanctuary in the world!
And if you don't get your fauna fill as you explore the countryside, there's always the Kangaroo Island Wildlife Park to experience, too.
Yet it's not just animals that make Kangaroo Island interesting, it's also the island's geological history.
Originally part of the Australian mainland, it's believed the island broke away some 10,000 years ago after glacial melting caused the ocean's level to rise. While it's unknown which of Australia's First Nations peoples called Kangaroo Island home, there's evidence of human activity dating back 16,000 years. Then, it's believed approximately 2000 years ago, the land was left to the flora and fauna.
In all, there are 27 official geological monuments on Kangaroo Island: three in particular are not to be missed.
On the western edge in Flinders Chase National Park, there's the jaw-dropping Admirals Arch, the result of thousands of years of erosion opening up a cave to the outside world. The same park also has a spot aptly named Remarkable Rocks, with boulders that look as though they were hand-sculpted over millions of years.
And then there's the incredible Kelly Hill Caves, which – on top of the array of stalagmites and stalactites – are home to ancient fossils.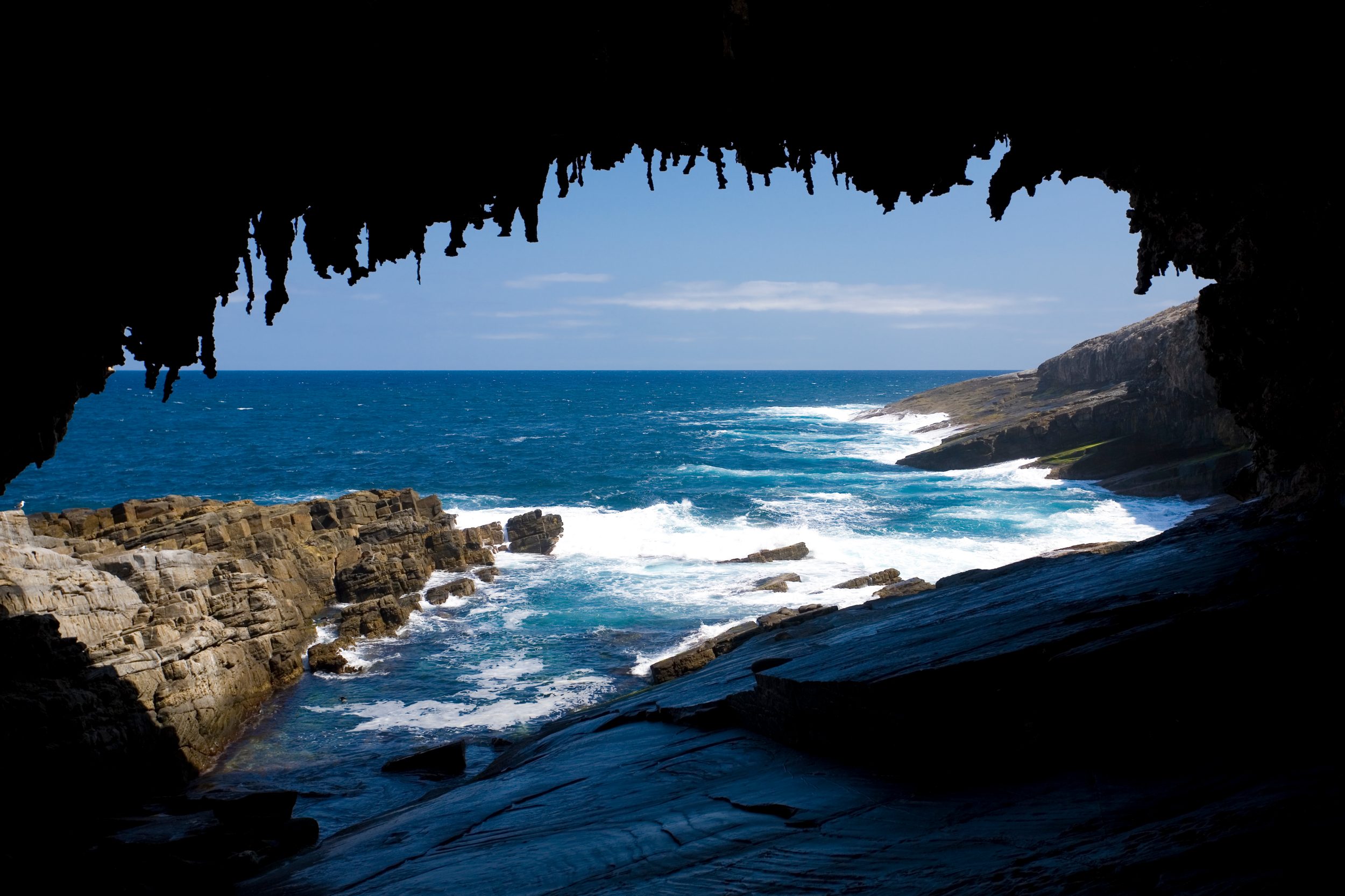 Formerly a cave, stalactites cling to the underside of Admirals Arch
For all its natural wonders, there is, of course, a more recent history to Kangaroo Island.
Europeans settled on the island as early as 1802 and were mostly sealers, whalers and salt harvesters. In 1836, Kingscote – the island's biggest town today – became the first official colony. Visitors will find a number of Heritage-listed buildings to explore from those early days.
Today, some 4702 people call Kangaroo Island home and, while many look after the 140,000 tourists who visit the area each year, there's also a rich agricultural industry on KI.
Fancy something sweet? Then buzz over and pick up some honey from those Ligurian bees; you can even do a factory tour. There are also 12 wineries where you can wet your whistle, alongside plenty of markets and, not surprisingly, local seafood offerings including lobster, king crab and oysters.
Beyond that, there are bushwalks and treks to try, while areas like Lashmar Conservation Park are renowned for their fishing, canoeing and swimming.
Whichever way you choose to spend your time on Kangaroo Island, you're bound to have a hopping good time.
Check your address to see when you can switch.
Address
Enter an address and select from the dropdown options
Kangaroo Island by the numbers
*An end user's experience, including the speeds actually achieved over the nbn™ broadband access network, depends on the nbn™ access network technology and configuration over which services are delivered to their premises, whether they are using the internet during the busy period, and some factors outside of nbn's control (like their equipment quality, software, chosen broadband plan, signal reception, or how their provider designs its network). Speeds may also be impacted by network congestion on the nbn™ Fixed Wireless network, including during busy periods. Sky Muster™ satellite end users may also experience latency.