Sailing the employee engagement seas with Pirate TV
Innovative online startup, Pirate TV, is harnessing the power of connectivity via the nbn® network to help keep remotely based workers engaged and entertained.
It was the laidback lifestyle and family-friendly location that first drew Simon Waller to leafy Mount Martha on Melbourne's Mornington Peninsula.
Yet, when it came to buying the family home, being connected to the nbn network was non-negotiable.
"This was a few years before COVID. I already knew high speed internet was a necessity for my business but even I didn't realise how important or how powerful it would become just a few short years later," says Simon, a professional Futurist, who has studied long-term digital trends for companies including Rio Tinto.
Enjoying a successful career as a conference speaker exploring how human beings relate to technology, Simon's business model collapsed almost overnight when the COVID-19 pandemic struck in early 2020.
"I'd do these insanely interactive live events with visuals and audio, and create these real experiences using technology on the stage to create a bigger experience for people in the room.
"When COVID hit, all of those conferences were cancelled."
Simon says it was access to secure, fast and reliable broadband via the nbn network* that allowed him to pivot and launch an innovative new online business model with two like-minded mates similarly impacted by the pandemic.
"At the time I was talking to a friend of mine, Mykel Dixon, who was another (corporate event) speaker.
"There was a general feeling that, if we were to just transplant what we were used to doing in those conference rooms and put them online, we were just going to bore people to death."
Mykel agreed.
"People were basically taking everything they did in the offline space and just trying to replicate that in the online world, which just doesn't work," says Mykel.
"So, we saw an opportunity, but also a necessity – how can we help people create a level of intimacy and magic and beauty online that they would get in a real and in-person event?"
The answer was Pirate TV.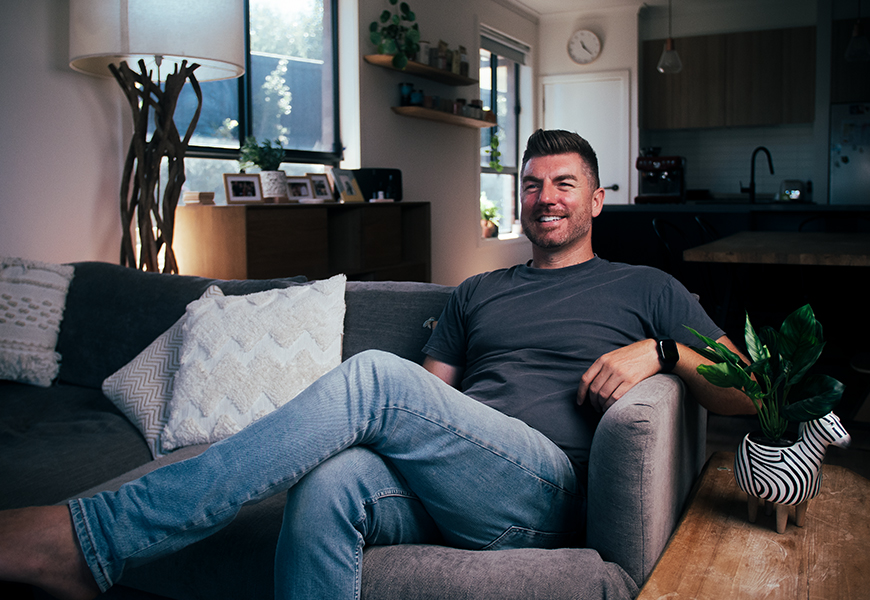 A live streamed, interactive TV show designed for corporate clients, Pirate TV is a boundary pushing, zany mix of music, special effects, guest speakers and fun designed to harness the power of digital technology to engage employees – many of them separated from each other and working from home – in new and exciting ways.
"I jokingly tell people that Pirate TV is a collaboration between a filmmaker, a futurist and a rock star," says Simon.
"There's Dave (Dixon), who is a filmmaker and our producer. I'm a futurist and one of the hosts of Pirate TV, along with Myke, who used to be the lead singer in a rock band."
Collaboration through connectivity
Seamless online collaboration between the trio is the key to Pirate TV's success.
Each has their own broadband-enabled home studio packed with the latest digital technology that not only reflect their personalities and backgrounds, but their contribution to each show.
Dave operates a digital production studio from a spare room in his house, capable of mixing multiple high-definition video streams from across the country, which are then pushed out to Pirate TV's online audience.
Along with built-in video projectors, microphones and multiple computer screens, Simon's home studio boasts technological trickery, such as a green screen allowing him to dress up in character and appear in places including an exotic jungle setting.
Mykel's converted garage reflects a succession of home music studios of years gone by, a deliberately funky space adorned with fairy lights, musical instruments, computer screens and video cameras.
"My role in Pirate TV is Captain of Experience," he explains.
"Aside from co-hosting and working with the client, it's really about unlocking the experience they want to create for their people. How do they want them to feel and how can we do that creatively, leveraging technology in a way that doesn't feel clunky, it doesn't feel, sterile?"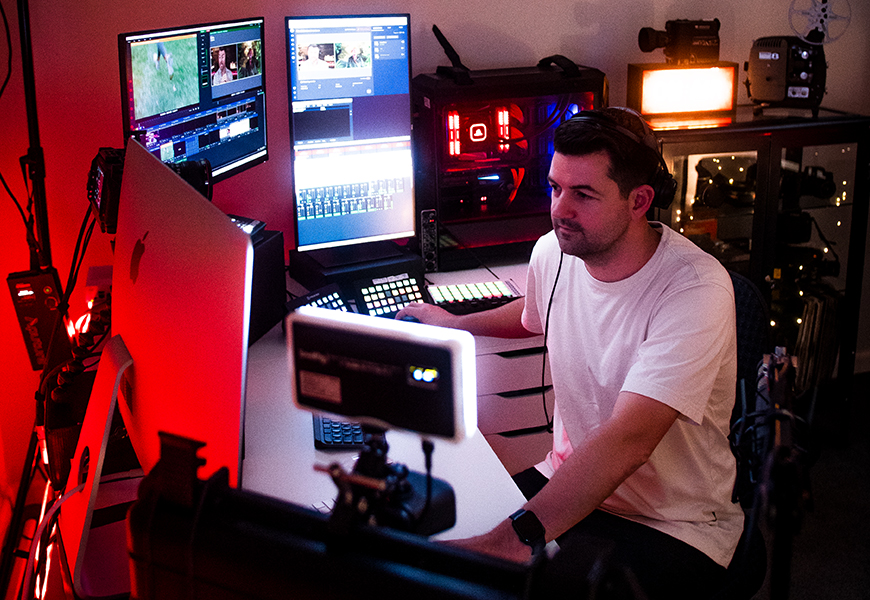 Simon says the reaction to Pirate TV from their corporate employee audience, many of whom have become jaded by endless video conference calls and online meetings, has been overwhelmingly positive.
"What I have really got out of this whole Pirate TV experience, is that we can actually create things that are genuinely engaging, that are really fun for people to watch."
In a testament to the power of collaboration via connectivity, the Pirate TV team went an entire year during the pandemic without ever being in the same room.
"We never saw a single one of our customers," says Simon.
"Everything was done remotely and, to be honest, the only thing that made that possible was access to the nbn network.
"Without the nbn network, it actually wouldn't be possible as a business model."*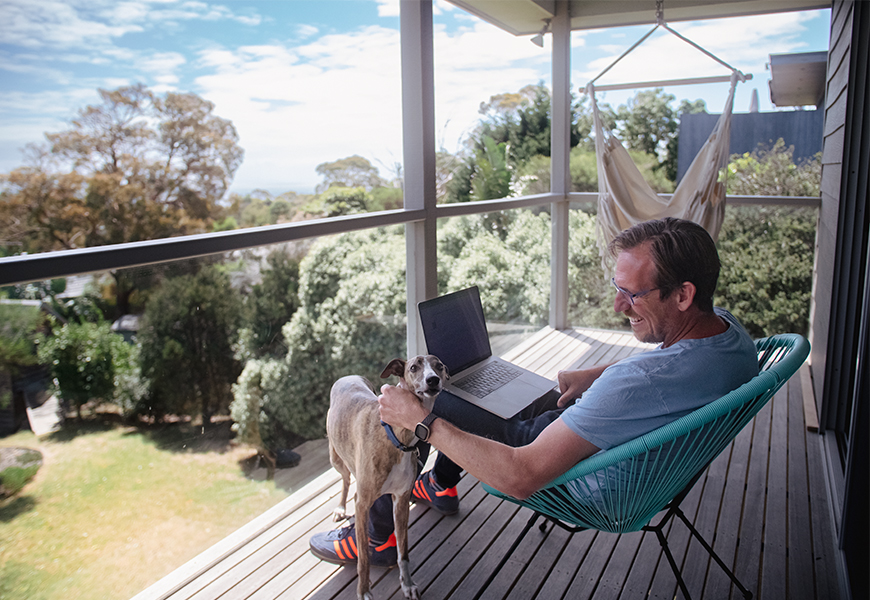 Where once some may have questioned the need to build a high-speed broadband network across the nation, says Simon, the collective experience of those in Australia during the pandemic has opened eyes up to the enormous possibilities of securing a seat at the global digital table.
"When I think about the workplace, and about what technology means and how we use it, I feel that often we just scratch the surface of what's possible."
It's a view shared by Mykel, who believes the opportunities are endless.
"Right now, I think we're just still at the tip of the iceberg. There is so much more that we can do moving forward to keep people engaged in their work, leveraging digital tools.
"At Pirate TV, we like to say virtually anything's possible, but none of this would be possible without the nbn network."*
* nbn is very happy with Simon and Myke's experience with the nbn network. Of course, experiences may vary. Your experience, including the speeds actually achieved over the nbn network depends on the nbn access network technology and configuration over which services are delivered to your premises, whether you are using the internet during the busy period, and some factors outside nbn's control like equipment quality, software, broadband plan, signal reception and how your service provider designs its network.