Bringing the heart of Australia to the world
Here, we head to Alice Springs in the Northern Territory to find out how connectivity is helping to take Aboriginal artwork to the world.
Venita Poblocki admits she and her husband raised a few eyebrows among acquaintances when, in early 2017, they revealed they were leaving the cosmopolitan comforts of Sydney for Alice Springs.
"A lot of people's perception of Alice Springs is that it's flat and barren, and they don't realise what a beautiful and vibrant place it is," she says.
Venita's move to Alice Springs was about more than a 'bush change'.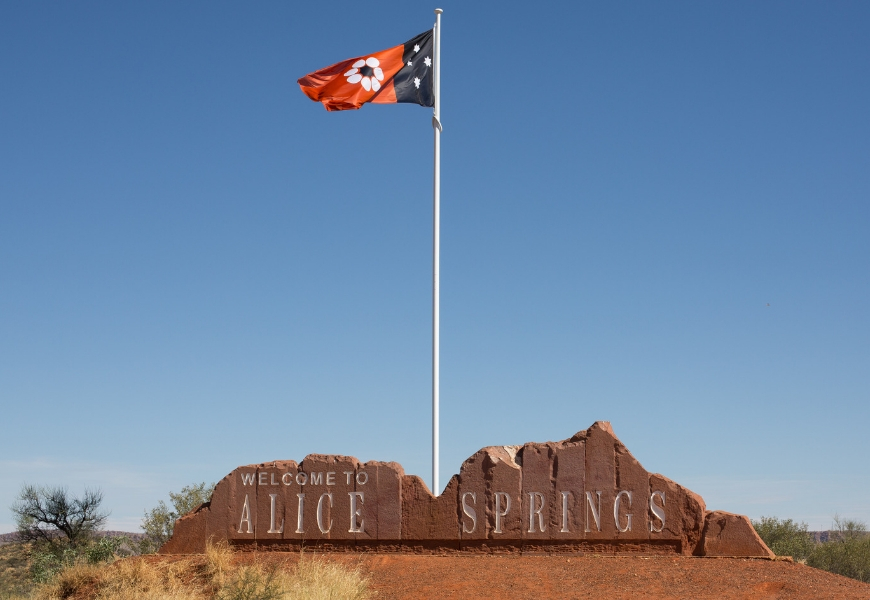 She had spent some of her formative years in the desert and established a connection with Aboriginal culture and art.
She had become a specialist and professional in Aboriginal art more than a decade before the move, and her relocation to 'Alice' was the realisation of a long-held dream of working among the artists whose works she showcased.
"We wanted a change of environment and we wanted a change of workplace," says Venita.
The couple decided to buy an existing business in the remote town that can be found halfway between Darwin and Adelaide.
"It was one of the best things we've ever done," says Venita.
That business, This is Aboriginal Art, is based on Todd St in the heart of Alice Springs but sources its works from Aboriginal artists from across a radius of more than 800 kilometres of the Central and Western Desert.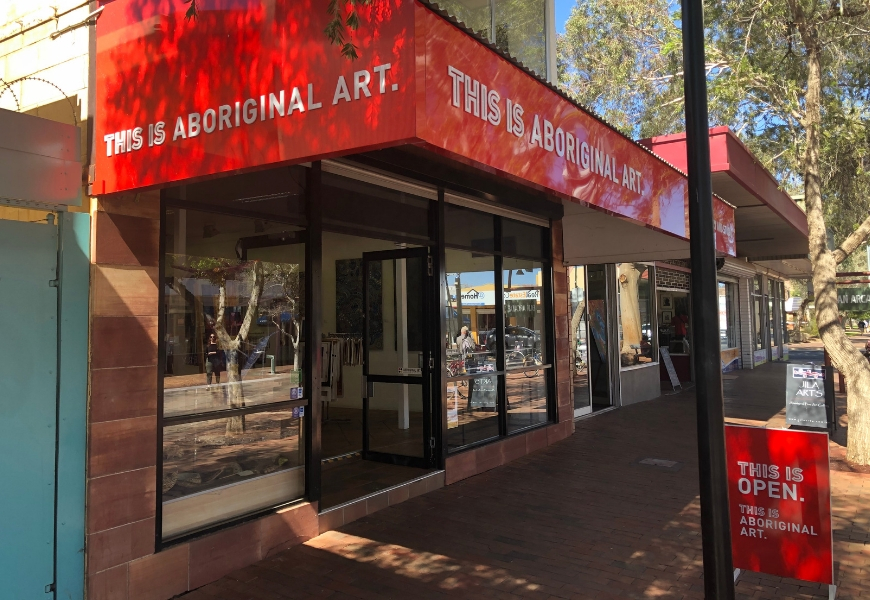 The gallery is located at 87 Todd Mall, Alice Springs, in the Northern Territory
"The works of this region are what the broader market pictures when they think of Aboriginal Art, that amazing and unique dot art from the Central and Western Desert.
"We have about 25 key artists that we work with, but there is always new and emerging talent.
"There are young artists who have just picked up the brush for the first time but there are also older artists who just started and find it as a brilliant avenue to express their culture."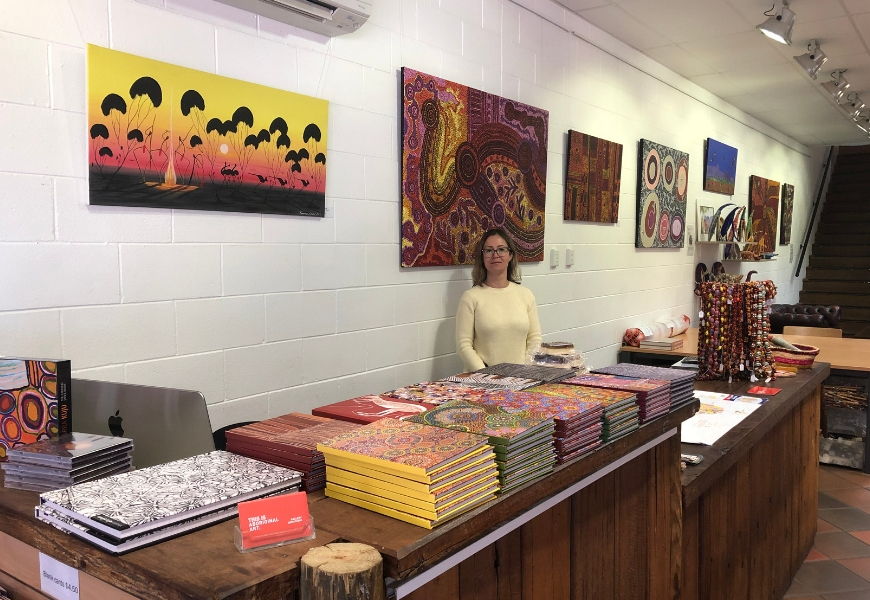 Venita Poblocki, co-Founder of This is Aboriginal Art
To walk around This is Aboriginal Art's gallery and studio space is a special experience.
The colours and culture of Indigenous and Central Australia engulf the beautifully fitted top floor, which receives abundant natural light from the Alice Springs sun.
Much of the business' turnover comes from walk-in tourists, but an online presence has also been crucial in helping to showcase its artists to the world and access a broader market.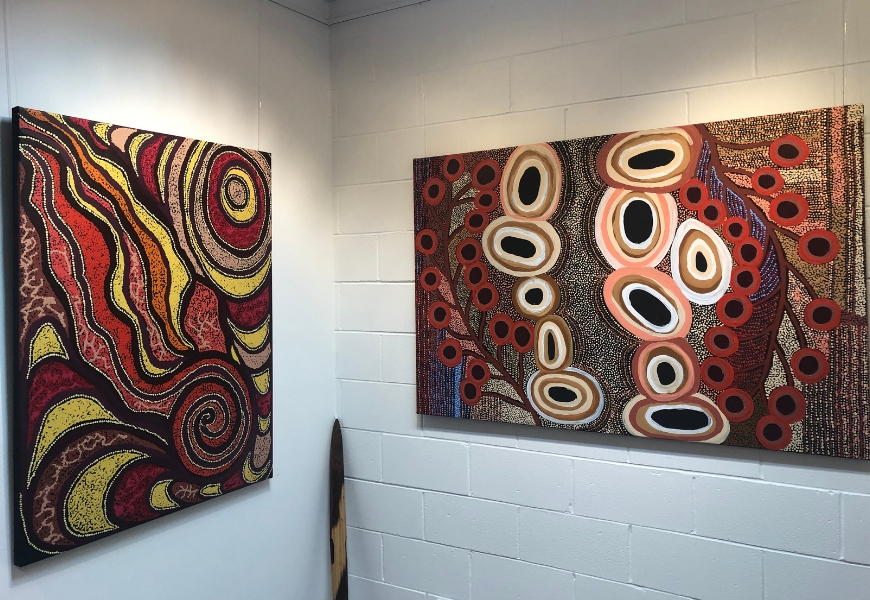 (Left) Carol-anne Ken, Minma Malilu, 2018 (Right) Alison Munti Riley & Anthea Riley, Bush Tomato, 2018
Venita says connectivity was a barrier to growth when she first settled in Alice but the arrival of the nbn™ broadband access network would prove perfect timing.
In late 2017, the business was quick to connect to services over the nbn™ access network and says it's been important in helping to move operations to the cloud, access social media, and grow their e-commerce catalogue and market.
"One of the things we did when we bought the gallery was we actually rebranded it, and a big part of the rebrand was building a new website to allow us to reach a broader marketplace outside of the foot traffic in Alice Springs,'' says Venita.
"When [the] nbn™ [access network] was rolled out in Alice, we were very pleased because it has allowed us to access the cloud and shift all of our documents and files online, and get our full catalogue online through our new website.
"It's really helped drive our business, just having that faster, easier access to the internet."
It's the connectivity that the nbn™ access network has brought to Alice Springs that, in turn, is helping Venita to live her dream of basing herself in Australia's heartland while taking its beauty to the wider world.
"Every single artwork that is painted is culturally derived from the heartland of that artist,'' she says.
"Every single artwork that is painted is culturally derived from the heartland of that artist.''
"No two artworks that are alike. It is a cultural expression.
"It is something which helps them share their culture with the world and it is something they can be proud of."
And something that Venita – and NBN Co – can be proud of too.
*nbn is very happy with Venita's experience with the nbn™ broadband access network. Of course, end user experiences may vary. An end user's experience, including the speeds actually achieved over the nbn™ broadband access network, depends on the nbn™ access network technology and configuration over which services are delivered to their premises, whether they are using the internet during the busy period, and some factors outside of nbn's control (like their equipment quality, software, chosen broadband plan, signal reception, or how their provider designs its network). Speeds may also be impacted by the number of concurrent users on the nbn™ Fixed Wireless network, including during busy periods. Sky Muster™ satellite end users may also experience latency.