The ABC(N)s of gratifying collaboration
Another great year of collaboration with the Australian Business and Community Network results in learnings for mentors and boosted confidence for students.
At nbn, our core reason for being is to lift the digital capability of Australia. To ensure that Australians have the opportunity – through services like those over the nbn™ broadband access network – to keep pace with an increasingly connected world, today and well into tomorrow.
And among those likely to benefit the most from this high-speed present and future are Australia's young people.
From opening up a world of online learning, to fuelling imagination and interests, and enabling tomorrow's technology, connectivity has an important role to play in their success.
And we've been fortunate to see this firsthand through our continued collaboration with the Australian Business and Community Network (ABCN).
Allegra Spender, Chief Executive Officer at ABCN (left) and Kathrine Dyer, Chief Network Deployment Officer at nbn (right) are joined by Scott Gaunson and Brett Stanford from YouTube channel How Ridiculous during 2018's nbn™ STEM+X initiative
We've been happily collaborating with ABCN since October 2017.
A not-for-profit organisation, ABCN connects business with education to "provide students with the skills and work experience they require to make sound personal, educational and vocational choices".
So far, we've run two highly successful STEM-in-schools programs together, helping to champion the importance of STEM education while, at the same time, showing participating students how to incorporate their own hobbies and passions (the nbn™ STEM+X initiative) and entrepreneurialism (nbn™ STEMpreneur).
And it's not just about broadband.
As Executive Sponsor of our work with ABCN, I'm also extremely pleased that so many of nbn's people have volunteered to mentor students across a range of programs.
Letting the results speak
Reflecting on the year that was, I'm delighted to say, the 2019 ABCN Member Company Report for nbn reinforces the power of our partnership. How we've been a small but important part of big changes in the lives of participating high schools and their students.
In 2019, 100 nbn volunteers provided 485 hours of encouragement to 394 students from 16 schools around Australia.
I was very pleased to learn that 92 per cent of nbn mentors said their interaction with students through ABCN programs has improved how they will mentor others, while 97 per cent felt their inter-generational and/or cross-cultural awareness had improved.
Proof that learning truly is a two-way street.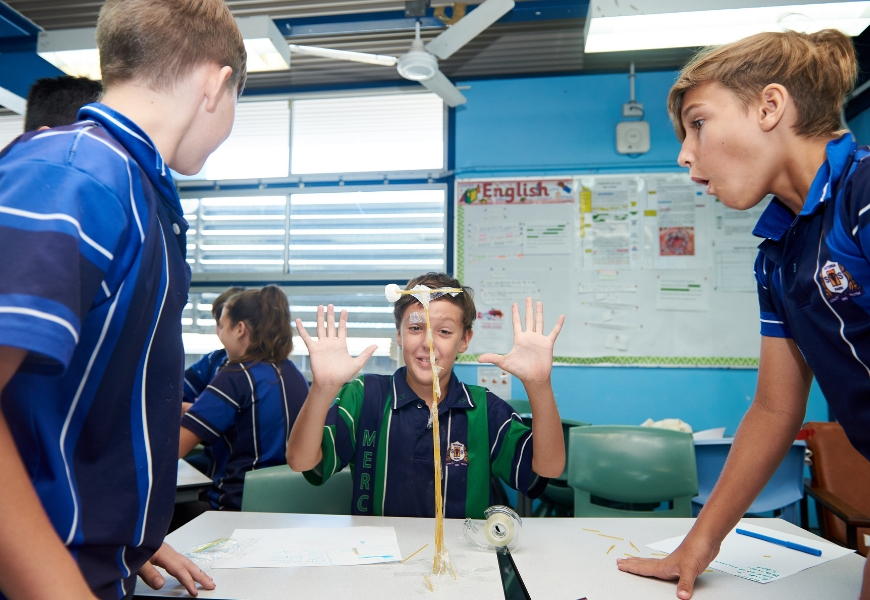 Students from Victoria Park State School, Mackay, participating in 2019's nbn™ STEMpreneur initiative
I'm also proud to know that, thanks to the nbn™ STEMpreneur initiative, ABCN was able to reach students in remote and regional schools beyond its usual operating area – in keeping with our commitment to regional, rural and remote Australia.
In fact, STEMpreneur has been such a hit with students and schools that it will be rolled out across the ABCN member company network in 2020. Now, how's that for impact?
Another key ABCN program that nbn was involved with in 2019 was 'Interview 2 Impress'.
Almost 2,000 students participated in the one-day workshop designed to help prepare them for job interviews.
Before the program, just 19 per cent of participating students felt they understood how to prepare for a job interview – after the program, this figure soared to 94 per cent.
And while only 20 per cent said, going into the session, that they understood what was required of them in a job interview, afterwards, 94 per cent were now confident they knew.
Finally, and perhaps most importantly, while only 21 per cent of participating students initially felt confident answering interview questions based on their behaviour and previous experiences, following their mentoring session with nbn and other ABCN member company volunteers, this climbed to 92 per cent.
And there are more promising results where they came from.
Overall, the ABCN's 2019 report card paints a very promising picture for students involved in its programs.
In total, 8445 students were mentored by corporate volunteers – a growth of 26 per cent – which helped benefit 29,000 students across the full range of ABCN activities and programs.
High school completion rates and university admissions also grew.
A striking 91 per cent of students who participated in the ABCN's flagship programs, GOALS and Aspirations completed year 12 – which is even more noteworthy when compared to the national average (79 per cent) and the average for disadvantaged students (76 per cent).
Sixty-three per cent of these students accepted offers to study at university, also above the national average (60 per cent) and noticeably above the average for disadvantaged students (46 per cent).
And of the 87 per cent of scholarship students who finished ABCN's Accelerate program, 100 per cent are now working, studying at tertiary level, or training.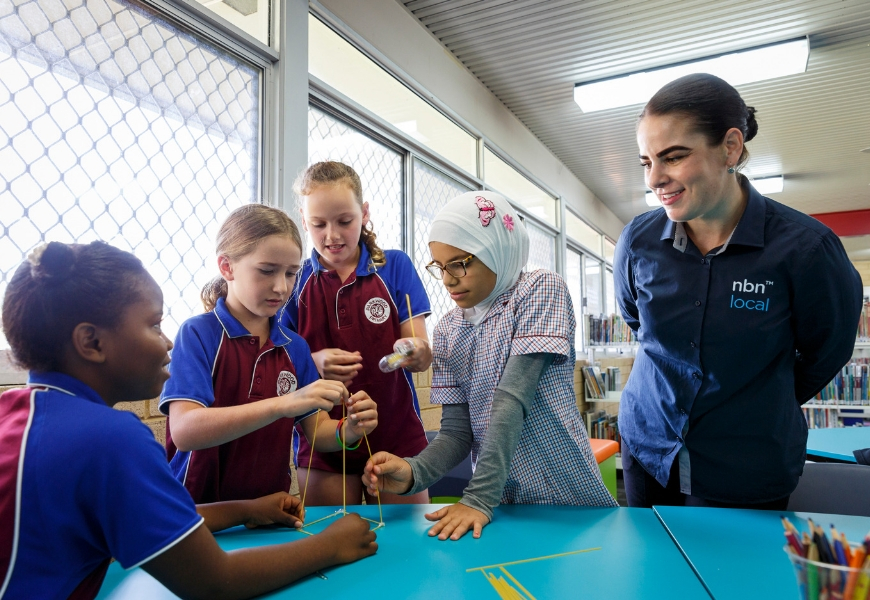 nbn's Jane McNamara with students from Parkwood Primary School in Perth during the 2019 nbn™ STEMpreneur initiative
With results – and impacts – like these, you'll no doubt understand why we're so thrilled to be playing our small part in the lives of young Australians.
Through our work with ABCN and nbn™ connectivity.
We're looking forward to seeing what 2020, and our involvement with ABCN, brings.
More from ABCN's report card
Celebrating its 15th year in 2020, ABCN and its growing network of member companies have brought together more than 50,000 volunteers and almost 200,000 students.
Other highlights from 2019 include:
nbn volunteer participation grew 33 per cent in 2019 compared to the previous year.
Understanding of design thinking grew by 70 per cent following ABCN's Future Thinkers program, with knowledge of the 'five Ds' – discovery, design, development, delivery and debrief – climbing by 76 per cent. Confidence in developing and testing new ideas almost doubled to 92 per cent by the end of the program.
InterACT, which provides mentoring for recently arrived migrant and refugee students whose first language isn't English, raised confidence levels by 60 per cent, and helped lift understanding of a modern Australian workplace by 62 per cent. Proudly, 93 per cent of students who completed InterACT were confident with the prospect of a job interview, a stark and impressive contrast to 24 per cent going in.
110 job placements were made through ABCN member companies including the JP Morgan Inroads program, Optus pathways program and TAL's support of Accelerate Scholars.
Three digital mentoring program pilots set up to reach rural and remote students in the future.