Bright STEM ideas from Australia's future workforce
For the second year running, NBN Co's STEM-in-schools program revealed an eager and innovative bunch of students, full of ideas to help their communities.
Drones that deliver emergency supplies during natural disasters.
That's the inspired – and winning – idea that sprang from NBN Co's inaugural science, technology, engineering and mathematics (STEM) initiative in 2018.
And while last year's program showed students how to combine STEM skills with their hobbies and passions, this time around, we added an entrepreneurial twist.
That's because, according to the Bright Futures research recently commissioned by NBN Co and conducted by AlphaBeta, three in four Australians are expected to spend more time using STEM and entrepreneurial skills at work by 2030.
Once again joining forces with the Australian Business and Community Network (ABCN), we invited eight schools from across the country – some returning and some new – to participate in what was gearing up to be another fun and information-packed experience:
Bowen Road Primary, Hobart (TAS)
Canadian Lead Primary, Ballarat (VIC)
Islington Primary School, Newcastle (NSW)
Larapinta Primary School, Alice Springs (NT)
Para Hills School, Adelaide (SA)
Parramatta State School: Classes 6A and 6B, Cairns (QLD)
Parkwood Primary School, Perth (WA)
Victoria Park State School, Mackay (QLD)
After 12 weeks of virtual learning about STEM and entrepreneurialism, regular video calls with mentors from NBN Co and new STEMpreneur ambassador Marita Cheng, plus a workshop held at each school, it was time for students to develop their idea for a social enterprise to benefit the local community.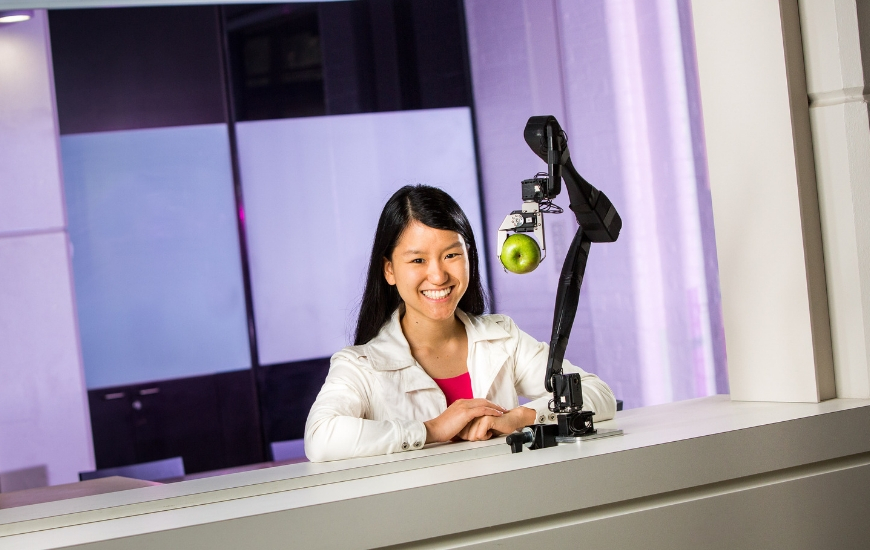 STEMpreneur ambassador, Marita Cheng
And, just like last year, each school group would virtually present its concept to the panel of judges for the chance to win an exciting tech prize pack.
Allegra Spender, CEO of ABCN, once again joined Kathrine Dyer, our Chief Network Deployment Officer, on the judging panel at the Discovery Centre within NBN Co's Sydney headquarters.
Plus, Cheng – the well-known tech entrepreneur and women in tech advocate – was also on hand as the bright sparks revealed their ideas…
In keeping with the caring nature of social enterprises, the pitches shared common themes including protecting people (both big and small) and the environment.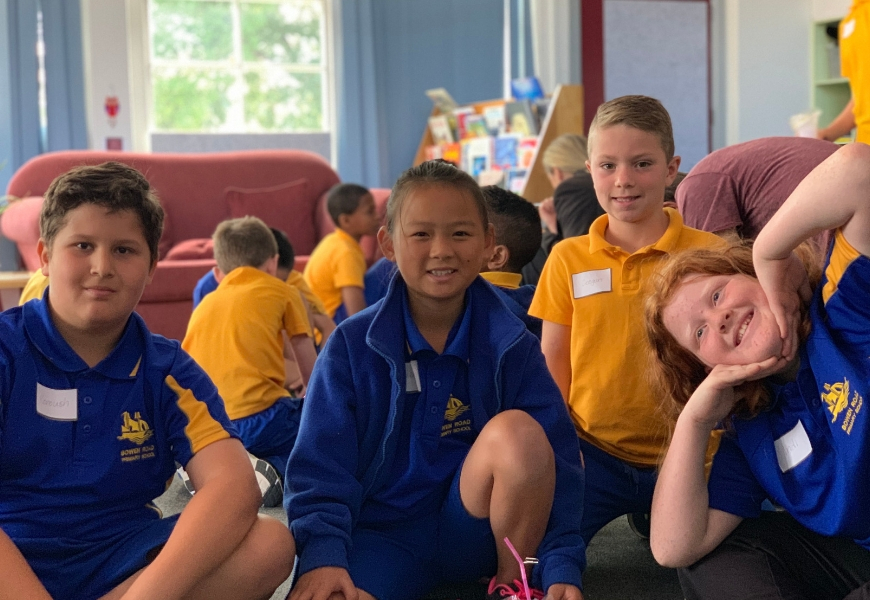 Idea: Fireflies

To help firefighters combat blazes, Fireflies is a remote sensing autonomous vehicle (aka drone) that flies into low visibility areas to convey vital information back to emergency services.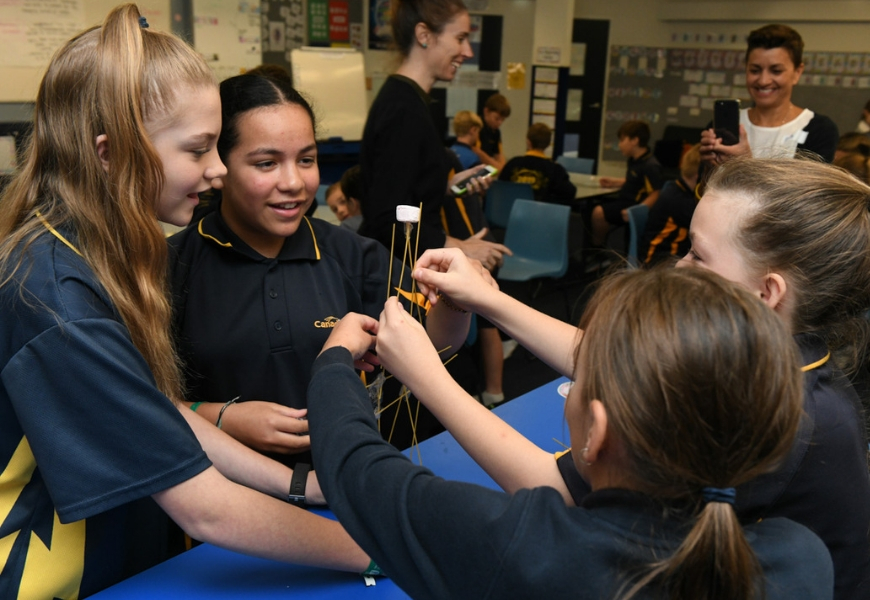 Idea: Clean Crew Bin Solution

A self-sustaining digital bin powered by solar energy, the Clean Crew Bin Solution encourages communities to scan rubbish in exchange for rewards redeemable at local retailers.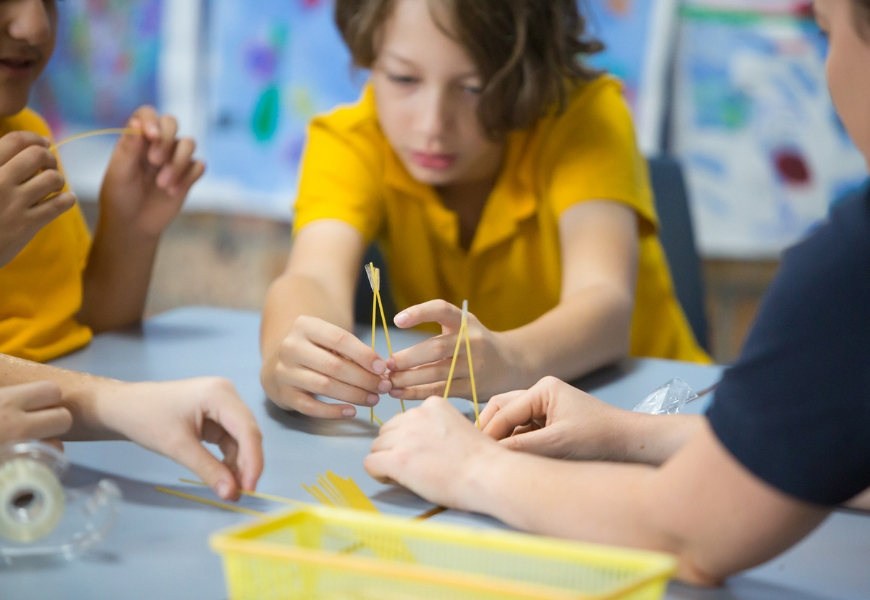 Idea: Air Aware

Concerned with air pollution from uncovered trains travelling from coal mines, Air Aware provides community members with real-time air quality information via app and website.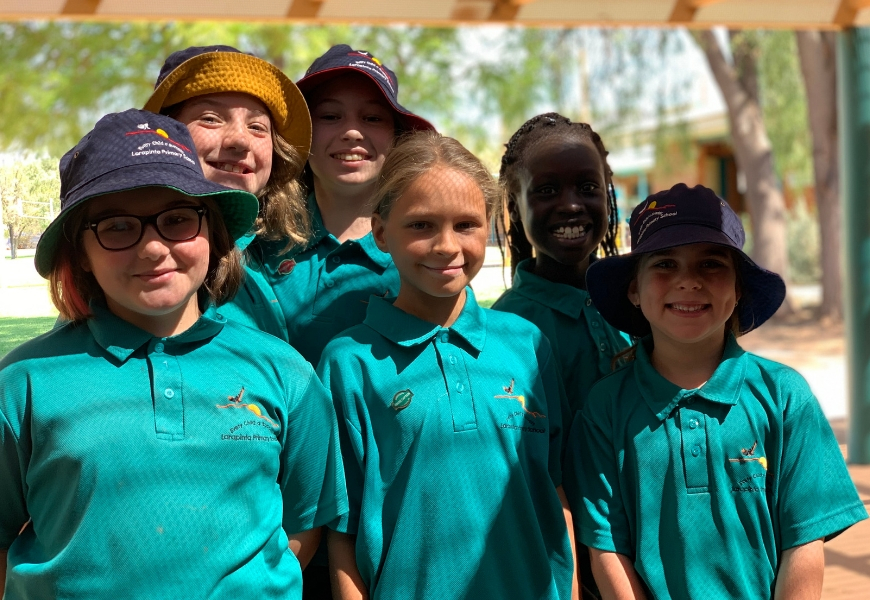 Idea: TINT (Tourist Information Northern Territory)

Designed for NT-visiting tourists, TINT provides advice on food and water provisions, and the dangers of local animals. The app and website can also connect users to emergency services, and features location tracking via satellite.
Idea: Fun Time Bin

Gamifying responsible rubbish disposal, Fun Time Bin scans and sorts rubbish according to general waste, paper and plastic, or glass recyclables, building a database of the rubbish being collected.
Parramatta State School: Class 6A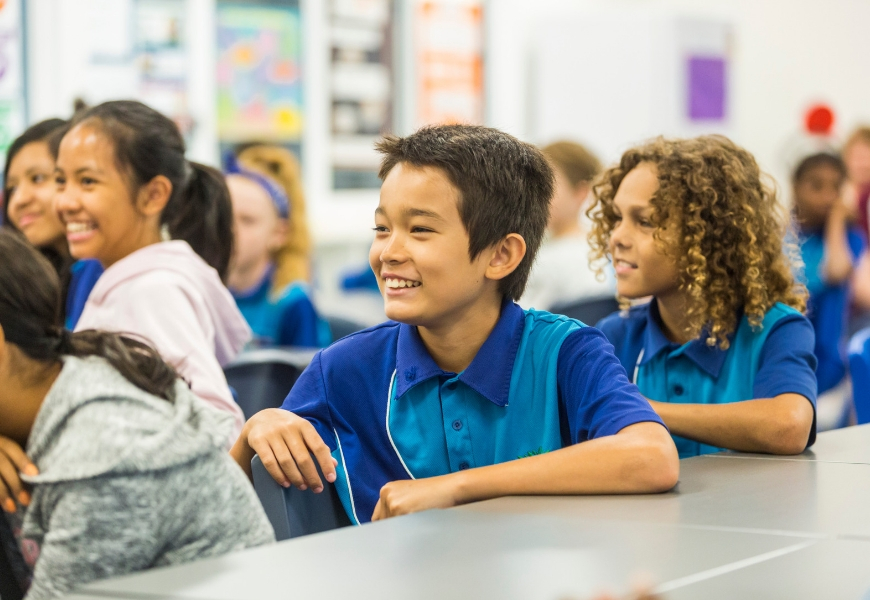 Idea: The Hope Shack

A mobile hub to support homeless people in Cairns, including access to washing machines, internet to help with finances and employment, and other essential services.

Parramatta State School (Class 6B)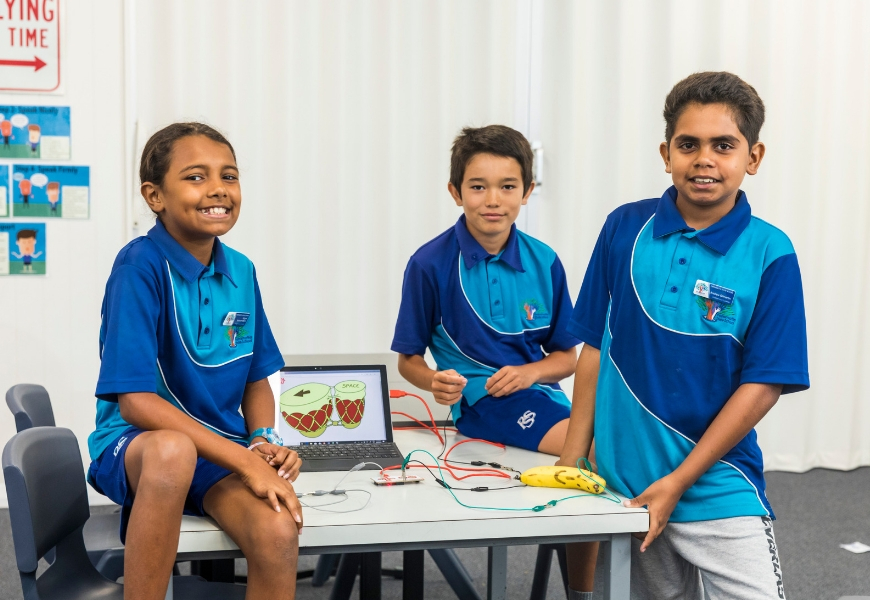 Idea: R4 – Reef Rubbish Removal Robot

Designed in the shape of a whale shark, R4's 'mouth' collects rubbish via a net system allowing animals to swim through. Solar powered and fitted with a camera, R4 data can be accessed in real-time by the public to increase awareness of ocean pollution.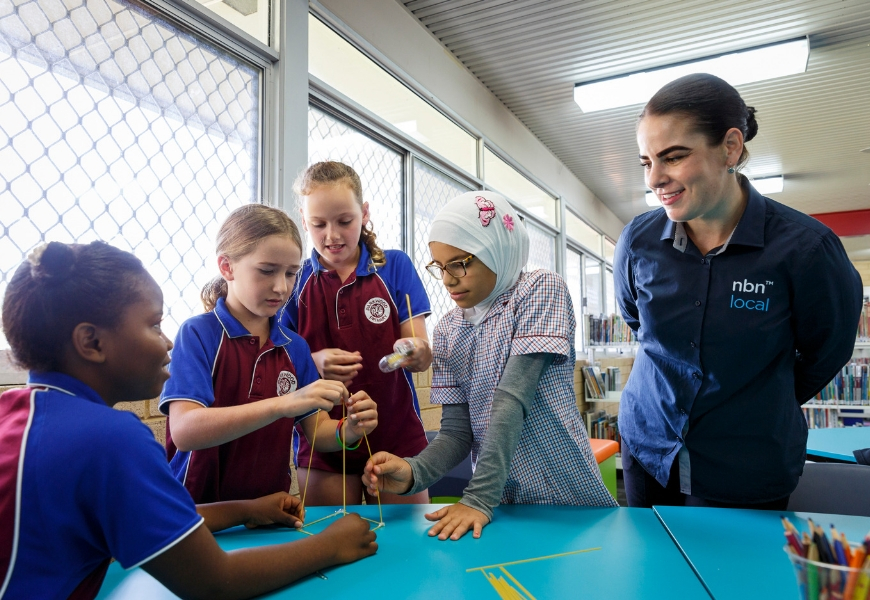 Idea: Kids Mental Help

A website to support the mental wellbeing of young people, Kids Mental Help includes a chat function and a mascot keyring for students as a reminder of the resource available to them.

Victoria Park State School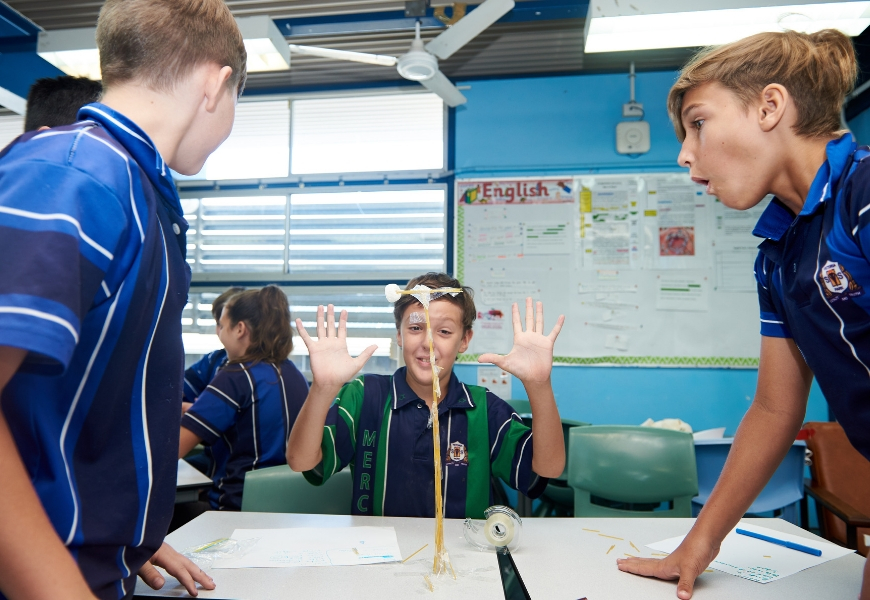 Idea: Little Litter Legends

To encourage responsible rubbish disposal, the Little Litter Legends app rewards users by earning points that can be traded for clothing and accessories.
Let's face it, with great ideas like those, the schools didn't make it easy for the judges to decide on the winner.
Says Cheng, whose business aubot has been building robots since 2013, "It was so great to see these kids really tackle community issues and, along the way, develop creativity, critical thinking and digital literacy skills through the initiative.
"As a leader in the tech space, I thought it was so cool that these kids are being encouraged to use STEM through connectivity to solve local problems that can then be scaled globally."
Ultimately, it was the innovative use of drones – as seen with last year's winning school – that captured the panel's attention.
At a special ceremony at their school in Hobart, Bowen Road Primary's Fireflies was announced as this year's deserving winner.
Says Susan Richardson, Principal of Bowen Road Primary, "It's been amazing to see the students and the teacher grow in confidence through the nbn™ STEMpreneur initiative.
"I think we all see now that technology is just another (and very important) tool we have for figuring out how to solve real-world problems. It's a credit to them and their teachers as to the way they have participated wholeheartedly, and used their enthusiasm and thought creatively. Who knows, the Bowen Road Firefly could very well feature in firefighting in the years to come."
And with the significant role that digital literacy is predicted to play in the future, this enthusiastic embracing of technology is likely to bring long-term benefits.
Says Russell Kelly, nbn™ local Manager for Tasmania, "It's all the more important when you consider that the workplaces of the future will need these ways of working.
"Our research shows that the workers of tomorrow are going to be increasingly using technology to solve problems, and working in multi-skilled teams to do it, all dependent on good connectivity."
If the calibre of social enterprise ideas from our eight participating schools and students is anything to go by, then Australia's future workforce sure seems to be in safe hands and bright minds.
Marita Cheng was paid a small fee for her time and involvement in the nbn™ STEMpreneur initiative.