An entrepreneurial twist to STEM learning
It's back! NBN Co's successful STEM-in-schools program kicks off for a second year of fun and learning.
Following on from its highly successful inaugural year, NBN Co's STEM program returns to help ready the next generation of Australians for rewarding careers. And, this time, there's an entrepreneurial twist…
Kicking off yesterday in Hobart, the nbn™ STEMpreneur initiative is designed to help young Australian students prepare for the new world of work.
Research by AlphaBeta (commissioned by NBN Co) into the future of education and jobs has found STEM – science, technology, engineering and mathematics – and entrepreneurial skills are highly sought-after by employers.
With high-touch, high-skill jobs growth on the rise, by 2030, more than 90 per cent of the workforce in Australia is expected to be using, configuring or building digital technology at work.1
The nbn™ STEMpreneur initiative
Once again, NBN Co is joining forces with the Australian Business and Community Network (ABCN) to deliver the fun and educational initiative.
While last year focused on showing students how to combine STEM skills with their hobbies and passions, this time round, it's about applying STEM and entrepreneurial skills to develop a new idea for a social enterprise.
Says Kathrine Dyer, Chief Network Deployment Officer at NBN Co, "We see the nbn™ STEMpreneur initiative as an innovative and exciting way to equip students with STEM and entrepreneurial skills by leveraging technology and opening up a world of online learning opportunities."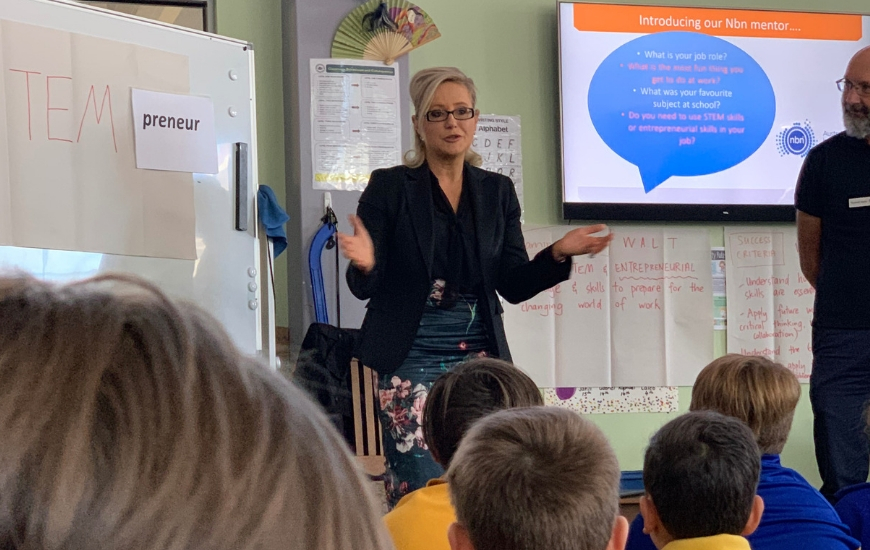 Chief Network Deployment Officer Kathrine Dyer at the launch of the nbn™ STEMpreneur initiative with students from Bowen Road Primary in Hobart
Eight schools from across the country have been invited to participate in the initiative and are now gearing up for 12 weeks of virtual learning.
Says Allegra Spender, Chief Executive Officer at ABCN, "Entrepreneurialism is a vital mindset for the next generation. Whether these young people will start their own businesses or work in established organisations, having the skills and mindset to come up with innovative ideas, and persevere to bring them to reality creates enormous opportunity for them."
This year's participating schools are: Parramatta State School in Cairns; Victoria Park State School in Mackay; Para Hills Primary School in Adelaide; Islington Public School in Newcastle; Bowen Road Primary in Hobart; Larapinta Primary School in Alice Springs; Canadian Lead Primary School in Ballarat; and Parkwood Primary School in Perth.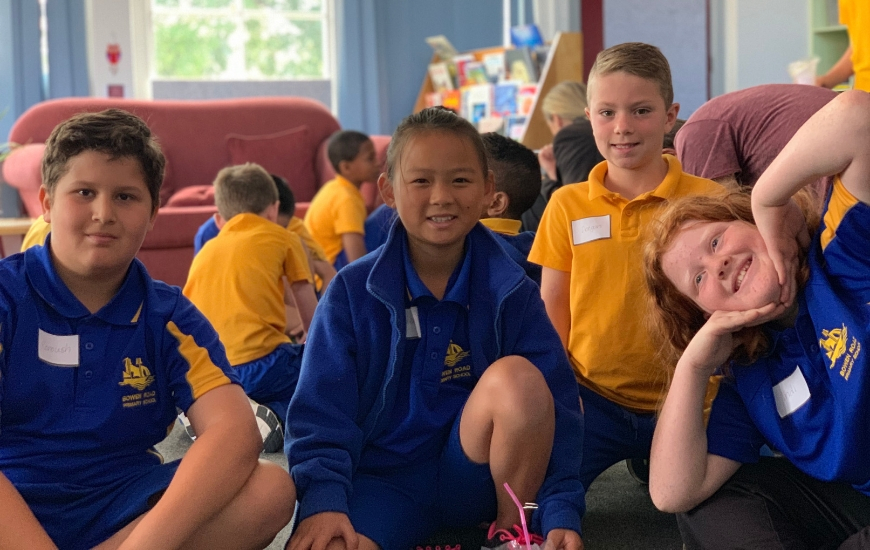 Students from Bowen Road Primary in Hobart
Following a workshop at their school, students will have two months to work as a team to develop their idea for a social enterprise.
The only criteria? Their concept needs to be enabled by technology and be of benefit to their local community.
To wrap up the program, each school will get to pitch their social enterprise idea to the judging panel of industry experts, including robotics expert and STEMpreneur ambassador, Marita Cheng.
As well as bragging rights – and a definite step in the right direction for their future careers – the winning students will be rewarded with a STEM-themed tech prize pack for their school.
So, which school will come up with the goods and take out this year's crown? We're as keen as you to find out!
1. Connecting Australia 2019: Digital Technology Transforming Education Report.