The silver economy's new golden girl
Connectivity and retirement have opened up a whole new world of business possibilities for 'silverpreneur' Nan Berrett.
When Nan Berrett walked out of a 23-year career in journalism in South Australia's beautiful Clare Valley, she was never going to slip quietly into the night.
Seven years ago, to coincide with her husband's retirement, Nan left the Northern Argus newspaper to set up a home office, beautifully situated in the historical village of Armagh, seven minutes from Clare.
Nan's vision didn't involve retiring. Her mission was to discover what came next.
In the two decades she spent reporting at the 150-year-old newspaper, Nan progressed from using molten lead typesetters to electric typewriters, to clunky computers with tiny screens, and then, to portable laptops.
In the world of journalism, the pace of change in technology has been rapid and Nan became an early adopter of everything new.
Now 70, Nan is wildly in love with what technology and broadband access can do – and is doing – to remove the stigma of isolation for people living in rural and remote settings.
After a good deal of research, mentorship, learning and networking, she started her own online media and marketing consultancy, Word Solutions.
And when Nan realised the rewards of doing business online, she began working on a second business aimed at igniting the passion and capabilities of other older women to start their own businesses.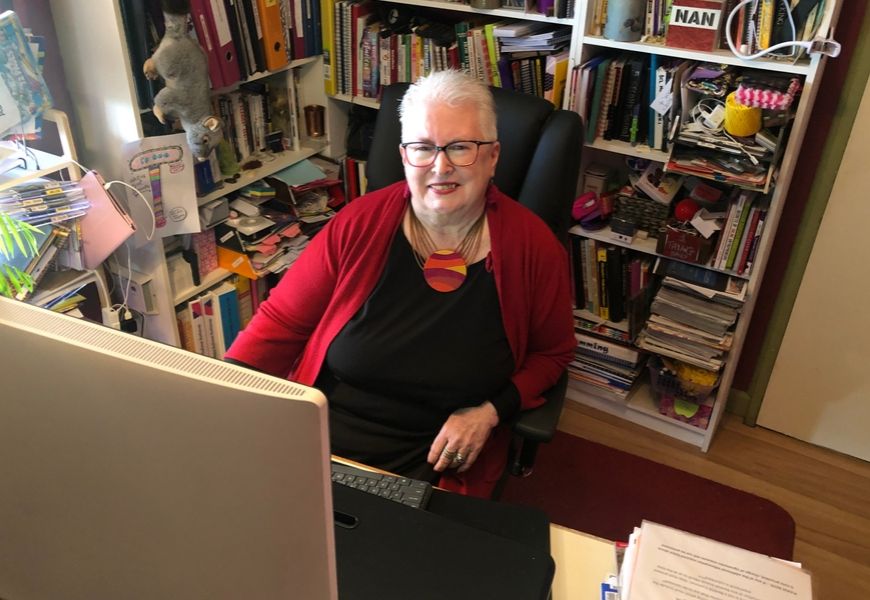 Say hello to Silverpreneurs
What is emerging from that process is 'Silverpreneurs', an online platform aimed at giving older women in regional, rural and remote communities across Australia access to a startup toolkit that can be used to create their own small businesses.
"This is for women who have raised their kids and are looking for something else that will fulfil their lives," says Nan.
"As an older woman in business myself, sometimes it's difficult to find the resources you need in one spot.
"I'm hoping Silverpreneurs will be able to reach women all over Australia, to give them the opportunity to network, to get to know each other, learn from each other and give each other support, mentorship and resources via the portal.
"Technology is hugely important to Silverpreneurs. This wouldn't have been possible even five years ago."
Making a difference with connectivity
"The advent of the nbn™ [broadband access network] and having a reliable and connected service to reach out to women in regional and rural areas is fantastic," says Nan.*
"Suddenly everything is closer to people. Access to information technology and being able to connect to people across the world and across the nation – the nbn™ [access network] provides all that and I think it's just wonderful."*
"I love being able to connect with people on the internet. It's one of the most important aspects of my business, and being able to get to my clients using this technology is just priceless."*
Having raised three children while developing her career in journalism, Nan understands her community intimately and the needs of women in similar situations. She knows their stories and their challenges.
What interests her most is the strength of community bonds and the spirit of people living in our regions.
"The standout stories that I covered as a journalist weren't about meeting famous people. That didn't interest me. The stories I most remembered, that appealed to me as a journalist, were events like the Gladstone explosion and the big floods of 10 years ago.
"I was fascinated by the way in which small communities rallied in a disaster, how they helped each other, and the resilience they demonstrated in the face of tragedy and huge damage."
Helping to create new (business) stories
This goes some way to explaining what inspired Nan to develop a platform designed to unleash the economic potential of a new, strong and vibrant community of older women in rural areas right across the country.
Nan says having access to fast internet, such as internet via services over the nbn™ access network, is now enabling businesses to open and thrive in pockets of Australia that have not been able to host small home businesses before.*
"It's great for regional economies and priceless for the older economy – for people like me."
As a result, their annual contribution to the national economy, Nan believes, will be significant: "It's a very valuable thing."
ZestFest, South Australia's largest arts and community festival specifically designed for people aged over 50, launches on 14 October with the inimitable Ita Buttrose AC OBE delivering the 2019 Oration.
Other speakers include presenting partners, Debbie Taylor, Chief Information Officer at NBN Co, and David Panter, CEO at Enabling Confidence at Home.
As a primary sponsor, NBN Co will be running free workshops on 'What exactly is the Internet of Things'.
16 October 2019
1-3:30pm
Wakefield House: Positive Ageing Centre
Acre Avenue
Morphett Vale
18 October 2019
10:30am-12pm
Para Hills Community Hub Function Room
Wilkinson Rd
Para Hills
22 October 2019
10:30am-12pm
Victor Harbor Council Chambers
1 Bay Rd
Victor Harbor
24 October 2019
10:30am-12pm
Fulham Community Centre
19 Fitch Rd
Fulham
For more information, visit www.zestfest.org.au

* nbn is very happy with Nan's experience with the nbn™ broadband access network. Of course, end user experiences may vary. An end user's experience, including the speeds actually achieved over the nbn™ broadband access network, depends on the nbn™ access network technology and configuration over which services are delivered to their premises, whether they are using the internet during the busy period, and some factors outside of nbn's control (like their equipment quality, software, chosen broadband plan, signal reception, or how their provider designs its network). Speeds may also be impacted by the number of concurrent users on the nbn™ Fixed Wireless network, including during busy periods. Sky Muster™ satellite end users may also experience latency.