The Red Hot Art of fast broadband
It's a long way from anywhere. Yet the artistic spirit shines brightly in Central Australia, especially now that the nbn™ broadband access network is in town.
Artists – young and old – are naturally drawn to the centre of our continent to fire up their creative juices and imbue themselves into the spirit of a landscape that thumps to the beat of an ancient splendour.
The arts and cultural scene in Central Australia thrives on the majesty of the place itself, but only to a point.
There's a cruel irony to the scene's artistic endeavours. The very source of the artists' inspiration is often the same factor that drives ambitious artists away.
That's because Central Australia is a long way from anywhere. If you want to develop your creative abilities, Australia's cultural institutions and mentors are often too far away to commute. So you leave.
But now the nbn™ access network has arrived in Alice Springs.
It can be a different story there now.
Alice Springs, Northern Territory
Established back in 1999, Red Hot Arts Central Australia is an organisation funded by the Alice Springs Town Council, Northern Territory (NT) Government and the Australia Council to promote and nurture the arts and events sector in Alice Springs.
Red Hot Arts General Manager Cy Starkman was disappointed with watching the passing parade of artists, many exceptionally talented, forced to leave town to access city-based mentors to help hone their skills and guide them in their development.
Something of a tech-head tragic, Starkman mounted a high-pressure funding campaign to have fibre (Fibre-to-the-Premises) brought directly into the arts hub building he manages, via the Technology Choice Program, when the nbn™ access network began rolling out in Alice Springs in 2016.
You see, Starkman had a vision that involved access to fast broadband, a 180-degree camera and Bluetooth technology. Those three bits of technology are helping to enable big changes to artistic pursuits in the centre.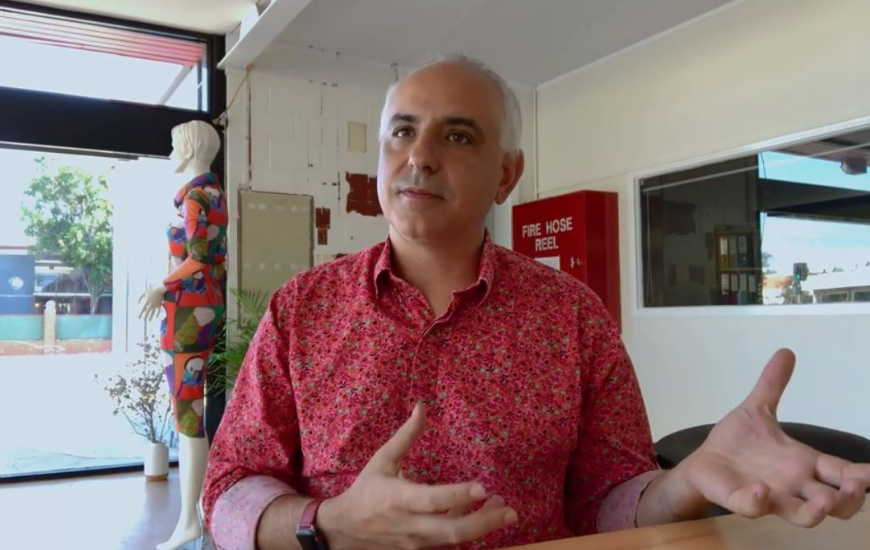 Cy Starkman, General Manager at Red Hot Arts
With these capabilities, Starkman could open a live window between the Red Hot Arts building and the top choreographers and directors in their field in every capital city in Australia.
It would mean artists – everyone from dancers to clowns, as well as circus, puppetry and burlesque performers – could begin taking lessons from a smorgasbord of top mentors without having to leave town.
So he began pushing for the option of connecting the nbn™ access network fibre directly into the Red Hot Arts building in the centre of town.
With the aid of $15,000 from the NT Government, and the Technology Choice Program, the end result is that Red Hot Arts is the first building in Central Australia to have a direct fibre connection that will help transform the way in which the arts is managed, performed and administered in Alice Springs.
The arts game changer for Alice Springs
"The nbn™ access network is a game changer," says Starkman.
"We went out to the big performing arts companies to explain our circumstance and show them how they can conduct valuable outreach mentoring work without the expense of travel and time.
"All we needed was a 180-degree camera in our rehearsal room to live stream in to any monitor in Australia. By using a projector in the room, we will also be able to do the reverse: live stream classes from anywhere in Australia to here.
"With dancers, for instance, we will strap a Bluetooth microphone onto the arms of each performer so they will be able to hear and communicate with their choreographer, who might be in Sydney at the other end of the live stream."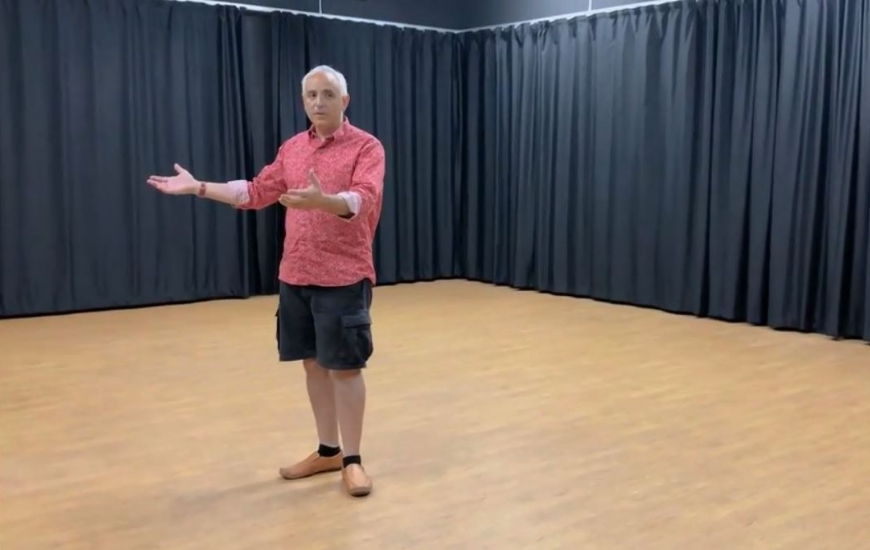 Starkman in the rehearsal space
The idea of this collaboration over distance appealed enormously. Those that have agreed to come on board, to date, are the Sydney Dance Company, Zen Zen Zo in Brisbane, Slingsby in Adelaide, as well as Polyglot and Circus Oz in Melbourne.
"They're really excited about the potential this gives them, especially in training and development in regional areas," says Starkman.
"Good mentoring takes years, and this will enable those companies – many of which have regional outreach work as part of their mission – to provide that ongoing relationship with artists in Central Australia."
Red Hot Arts is reconfiguring its building to incorporate the new technology and set up performance spaces designed to make the best use of access to fast broadband. It's up and running now.
Sharing the high-speed arts
The building is also home to the NT Writers' Centre, Music NT and Artback NT – all of which are using services over the nbn™ access network, like teleconferencing facilities, as well as uploading and downloading huge data files quickly.
"Another factor is the enormous competition in city areas for theatre space," says Starkman.
"The more we can 'regionalise' the arts – and there's plenty of idle theatre spaces in regional areas – the more we can occupy and produce great performances for regional audiences that can then tour and enrich the cities, as well.
"We're saving many thousands of dollars from this investment in the nbn™ access network's direct fibre connection: it will pay for itself many times over. I'm now encouraging other organisations in Alice Springs to connect their buildings directly to fibre. It's a brilliant enabler and has the potential to save a huge amount of money for a comparatively small investment.
"It's demonstrating the art of the possible."
nbn is very happy with Cy Starkman's experience with the nbn™ broadband access network. Of course, end user experiences may vary. Your experience including the speeds actually achieved over the nbn™ broadband access network depends on the technology over which services are delivered to your premises and some factors outside our control like your equipment quality, software, broadband plans, signal reception and how your service provider designs its network. Satellite end users may experience latency.