Monto connections are magic
Across the country, in towns, suburbs and cities, we meet those making the most of connectivity and discover how its helping locals, businesses and the region.
In the historic Queensland town of Monto (Bailai, Gooreng Gooreng, Gurang and Taribelang Country), the moon plays a leading role in its legends.
Coming in threes, one story about the naming of nearby Three Moon Creek, tells of a drover who went to fill his billy can at the creek and saw the moon overhead, as well as reflected in the water and his bucket.
In another version of the lunar legend, graziers who relied on First Peoples workers to help with their farms would tell them to come back in 'three moons' to avoid confusion around different ways of telling time.
And then there's the modern tale of the three moons connected to the nbn™ network – the Monto Three Moon Motel, that is.
Simone and Geoff Downie bought the Monto Three Moon Motel back in 2007 and say it's been a joy to meet so many wonderful people who have visited the town.
With farming and rural backgrounds, country hospitality is in their blood, says Simone.
"Our main goal is to provide excellent service with friendly, country style accommodation. We want our guests to feel at home while they enjoy their stay in Monto."
And good quality, high speed broadband has made life easier for their business, says Simone.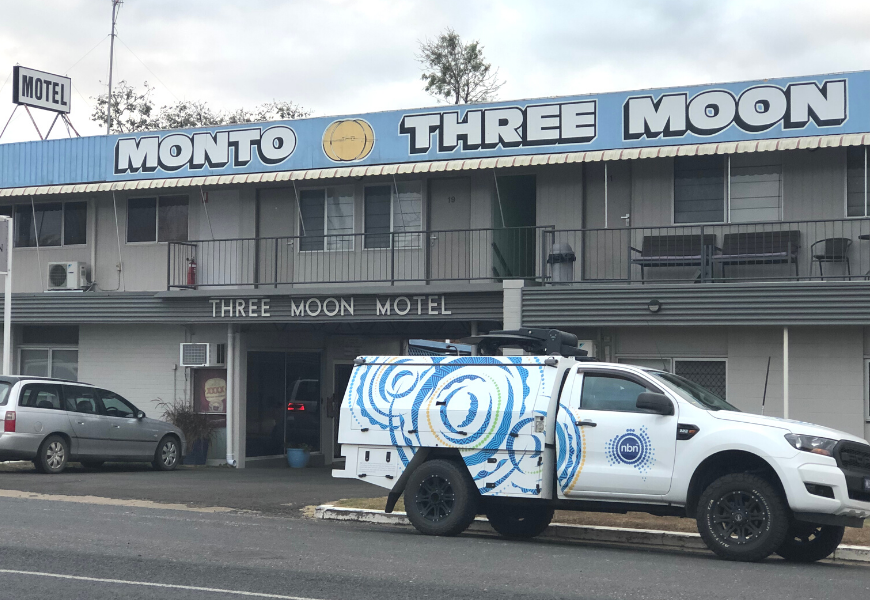 In addition to 'standard' offerings like their check-in service, phones and Wi-Fi, services over the nbn™ network have helped to enable some unexpected advantages for customers.
"For example, with the help of the nbn™ network, we introduced smart TVs into our rooms, meaning our guests can access their own streaming services, like Netflix, for when they are relaxing in their rooms at night.*
"This is a really attractive extra service for those guests, especially those with kids, who just want to relax at night with a movie or the latest episodes of their favourite series."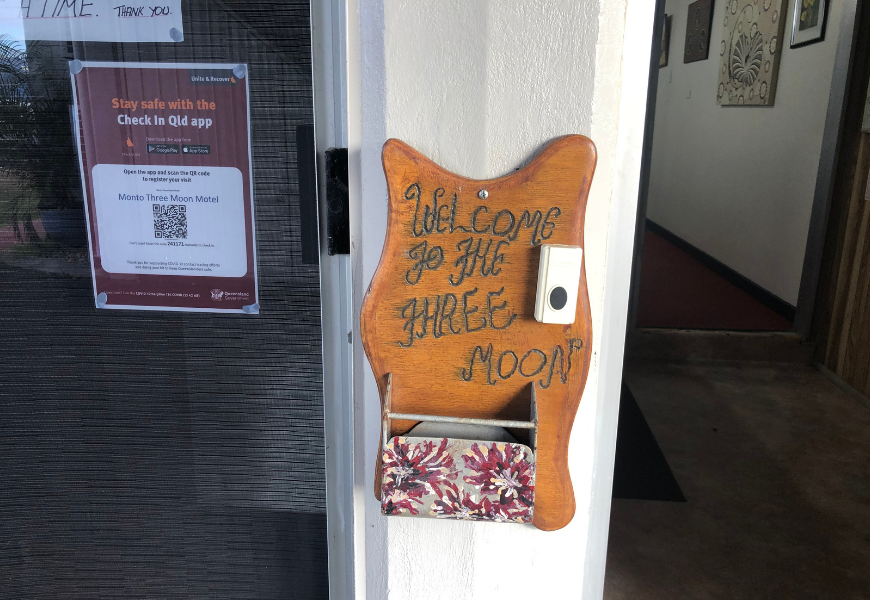 If their customers are happy, then so are Simone and Geoff.
"Cheaper and more flexible than pay-per-view models, letting our guests pick their own shows, using the same streaming services as they use at home makes things familiar, easier and more comfortable for them."
Simone and Geoff also encourage their guests to get out and about to enjoy some of the area's many other attractions. Because the one thing everyone seems to agree on – whether they're a local, visitor or regular guest – is Monto is magic.
Just like the legend has three moons, Monto is a town of three nbn™ access technologies, says Damon Cavalchini, Community Engagement Manager for Wide Bay Burnett and Surrounds at nbn.
nbn's fixed line, Fixed Wireless and Sky Muster™ satellite services are all helping to keep people connected.
"Monto is a fusion of technology and history," says Damon.
"It's great to see residents, businesses and visitors alike making the most of connectivity to enjoy everything that magic Monto has to offer.
"We're in a wonderful connected world where everything – from maps, to recommendations on where to get the best local coffee – is being shared on the web."
You might say it's the modern way to share local legends.
Damon Cavalchini, Community Engagement Manager for Wide Bay Burnett and Surrounds at nbn
Focusing locally for locals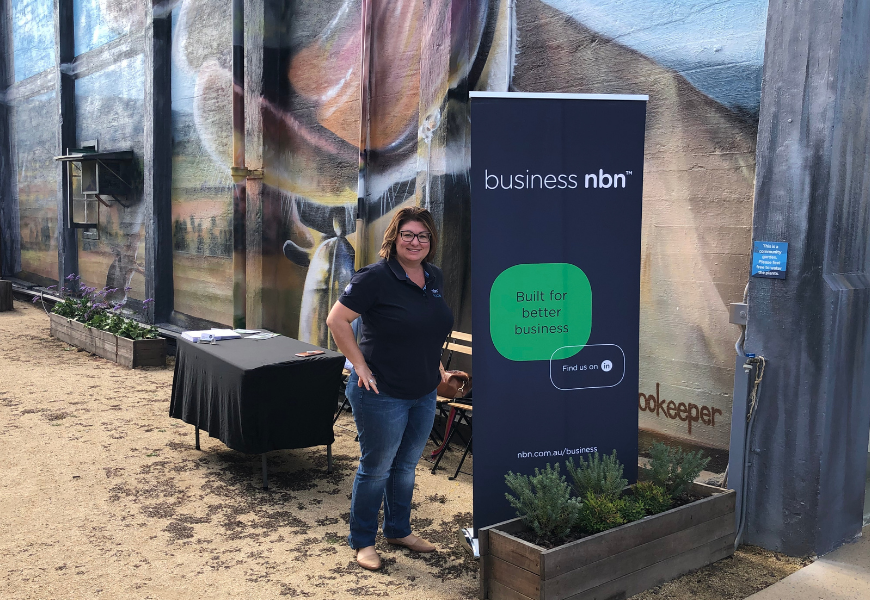 Deborah Mead, nbn™ Local Business Lead, in Monto
nbn™ Local is focused on strengthening our commitment to regional Australia, and boosting efforts to lift the digital capability of regional and remote areas across the country.
Just some of the ways we're strengthening our commitment to regional Australia include:
investing more than $2 billion in improving nbn's infrastructure in regional Australia to help homes and businesses in these areas access higher wholesale broadband speeds and greater network capabilities
providing localised solutions for a network better suited to regional Australia through our on-the-ground teams working within regional communities
working with industry groups to enhance what's possible in the fields of education, healthcare, agriculture, tourism and more
Built in 1924, Monto was the first town in Queensland to be built under a town plan. Located 200 kilometres west of Bundaberg, it's now a popular tourism destination, as well as home to traditional industries like agriculture and timber.
Once a leading part of the North Burnett dairy industry, with more than 400 dairy farms supplying milk to the local factory, there are now fewer than five dairy farms left.
Instead, the town has reinvented itself with a focus on tourism, hospitality and culture.
Gorgeous murals that decorate local grain silos and the town's water tower are a key attraction, part of the thriving North Burnett Art Trail, along with beautiful forests and colourful dairy cow statues that share the town's secrets with locals and visitors alike.
The surrounding villages are also rich in history, culture and natural beauty, enticing families, grey nomads and anyone looking to escape the busy city to enjoy the serenity of a more relaxed lifestyle.
Image carousel: use the left and right arrow keys to change the image
* nbn is very happy with Simone, Geoff and the Monto Three Moon Motel's experiences with the nbn™ network. Of course, end customer experiences may vary. Your experience, including the speeds actually achieved over the nbn™ network depends on the nbn™ access network technology and configuration over which services are delivered to your premises, whether you are using the internet during the busy period, and some factors outside nbn's control like equipment quality, software, broadband plan, signal reception and how your service provider designs its network. Speeds may also be impacted by the number of concurrent users on the nbn™ Fixed Wireless network, including during busy periods. Satellite end customers may also experience latency.
Images by Damon Cavalchini