Multi Tech Trailer keeping customers connected
To help customers stay connected to services over the nbn™ network during times of disaster, nbn recently rolled out its Multi Tech Trailer.

The New South Wales (NSW) community of Bulahdelah (Worimi Country) was among those areas heavily impacted by devastating floods in March this year.
It was also the site where nbn first successfully deployed its then-prototype Multi Tech Trailer (MTT) during an emergency.
The custom designed and built piece of mobile equipment works a bit like a heart bypass machine, allowing nbn to reconnect customers to services over the nbn™ network while it rebuilds or repairs a damaged node.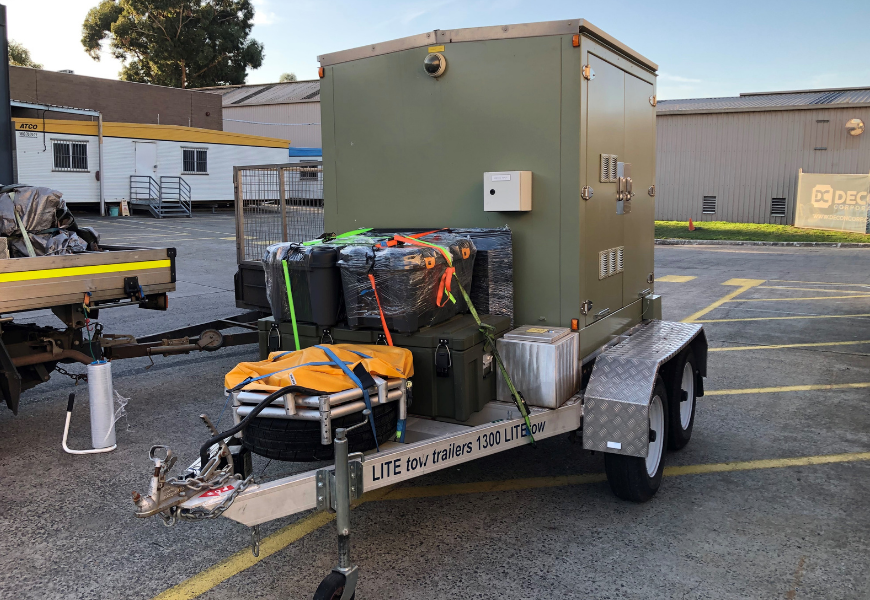 The prototype Multi Tech Trailer loaded in Victoria, ready for the road trip to New South Wales.
The MTT prototype performed so well, another 12 units are set to be pre-positioned across Australia to help communities, like Bulahdelah, stay connected in their time of need.
As part of our continuing investment in Australia's digital backbone, the MTT is just one example of nbn's range of innovative Temporary Network Infrastructure that can be deployed to support communities during relief and recovery phases of emergency management.
Next week on the blog, more details will be shared about nbn's Wireless Mast Trailer, Hybrid Power Cubes, Network on Wheels trailers and Emergency Response Vehicle.
Here's a preview of some of this equipment from Gavin Williams, Chief Development Officer – Regional and Remote at nbn:
While a total of 12 nbn™ node cabinets and 'mini cabinets' (also known as Compact Sealed DSLAMs) needed either repair or replacement as part of nbn's emergency response, continuing wet weather and waterlogged ground meant nbn's team couldn't get in to replace the damaged cabinet at Bulahdelah.
Joanna Williams, Network Emergency Recovery Manager at nbn, says deploying the MTT as a temporary solution meant services to impacted customers were restored in a matter of hours rather than days.
"The MTT prototype was looked at as a possible solution to help reinstate services as quickly as possible, while we waited for soil conditions to become stable."
While individual elements of the trailer had been successfully tested before, explains Barry Eng, Senior Technical Specialist – Network Emergency Management at nbn, Bulahdelah was the first time it had been deployed in its full capacity.
The road-test of the Multi Tech Trailer took place in March 2020, while the unit's 'Quick Connect Cables' were successfully tested in the field in June 2020.
The unique Hybrid Power Distribution system – which allows the Multi Tech Trailer to operate off solar power during the day, batteries during the night, and an in-built generator if batteries get low – was conceptually proven at nbn's Allans Flat Fixed Wireless site using nbn's Hybrid Power Cube concept.
Created with delivery partner, Decon, the 'cube' boasts six solar panels designed to power onsite equipment and charge a specially designed, environmentally friendly sodium nickel battery inside.
"In essence, we knew the Multi Tech Trailer would work but this was the first actual time to have it supporting customers in unity," says Barry.
Quick Connect Cables in action.
The trailer was prepped in Melbourne before being deployed to NSW on Easter Friday and sent straight into action on Saturday morning with services restored that afternoon.
Barry paid tribute to the innovative attitude displayed by the field technicians involved.
"There was some creative thinking to get 95 per cent of the customers back online as this was not the main pillar that was impacted due to flood waters.
"This was more than 120 metres from the node site," says Barry.
If not for lateral thinking by nbn's people on the ground, approximately 60 per cent of services may have been restored rather than 95 per cent.
Not only has the MTT proven handy at helping customers stay connected, it's also environmentally friendly and fuel efficient, sporting a solar and direct current (DC) generator along with sodium batteries.
"We estimate the trailer, with approximately 150 litres of fuel capacity, can support five to seven days of service without refuelling," says Barry.
He says the trailer's successful deployment at Bulahdelah provided important feedback as nbn continues to build its Temporary Network Infrastructure fleet.
"This includes validating the nbn concept to deliver a quick method to connect into pillars via the Quick Connect Cables, and that of using a Fibre to the Basement cabinet to support Fibre to the Node, which is smaller and cheaper.
"We also proved again the smart generator function with solar to reduce diesel fuel consumption and help mitigate community complaints due to noise."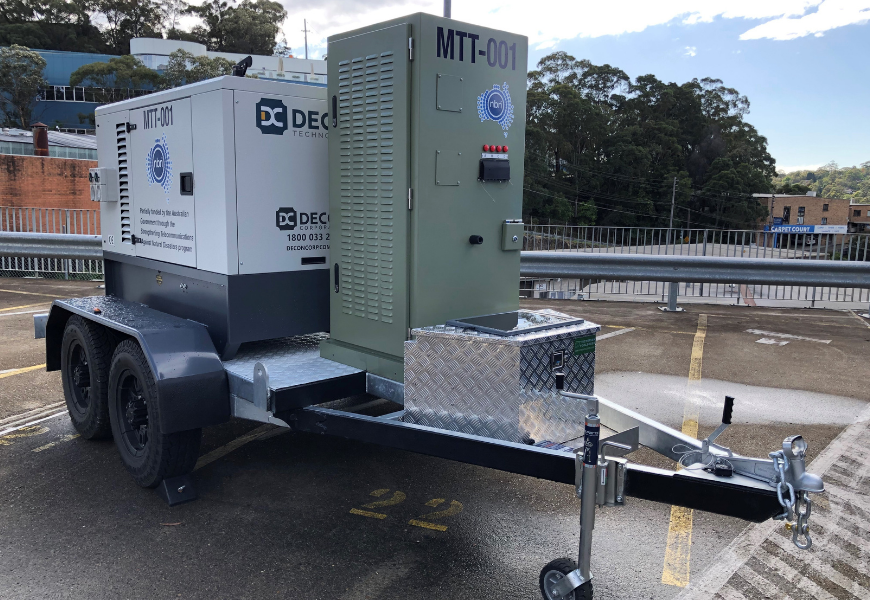 The final design of nbn's Multi Tech Trailer
Barry says the MTT is designed to be highly flexible, a concept most recently on show when it was deployed to help with the recovery efforts of communities impacted by fierce winds that tore through Melbourne's Dandenong Ranges in June.

"It was used as a generator to help power nbn's Road Muster vans and provide power for local residents at one of the community centres that had been set up, which worked really well."