How young talent helps nbn be future-ready
At nbn, our valued graduates are important in how we fulfill our purpose – and that is to lift Australia's digital capability.
Evolving Australia's digital backbone.
At nbn, these words have deep meaning for our organisation because we know the 8.2 million homes and businesses now connected to services over the nbn™ network rely on this connectivity, right alongside other essential services.
Evolving and improving our network means that people across Australia will continue to have access to the connectivity they need not just today, but in the years ahead.
I can say, proudly, that nbn has a great inclusive culture that is founded on values.
A culture that fosters innovation, reflects our strong sense of purpose, and the difference we're collectively making to the community.
It's this culture that is helping ensure we continue to improve the ways we work for this network evolution to be successful, in turn, helping our communities and country.
Sally Kincaid, Chief People & Culture Officer at nbn
With that, we are always looking to the future and the depth of our talent – and it's why the nbn™ Graduate Program is so important.
It's also why we take part in programs like the recent nbn and AWS: Choose Your Own Adventure STEM Careers Day, designed for high school students.
Run by Amazon Web Services, nbn's Chief Technology Officer Debbie Taylor was a guest speaker this year, which you'll be able to read more about soon on the blog.
But back to the nbn™ Graduate Program.
Applications are open now until 31 July 2021 for our 2022 Graduate intake.
We'll be accepting graduates for a tailored 18-month program, where our early talent will work on a variety of projects throughout their three rotations and, of course, receive mentoring from some of the most innovative and experienced minds in our industry.
It truly is an exciting program to be part of – for the graduates and all those at nbn who get to work with these fresh, young minds.
Learning, after all, is a two-way street.
Since the nbn™ Graduate Program began in 2014, many alumni from our earliest cohorts have gone on to senior roles within the company, and we see consistently impressive enthusiasm and talent every year.
The people of nbn reflect the communities they serve, and our team is driven to lift the digital capability of Australia.
It's an incredible and unique challenge, and one that I hope Australia's next group of innovative thinkers will be eager to embrace.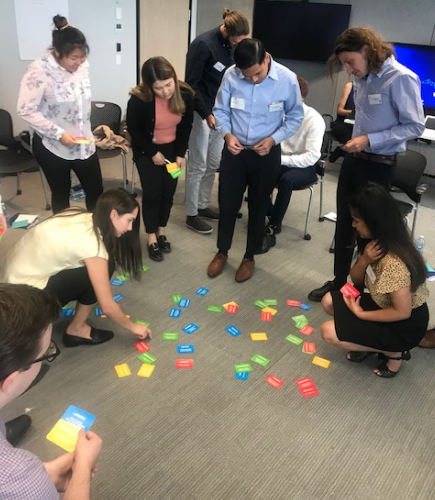 Apply for the 2022 nbn™ Graduate Program
The 2022 nbn™ Graduate Program is open to those who have completed their undergraduate degree in the last two years, or are due to complete by January 2022, in one of the following disciplines:
Engineering (Computer Systems, Electrical, Mechanical, Network, Software, Telecommunications)
Computer Science
Information Systems
Information Technology
Cyber Security
Data Science
Mathematics
Business
Commerce
Based in Melbourne or Sydney, successful graduates will undertake three tailored rotations during the 18-month program.
Graduates will develop their technical and leadership skills, while making a valued contribution and playing an important role in shaping the digital future of Australia.
Part of the 2020 Graduate Program intake, Sydney-based Kylie Li† has already moved up the ranks to a permanent position in nbn's Corporate Affairs team.
"I applied to the nbn™ Graduate Program as I was attracted to its flexibility, and the learning and development programs available for graduates to continuously progress in their career," says Kylie.
During the program, Kylie completed rotations in a diverse range of teams, including within the Regional Segments Campaign team as a Campaign Assistant.
With the opportunity to lead a number of projects during the program, Kylie says the standout moment was launching the nbn™ Digital Capability Tool during her final rotation.
"This was a significant project and provided me with experience on how to project manage effectively and lead a number of key stakeholder promotional activities from concept through to execution."
Kylie Li, part of the nbn™ Graduate Program in 2020
Following transitioning off the graduate program, Kylie now works as a Community and Insights Specialist in nbn's Social and Digital Media team.
"I'm responsible for promoting and helping to protect nbn's reputation within the community.
"The transition from a graduate to my current role has been a steep learning curve but – having studied media, public relations and advertising in university – I'm thankful for the opportunity to further accelerate my learning in a space aligned to my own career aspirations.
"By leveraging the expertise of my leaders and team, as well as the learning resources available online and at nbn, I'm constantly finding ways to improve myself professionally and in my role."
"Throughout my time at nbn as a graduate and in my current role, my voice and opinions are heard and acknowledged; I'm constantly able to share ideas comfortably in a safe space with no judgement of my position, gender or age."
As someone still in the early stages of their career, Kylie says she's grateful for the experiences and support received from colleagues.
"One thing I love about working at nbn is the opportunity to be a part of inclusive teams.
"Throughout my time at nbn as a graduate and in my current role, my voice and opinions are heard and acknowledged; I'm constantly able to share ideas comfortably in a safe space with no judgement of my position, gender or age.
"This is especially important for graduates, as we're all still navigating through our careers after completing university."
So, would Kylie recommend the program? Her answer is unequivocal.
"I would definitely recommend the program to other graduates. It's through the graduate program that I've been able to get to where I am now, in my current role.
"From the program, aside from being able to lead and deliver critical projects to grow my skillset, I was able to grow my confidence and professionalism in the workplace to add value to my own credibility.
"Additionally, the supportive culture at nbn really stood out to me from the very beginning. Senior leaders, past graduates and colleagues are always happy to help and provide mentorship to develop your career."
For those interested in applying, Kylie says to give it your best shot and remember to personalise your resume to the job requirements.
"During the Assessment Centre and any interviews, do your research into nbn, especially around our core values – We Care, We Deliver, We are Fearless, and We are One Team – and, most importantly, don't forget to smile!"
† The views expressed are the genuine views of Kylie Li, who has undertaken the nbn™ Graduate Program in 2020.