WORK180: game changers for equality in the workplace
Discover how WORK180 is helping companies, like nbn, to share their diversity, inclusion and equality credentials with job seekers.
Did you know companies with better gender diversity are 15 per cent more likely to have returns above the industry average?
With equality at work making economic sense – among the many benefits of a diverse and inclusive workplace – companies of all sizes are seeking ways to create a more balanced environment.
Yet, it can be a challenge to know which policies are important to job seekers and how to share these policies with them.
To solve this problem, Australian entrepreneurs Valeria Ignatieva and Gemma Lloyd created a global jobs platform, WORK180.
This game-changing website only shares vacant positions from employers that can prove they actively support diversity, inclusion and equality.
"Valeria and I came up with the idea of creating a platform where women could find employers that were committed to providing equal opportunities," says Co-Founder and Co-CEO Gemma.
"This meant having policies covering flexible working opportunities, pay equity, women in leadership and paid parental leave, not only for mums but for dads."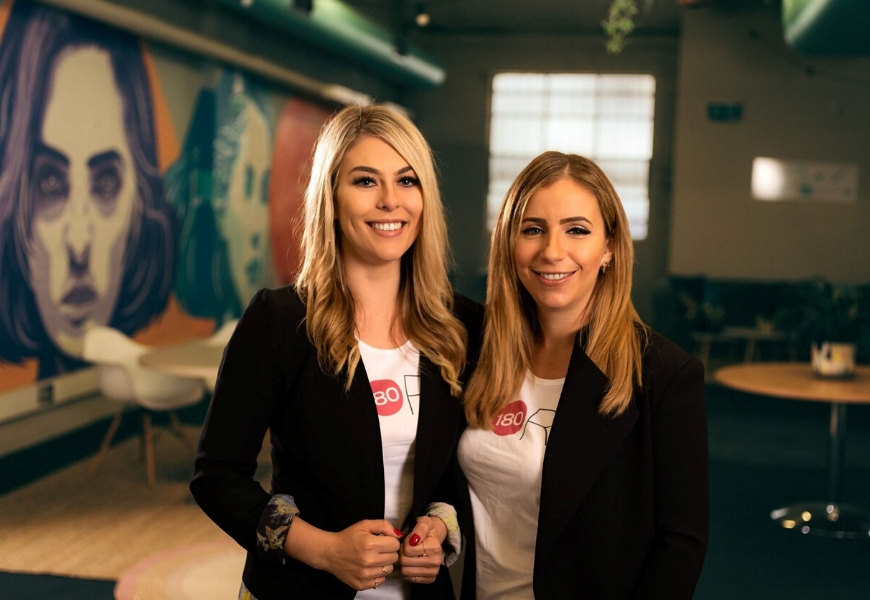 WORK180 Co-Founders and Co-CEOs, Gemma Lloyd (left) and Valeria Ignatieva
Before companies can advertise roles on WORK180, they need to meet specific benchmarks for their benefits and policies.
The WORK180 criteria includes questions around company policies, such as providing superannuation payments during parental leave, offering domestic violence support, and implementing measures to proactively encourage diversity – not just for gender but across languages and cultures too, in addition to several others.
WORK180 is on a mission to empower women to choose workplaces where they can thrive.
If a company doesn't initially meet the platform's criteria, it can collaborate with WORK180 to improve its policies and then go on to attract a talented, diverse body of people from around the world.
"Before we created our platform," says Alex Lasry, WORK180's Chief Marketing Officer, "candidates would have had to do independent research about an employer to discover their equal opportunity policies."
And there was often no information available. The same can't be said for WORK180.
As an Endorsed Employer on the WORK180 platform, information about the company's pay, conditions and opportunities are readily available.
"It has a halo effect," says Alex. "The employer is attracting a more diverse candidate pool to their organisation by showing they are taking the endorsement seriously and putting policies out for people to evaluate.
"This has an effect on gender balance, women in leadership and role models for women in the workplace."
It didn't take long for nbn to become an Endorsed Employer, joining the platform shortly after its launch.
"I could see how passionate Gemma and Valeria were about making the workplace a fair and equitable place for women," says Jane Bithell, nbn's Diversity Sourcing Lead, who works closely with the WORK180 team.
"I was sold after our first meeting and, from there, I ensured nbn was advertising all our roles via WORK180 along with showcasing employees who were working flexibly or using one of our fantastic HR policies."
Aiming to attract women looking for transparent HR policies and who want to work for a flexible company, it made sense to collaborate with WORK180.
"We are really proud to have their endorsement," says Jane.
And it's not just about focusing on the feminine, says Co-Founder and Co-CEO Valeria.
"nbn has a focus on supporting both women and men in leadership roles. They have been really proactive in a range of ways."
Jane Bithell, Diversity Sourcing Lead at nbn
An example is how nbn offers all of its eligible people 18 weeks of paid leave as part of its parental leave policy. This includes senior executives, and dads as well as mums.
To support their return from parental leave, nbn also allows one paid day off per week for a six-month period – a benefit very few other Australian employers provide.
Under its Flexible Work Policy, nbn employees can apply to work remotely, with a combination of in-office and work-from-home days each week. This means talented professionals can have better work/life balance and avoid the dreaded commute.
In addition, the company supports workers who are balancing work with high-level sporting commitments, allowing for flexible work hours so they can make it to training.
People from all walks of life are encouraged to apply for nbn roles posted on WORK180.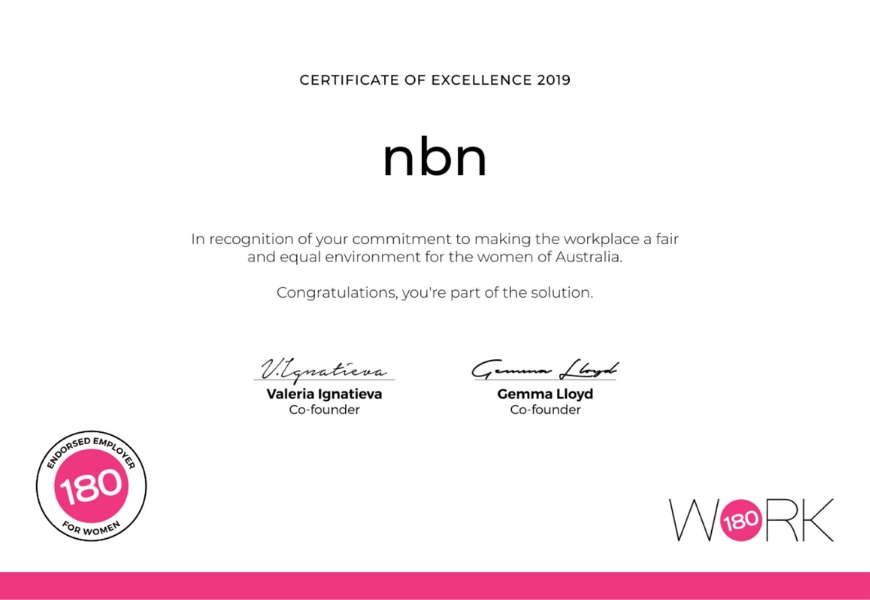 nbn's Certificate of Excellence from WORK180
"nbn is provided with a lot of reporting on its policies and they get involved in so many different activities," says Valeria.
"Jane is a true champion for gender equality and is active in the community and online. In fact, nbn's Exec Board is behind our joint initiatives, which shows how supportive nbn is.
"Jane also interacts with women on our Facebook group. There are a lot of women who post questions about finding work that will fit in with their commitments, and Jane will often help out by sharing information about a role at nbn and advice on career progression."
As WORK180 expands its operations and reach, Jane is excited to be part of the journey.
"We'll be able to learn from them as they enter new markets."
After the startup's launch in Australia in 2015, WORK180 now posts job ads for more than 200 businesses, from 20-person operations to major employers, including the AFL, Google and Rio Tinto.
In 2018, the platform went global with a UK launch where companies like Microsoft, Schneider Electric and JP Morgan are leveraging the platform to attract women.
The team is currently in the US, preparing for the platform's launch in a few months.
"The WORK180 platform advertises every type of role in every profession," says Gemma. "From graduates up to senior executives, from unqualified positions to traineeships. We're helping women and people who want an inclusive, diverse workplace to find employers who genuinely want them there."
And genuinely want them, nbn does – those job seekers and WORK180.