Connectivity: more than a game
Connectivity is helping young Australian drivers make mistakes online, not on the road, and software developers tap into a lucrative export market.
GOATi (Greatest of All Time Interactive) Entertainment may be a small multimedia company but, when it comes to its proprietary gaming technology developed in-house, it's doing some pretty big things.
From sophisticated real-time traffic management software to online driver training for teenagers, and taking competitive esports car racing to a global audience, the tight-knit team based on the sixth floor of Melbourne's historic Nicholas Building is not afraid to push the envelope.
Garth Midgley, Managing Director at GOATi, is the first to admit, though, that none of this innovation would be possible without access to fast and secure broadband via services over the nbn™ network.*
Whether it's enabling flexible working during the COVID-19 pandemic, the seamless transfer of large data files to the cloud between work and home, or empowering customers to play and download their games, Garth says connectivity is at the heart of what makes GOATi tick.
"At GOATi, we're doing next-generation content and that needs next-generation connectivity, so the nbn™ [network] is perfect for that."
Secure broadband access has also been a crucial enabler in the success of virtual driver training solution, myDRIVESCHOOL.
Developed in collaboration with Lisa Skaife, the program's founder, CEO and sister of racing driver Mark, myDRIVESCHOOL allows videogame-savvy teenagers to use a steering wheel and pedals hooked up to their computer to access a realistic online urban driving environment.
Rather than drive at breakneck speed through city streets with few consequences, as they would playing a videogame such as Need for Speed, myDRIVESCHOOL participants are faced with real life driving decisions, including obeying speed limits and braking correctly when approaching an intersection if they want to successfully gain accreditation.
Lisa says the aim is to bridge the gap between theory and practical driver training for teenagers before they get behind the wheel of a real car.
"I've spent 25 years in professional motorsport, and I was also involved in an accident when I was 22," she says.
Lisa Skaife, Founder and CEO at myDRIVESCHOOL
Now, with two teenage sons of her own and alarmed by statistics showing this demographic are four times more likely to die behind the wheel than girls of the same age, she began a quest to find out why.
That research led her to GOATi's door in a bid to explore harnessing the power of their 22 Racing Series esports driving game engine and sophisticated traffic management simulation software to teach driver safety.
"They're all digital natives, so we need to find a way to talk to them in their language and gaming is a great way to do that," says Lisa.
Access to broadband, whether in schools where the program is currently being trialled or via young drivers' home wi-fi networks, is crucial.
"We want kids to be able to make mistakes online, not on the road," says Lisa.
"That's why the success of myDRIVESCHOOL is dependent on reliable broadband coverage and the nbn™ [network] is ideal, especially for a lot of our students from remote and regional communities."
It's this same access to broadband that is helping GOATi carve out a piece of the $160 billion a year gaming industry, a sector experiencing explosive growth partly driven by increasing access to online entertainment during COVID-19 enforced lockdowns.
"COVID saw a massive uptick in games access, so a lot of games businesses boomed over that time," says Garth.
GOATi has experienced this first-hand through the growth of its Pavilion Hub online store, which uses blockchain digital rights management (DRM) technology to allow visitors to buy their games.
They can also buy and sell their own unique vehicles to race against each other in the 22 Racing Series esports game in virtual tournaments hosted by GOATi, which attract players from across the world.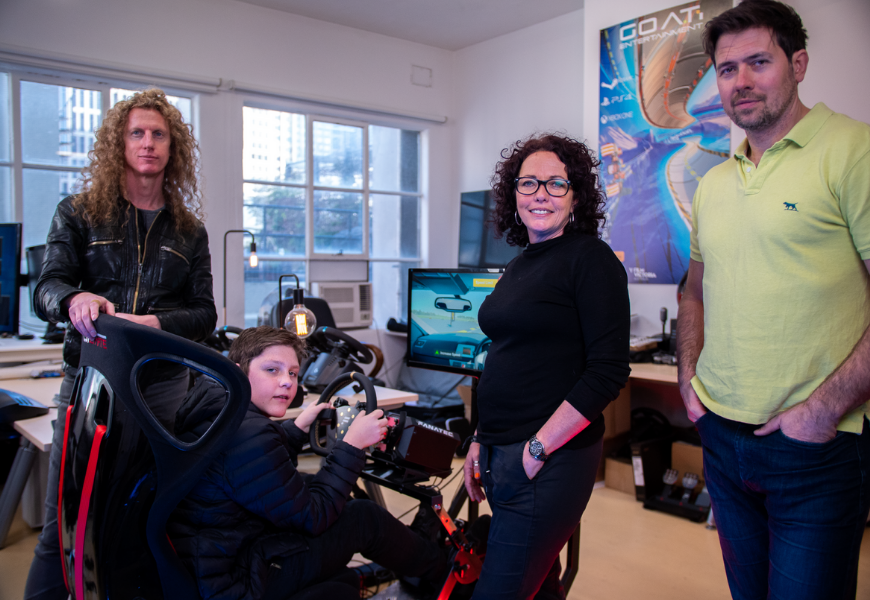 From left to right: Garth Midgley, Managing Director at GOATi; young driving student, Flynn, 14; Lisa Skaife, Founder and CEO at myDRIVESCHOOL; and Alex Kontis, Culture and Partnerships at myDRIVESCHOOL.
"We've got a platform that serves a global audience and, as most of us know, we don't like to go and log on to a service, such as Netflix, and not be able to access the stuff that we're paying for," says Garth.
"That makes the reliability of connectivity to the nbn™ [network] massively important for us."
esports – think professional gamers, based anywhere in the world, battling it out online before a global audience of fans – is a concept rapidly gaining in popularity.
"This is essentially taking the gaming product and turning it into a sport and entertainment event," says Garth.
"It's like any other sport but activated online. It is a very highly engaged market and it's growing at a massive rate."
As the nbn™ network continues to evolve and help lift the digital capability of Australia, Garth says leveraging the power of broadband connectivity to help both develop new esports products and share them with a global audience has enormous potential to kickstart new businesses and provide an export earner for the nation.
"That's an export market that Australians can tap very easily, via the nbn™ [network]."

* nbn is very happy with GOATi's experience with the nbn™ network. Of course, experiences may vary. Your experience, including the speeds actually achieved over the nbn™ network depends on the nbn™ access network technology and configuration over which services are delivered to your premises, whether you are using the internet during the busy period, and some factors outside nbn's control like equipment quality, software, broadband plan, signal reception and how your service provider designs its network.