An ultrasound investment at Adelaide Hills O&G
Discover how Innovate with nbn™ Grants Program winner Adelaide Hills O&G is making an ultrasound investment to deliver better health outcomes for patients.
Living in a regional or remote location is no longer a barrier to accessing quality healthcare – and organisations like Adelaide Hills O&G are helping drive the way forward.
A multidisciplinary practice offering specialist obstetrics and gynaecology services to rural South Australians, the Mount Barker-based team are backing digital innovation in medicine to decrease service disparities in regional areas.
It's that rationale that's behind plans to secure a state-of-the-art digitally capable ultrasound machine, says Dr Melanie Johnson, Specialist Obstetrician and Gynaecologist at Adelaide Hills O&G.
The practice will use the GE Voluson E10 ultrasound machine to allow real-time scanning to be performed onsite and streamed to specialist sonologists, radiologists and maternal foetal medicine specialists via its existing services over the nbn™ network.*
The machine's purchase has been made possible thanks to $10,000 awarded to Adelaide Hills O&G under the Innovate with nbn™ Grants Program.
Mothers and mothers-to-be living in rural areas that have high risk pregnancies, or those requiring highly technical ultrasounds, will less likely need to travel long distances to the city for appointments.

"At the moment, women in the Adelaide Hills need to travel to Adelaide for higher quality tertiary level ultrasound," says Dr Johnson.
"That's because there are no specific women's health sonographers in Mount Barker or the Adelaide Hills."
And it's why gaining access to a digitally capable ultrasound machine – that can link to services over the nbn™ network and transmit information in real time – will be a game changer, says Dr Johnson.
"Specialists in Adelaide can see those images and then report on them without the need for the women to travel or for the radiologist to travel to the Adelaide Hills.
"We're just trying to centralise care for women when it's already tricky for some of them to get to us in the first place."
"Having set up in the middle of a pandemic, the fact that we are utilising telehealth and video to access our women who live further away, who don't need to come and see us absolutely every time, that's been extraordinarily helpful."
Embracing digital medicine
While more convenient and equitable for patients, medical accuracy has also been a driving factor in embracing digital medicine.
"A trip into Adelaide for a weekly scan could take, say, four or five hours by the time you go down, have the scan and wait," says Dr Johnson.
"So, having half a day out of the workforce or child-rearing responsibilities has a huge economic impact on local women.
"Being able to streamline things for them as much as possible is going to have significant benefits for the family unit and mum as well."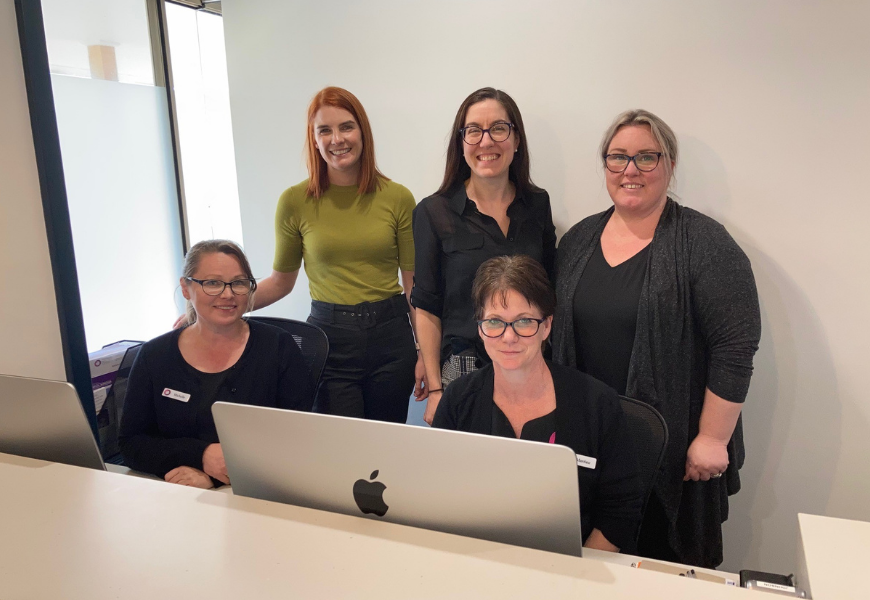 The Adelaide Hills O&G team
Dr Johnson says digital innovation in medicine, supported in this case by services over the nbn™ network, is crucial to overcoming the tyranny of distance for rural communities, of which the GE Voluson E10 ultrasound machine is just one example.
"It would never have been possible [otherwise].
"The images themselves are such a high definition that you need to be able to transmit huge amounts of data really quickly to be able to utilise this function."

"I think it (telehealth) really has been a gamechanger."
Lifting Australia's digital capability
Adelaide Hills O&G is another concrete example of how access to services over the nbn™ network is helping to lift the digital capability of Australia.
Dr Jen Beer, Head of Segment for Health and Education at nbn, says connectivity and the role it plays in enabling digital health has never been more important, particularly for regional and remote Australians.
"We are hearing of many benefits that health practitioners, clinics, as well as patients are experiencing in regional and remote communities across Australia, where connectivity has improved their timely access to quality healthcare services – and there is no better example of this than Adelaide Hills O&G."
As mentioned, the purchase of the digital ultrasound has been made possible under the Innovate with nbn™ Grants Program.
Part of nbn's commitment to regional and remote Australia, the partnership with the Regional Australia Institute offered grants totalling $95,000 across agriculture, the arts, education, health, indigenous business, tourism, and women in regional business.
Dr Jen Beer, Head of Segment for Health and Education at nbn
The program aimed to help regional tech businesses, like Adelaide Hills O&G, transform their ideas into game-changing achievements.
For Dr Johnson, that means better outcomes for patients.
"At the moment, Dr Heather Waterfall and I have the capability, because we're specialists, to deal with higher risk pregnancies – but we're only as good as the services we can access locally.
"Having really high-quality scans lets us keep more women locally for most of their care."
"It [telehealth] means that after the baby's born, we can keep in contact with patients (returning to remote properties with no visiting midwifery support) who might be struggling from a mental health point of view."
* nbn is very happy with Dr Melanie Johnson and Adelaide Hills O&G's experience with the nbn™ network. Of course, end customer experiences may vary. An end customer's experience, including the speeds actually achieved over the nbn™ network, depends on the nbn™ access network technology and configuration over which services are delivered to their premises, whether they are using the internet during the busy period, and some factors outside of nbn's control (like their equipment quality, software, chosen broadband plan, signal reception, or how their provider designs its network). Speeds may also be impacted by the number of concurrent users on the nbn™ Fixed Wireless network, including during busy periods. Sky Muster™ satellite end customers may also experience latency.