Letting the Sunshine in with help from technology
Discover how Innovate with nbn™ Grants Program winner Sunshine Butterflies is striving to improve the lives of those living with disability and their families.
Liam Kenny knows the difference access to the latest consumer technology, backed by fast, secure and reliable broadband connectivity, can make to people's lives.
The IT Program Coordinator at disability support service and charity, Sunshine Butterflies, sees it in action every day.
Liam talks with pride at the creative efforts of participants in the Tech Connect program who, despite living with a range of intellectual and physical disability, are excelling at everything from 3D printing projects and digital movie making through to website design.
None of which would be possible without the purchase of ten state-of-the-art laptop computers, courtesy of the $10,000 grant awarded to Sunshine Butterflies as the winner of the Education category in the inaugural Innovate with nbn™ Grants Program.
Sunshine Butterflies employees and participants celebrate as they purchase their new computers
"It was a very exciting day," says Lucy Mills, who looks after Community Development and Grants at Sunshine Butterflies, on learning their grant application had been successful.
Her colleague Liam's first thought was to pick up the phone.
"I rang my mum straight away because I was so proud.
"I said, 'This program I'm running has just been recognised for an award, which means we're going to be able to move forward and it's just going to make my job so much easier'."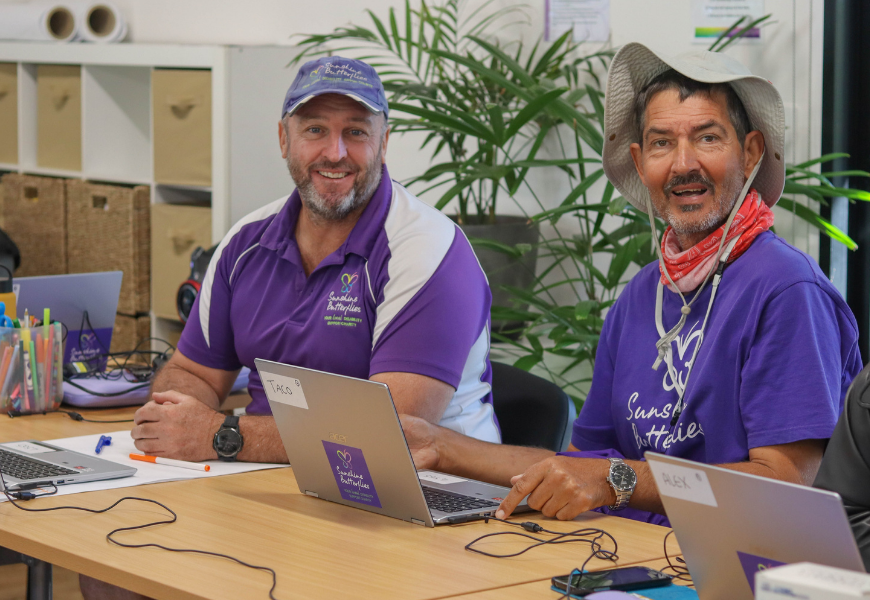 As part of nbn's commitment to regional and remote Australia, Innovate with nbn™ grants totalling $95,000 were awarded across seven categories: agriculture, arts, education, health, Indigenous business, tourism, and women in regional business.
The program aims to help regional businesses transform their great ideas into game-changing achievements.
That has certainly been the case with the Sunshine Butterflies Tech Connect program.
Sunshine Butterflies emerges
Located in Cooroibah on Queensland's Sunshine Coast (Kabi Kabi and Jinibara Nations), Sunshine Butterflies was founded in 2010 by current CEO Leanne Walsh.
The mother of a child born 13 weeks premature with cerebral palsy, Leanne was motivated to fill what she saw as a gap in the disability support service industry and a determination to reduce the stigma sometimes associated with disability.
It's a mission that has continued over time through the delivery of unique programs and activities, such as Tech Connect.
Designed to help people living with an intellectual and/or physical disability to learn new and exciting technology- based skills, until recently, participants either relied on visits to the local library to access computers or used their own devices ranging from mobile phones to iPads and Windows-based laptops.
This disparity meant it was frustratingly difficult to bring everyone together using standard software and programs, which in turn hampered the quality of learning and creativity.
"When I first started about 18 months ago, there was a very small group of our members going out to the library and accessing computers there," says Liam.
"I noticed that what they were doing was quite basic stuff, yet they were very interested in using technology."
Of greater concern however was a perceived gap in teaching safe computer use and embedding safeguards around social media access.
"I thought, 'Let's start a program where we can teach them new and exciting things, using computers and technology but also teach it in a safe way.'"
In the months since the new hybrid tablet-laptops were purchased, Liam says the difference he has seen in his students has been remarkable.
The combination of teaching technology skills in a fun, engaging and creative way has proved a game-changer.
Program participants have done everything from starring in their own James Bond themed movie trailer using the technical wizardry of a green screen to add special effects, to capturing and editing digital photos, creating a Sunshine Butterflies live-streamed news page on Facebook and a digital comic book with supporting small business plan and website.
"One of our members, Kaleb, who has cerebral palsy and is a wheelchair user, has taught himself to fly drones," says Liam.
"He wants to start a business where he sells his services, such as photos."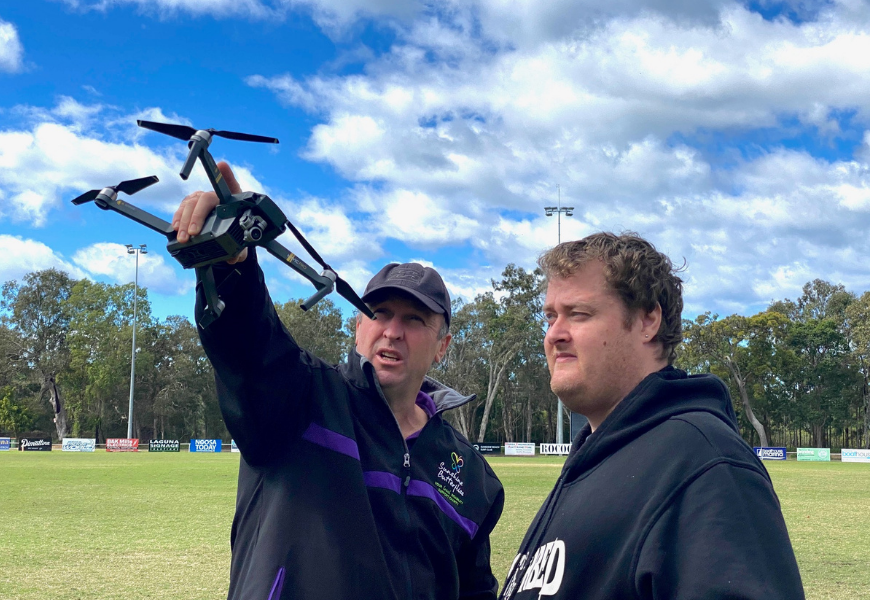 Liam says teaching skills, such as website design and how to create business logos online, has opened-up a world of possibilities Sunshine Butterflies members could previously only have dreamed of.
"Kaleb has 500 business cards on him at all times now. He'll be talking to members of the community out on the street and can pass over one of his business cards straight away, just like anyone else would be able to do if they were starting a business.
"That was just one of the projects our members have been involved in so being able to utilise this technology has been massive for them."
Ali McCudden, Sunshine Butterflies Events and Marketing Manager, couldn't agree more.
Part of the grant money was used to create 'T' shirts bearing a Tech Connect logo designed by Sunshine Butterflies members themselves – a piece of apparel they wear with pride.
"Our families are so grateful to obviously have all the programs we provide, but we have had a lot of great feedback about the Tech Connect program, about how it's run, the education it provides and all the access that we have to everything here."
That access includes the nbn™ network, a factor Ali says has been a key enabler in taking the Tech Connect program to the next level by lifting the digital capability of all those involved.
"Considering we're in a regional town, it's been awesome to connect over the nbn™ [network] and share what we're doing with everyone."