How a rural business embraced tech to beat the odds
Photo Create, Glen Innes' biggest employer, is just one rural-based business making the most of connectivity to help keep its global business booming.
At nbn, we're always looking ahead – investing in innovation today so Australia is ready for tomorrow.
Helping the nation stay productive, enabling families and friends to connect no matter what the distance between them, and creating the infrastructure that supports Australia's burgeoning digital economy is why nbn exists.
Photo Create, a business based in the small New South Wales town of Glen Innes (Ngoorabul country), is one example of an organisation taking advantage of that infrastructure. It's also proving that entrepreneurship coupled with technology nous can help overcome geographical challenges.
"We service clients like Officeworks, Big W, Harvey Norman and a number of international brands from Europe and the USA that require us to manufacture for their customer base in Australia," says Hugh Eastwood, Managing Director of Eastmon Group, which operates Photo Create.
It's an impressive client list, especially so given the company evolved from being founded on traditional film-based photography. Famously, some global brands that dominated the industry could not successfully transition to the digital era.
Hugh Eastwood, Managing Director of Eastmon Group, which operates Photo Create
While Photo Create started in 2006, the business was involved in the photographic industry going back to 1960, says Hugh.
"We were running Rabbit Photo, had three thousand staff and it was a big, sizeable business. But film took a dive and digital came in and we had to migrate to a digital technology.
"We were the first in the world to do the touch screen interfaces where you'd self-serve with digital photographs, and then that migrated on to needing to be an online platform."
Today, Photo Create relies on the nbn® network to stay in touch with clients around the globe and is connected via business nbn® Enterprise Ethernet technology.*
Enterprise Ethernet is a premium, high performance fibre access network designed to be both fast and reliable.
Michael van Der Waal, General Manager of IT at Photo Create, recognises the importance of speed and reliability. The business, after all, can manufacture up to 8,000 items in a single day.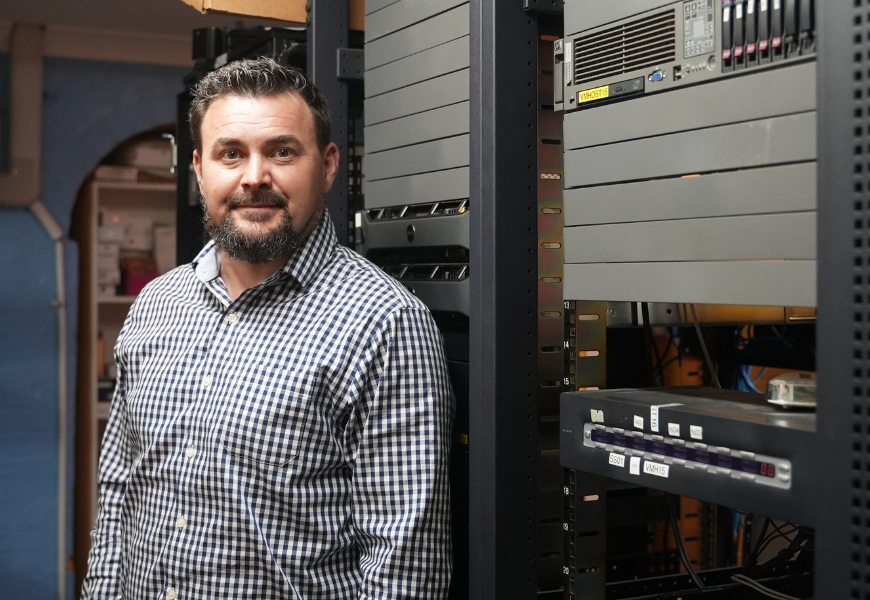 Michael van Der Waal, General Manager of IT at Photo Create
"We use the nbn [network] for both receiving orders into production and to allow the production guys to do the manufacturing, as well as work from home.†
"The role of the nbn connectivity into the future for Photo Create – as the files and orders we're receiving are becoming bigger, as people are working more from home – having those services there will allow us to continue to grow the business and move it forward."
Benefiting regional and rural Australia
As the nbn network is expanded, we know we have an important responsibility to enable the social and economic opportunities made possible by fast broadband is available across Australia.
For Glen Innes, the success of Photo Create has meant the greater community has benefited too: the company is the town's biggest employer.
Historically, regional towns saw their younger generations head to the cities to look for opportunities. With access to broadband, that's now becoming a thing of the past. Populations in regional Australia are growing with an extra 70,900 people during 2020-21, according to the Australian Bureau of Statistics.
Brendan Watson, General Manager at DinkleBoo, part of the Photo Create business
"Regional centres have a tremendous opportunity to allow Australia to grow in a way that makes social and economic sense, and looks after the mental health of everybody and can grow at a reasonable rate," says Hugh.
"We see our job in management is really just to create an environment for people to grow and to flower, and that's one of the benefits of what we do and what we offer for the town."
* business nbn® Enterprise Ethernet is only available in the nbn Business Fibre Zones, nbn Fixed Line network footprint and at limited premises served by the nbn Fixed Wireless and Satellite networks.
† nbn is very happy with Photo Create's experience with the nbn network. Of course, experiences may vary. Your experience, including the speeds actually achieved over the nbn network depends on the nbn access network technology and configuration over which services are delivered to your premises, whether you are using the internet during the busy period, and some factors outside nbn's control like equipment quality, software, broadband plan, signal reception and how your service provider designs its network.