Connecting students with equal opportunity learning
For one school network in Tasmania, connectivity is helping to open up access to some of the best online learning for students.
It's no secret that, traditionally, schools in metropolitan areas have enjoyed better access to high-speed connectivity and digital learning, compared to their regional and remote counterparts.
Yet, Catholic Education Tasmania (CET) – a school network operating 38 schools and colleges across Tasmania – wasn't content to let geography determine the online opportunities available at its schools.
Spanning early learning to Year 12, in small towns like Deloraine to the north through to the state capital down south, CET aims to offer students from all backgrounds a quality education.
Enter business nbn™ Enterprise Ethernet provided by TasmaNet.*
Connecting more schools with equal connectivity access

"As the future of tomorrow, we believe students need equal opportunity," says Lauren McCallum, deputy principal at Holy Rosary Catholic School in Claremont, a suburb of Hobart.
"The digital learning landscape is changing, so it's more important than ever that we achieve what we call 'digital equity' for our students."
For Holy Rosary Catholic School, this meant ensuring a learning environment that could tap into the best of modern educational tools.
Apps like ScratchJr, Grok Learning and Kahoot.
The school also hosts a robust coding and robotics program, teaching students from kinder to Grade 6, and running an after-school Code Club.
And it was a similar story for other schools in the CET network.
The only hiccup? The internet connectivity at some of those schools.
"We had different schools on different internet connections with different bandwidths," says Astrid Goss, IT Manager at CET.
"It meant that many of our regional or remote schools were unable to use the same type of tools and education systems that our metropolitan schools were able to use."
Helping to lift the digital capability

"Before, teachers would have to – at times – use their personal mobile hotspot to connect online," says Ben McCulloch, Deputy Principal at St Brigid's Catholic School.
"For professional learning, we can now link up through video conference instead of driving up to four hours back and forth each way," says McCulloch.
So, to help many of its schools increase "digital equity", CET embarked on a journey with nbn and service provider TasmaNet to roll out the business nbn™ Enterprise Ethernet solution to 26 locations across Tasmania.
Astrid is upbeat about the experience.
"Partnering with TasmaNet and nbn, the rollout was a really great experience for us."*
"The advantage of rolling out to 26 schools in Tasmania is that they can use the same educational tools as our metropolitan areas."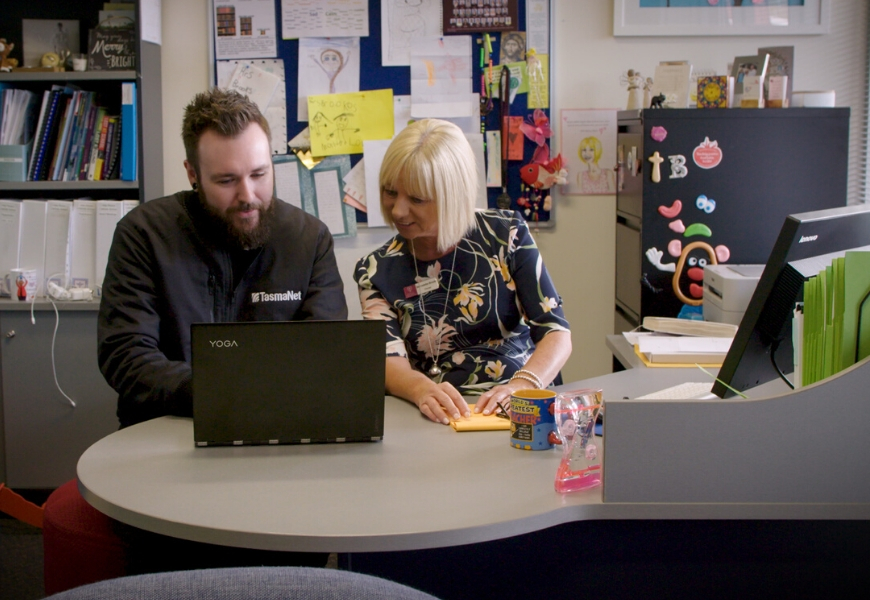 Helping to level the playing field

The solution has also improved CET's ability to centrally manage schools' connections across its complex, multi-site network in regional Tasmania.
It's now able to roll out updated enterprise, cloud-based systems for student information and finance, with the same benefits available for these 26 school.
"nbn™ Enterprise Ethernet enables us to provide an improved customer connectivity experience for CET over standard 'best effort' data options. Enterprise Ethernet's High Class of Service includes features such as committed and symmetrical upload and download bandwidth that is designed to support business applications with real-time or mission critical data requirements with confidence,"** says Elizabeth Aris, CEO of TasmaNet.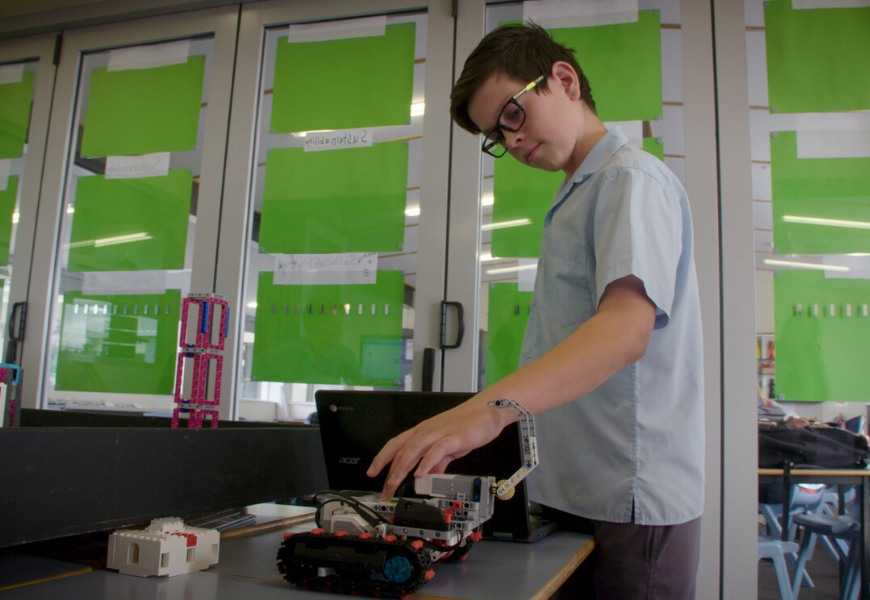 Importantly, being on business nbn™ Enterprise Ethernet is helping to level the playing field for students at CET schools.
"Students at Holy Rosary [Catholic School] have the opportunity to do robotics and to learn from people in America, they have the opportunity to have coaches in Japan – the connection that they can have with people as global citizens is quite phenomenal," says Catherine Midson, Digital Technologies Teacher at Holy Rosary Catholic School.
It's a sentiment shared by McCulloch.
"It's levelling the playing field for our students – whether they're in a regional area, a city – so they can engage in valuable learning experiences."
* business nbn™ Enterprise Ethernet is available only in nbn's fixed line network footprint.
** Regardless of the bandwidth profile for the service an end customer acquires from their service provider, it will operate at less than 1000 Mbps and no more than 952Mbps because of normal equipment and network limitations. In addition, an end user customer's experience, including the speeds actually achieved over the nbn™ network, depends on some factors outside our control (like their equipment quality, software, and how their service provider designs its network). If an end customer's service provider has not selected Class of Service High, speeds the end customer experiences may be affected by contention on the nbn™ network, particularly in busy periods.
nbn is very happy with Tasmania Catholic Education Office, Holy Rosary and St Brigid's experience with the nbn™ broadband access network. Of course, end customer experiences may vary. An end user customer's experience, including the speeds actually achieved over the nbn™ network, depends on the nbn™ access network technology and configuration over which services are delivered to your premises, whether you are using the internet during the busy period, and some factors outside of nbn's control (like your equipment quality, software, broadband plan, signal reception and how your service provider designs its network).
Last updated on 22 September 2020