Vigilance never sleeps: NBN Co's approach to emergency management
A behind-the-scenes look at how NBN Co prepares for and handles major incidents and emergency events.
Did you know NBN Co's Network Operations Centre (NOC) – the nerve centre of the nbn™ broadband access network – never sleeps, monitoring the health of the system 24 hours a day, seven days a week, 365 days a year?
And connected directly to the NOC is NBN Co's Incident Control Centre (ICC), a purpose-built area containing state-of-the-art equipment designed so that the company's Major Incident and Emergency Management teams can solely focus on major incidents and emergency events.
One of the ICC's key features is the ability to monitor reports regarding external weather systems and radars, supporting better control, coordination and communication across all of our major incidents in real time.
It's in this room that these important teams will start closely monitoring weather patterns as utilities, network operators and emergency services around the country begin preparing for a potentially torrid bushfire season, exacerbated by a drought that has had a devastating impact on much of Australia.
Watch the video to learn more:
To help maintain the network, respond to these events, liaise with emergency services and assist community members during times of crisis, NBN Co also has a growing list of hardware innovations including:
Network on Wheels / Wireless on Wheels
Four compact, easily towed trailers that can be used as either a 'Network on Wheels', capable of replacing damaged equipment in a telephone exchange, or 'Wireless on Wheels', capable of replacing damaged equipment at the bottom of a Fixed Wireless tower.
Road Muster trucks
Ten Sky Muster™ satellite dish-equipped vehicles based across the country boasting enhanced features that can be used in an emergency, such as providing a mobile Wi-Fi hotspot for emergency workers and evacuated local residents, along with the ability to display important information on their external LCD screens.
Satellite fly-away kits
Packed into a couple of compact Pelican cases, the teams are eagerly awaiting the arrival of these highly portable units. They can be delivered by light plane to remote locations across the nation and allow emergency services or local communities to tap into the Sky Muster™ satellite service when other infrastructure has been knocked out.
Emergency VoIP kits
A temporary solution in which NBN Co could, for example, provide emergency services with a set of phone handsets, each with secure numbers used for voice calls via the Sky Muster™ satellite service (if the mobile network is offline).
Mobile command centre
There's also the conversion of a huge trailer – once hauled around the nation educating the public about the potential benefits of the nbn™ access network – into a mobile command centre. The expandable trailer – dubbed the Emergency Response Vehicle – is currently being fitted out with communications equipment, including high-tech screens linked to real-time data feeds from the NOC. It will also feature fold-down workstations for up to 10 occupants and a kitchenette, allowing the command centre to operate self-sufficiently during an emergency situation.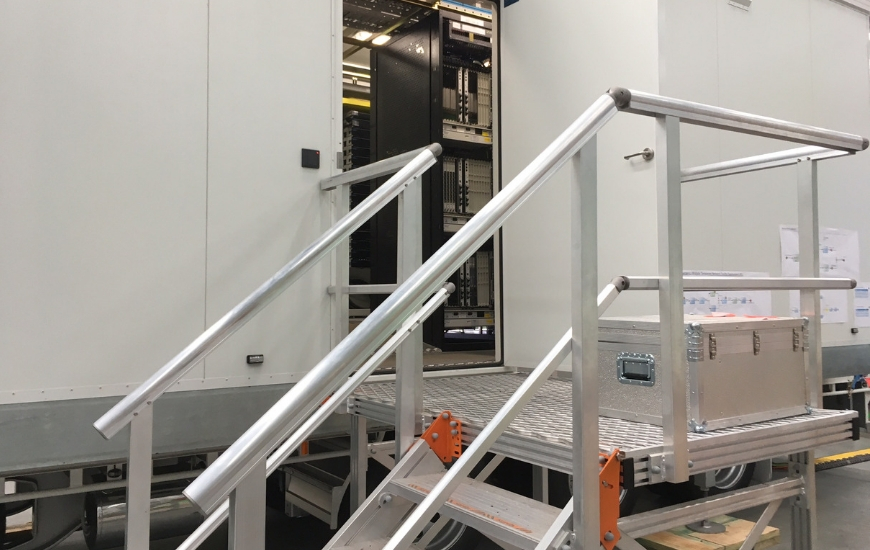 The mobile command centre
NBN Co's Network Emergency Manager Cameron Scott says the suite of hardware solutions is part of an integrated and increasingly sophisticated approach to disaster management at NBN Co.
And he would know.
As co-author of Beyond command and control: leadership, culture and risk, Scott literally wrote the book on emergency management.
With a CV that includes 13 years with the Western Australia Police Force (five of those in emergency management) and a five-year stint with the Australian Emergency Management Institute, he's particularly well placed to talk about the best way to prepare for and respond during a crisis.
NBN Co's Network Emergency Manager Cameron Scott
Responding effectively to threats
The fact that the nbn™ access network is continuing to grow rapidly means the challenge of responding effectively to threats such as bushfire, flood and cyclone is growing accordingly.
Fortunately, it's a situation that Scott and his team never stop preparing for.
This ranges from developing strong relationships with stakeholders, like emergency services, to using sophisticated software mapping tools that give NBN Co a bird's-eye view of the health of the network under threat.
Says Scott, "As the network grows, we have places where we didn't have infrastructure before, so it becomes an ever-increasing risk.
"So, in terms of what we do to prepare, we have made some really big advances over the past few years."
Chief among these is a dedicated strategy that has seen NBN Co now included in every state and territory's Emergency Response Plan.
"That's really important because organisations like Telstra and power providers have always been in those plans," says Scott.
"Having those formal roles now really gives us that seat at the table in managing disasters."
With communications during a disaster being vital – between emergency services, informing impacted communities and coordinating NBN Co's own people on the ground – the company's role in helping to maintain connectivity is becoming increasingly crucial.
"Emergency services really want to know, from a network perspective, what's working and what's not working, as that is critical in helping them determine their public information and warnings strategies," says Scott. "So by providing that information, we're helping them respond to the disaster.
"My team works really closely with nbn™ local who have relationships with the local emergency management committees on the ground, as well as the local knowledge that is critical in a disaster to get things done.
"The nbn™ local team assists with passing on critical information on network outages to local stakeholders, as well as receiving information from emergency services on the ground regarding the development of the emergency that's underway."
The hunger for real-time data
The availability and demand for real-time data during an emergency has also evolved into more integrated cooperation between NBN Co and emergency services.
The gradual establishment of trust through increased cooperation means NBN Co can now access emergency services' own computer systems.
This means Scott and his team can see up-to-the-minute reports of fast-moving situations, such as a bushfire, and use the information to inform NBN Co's own decisions in protecting or restoring the network.
"For example, in NSW, I can log in to the Rural Fire Service's operational tool, look at a fire live and actually read the commentary of what the firefighters on the ground are saying, access all their maps that show where the burnt area is and also all their modelling about where the fire's going to be in two hours," says Scott.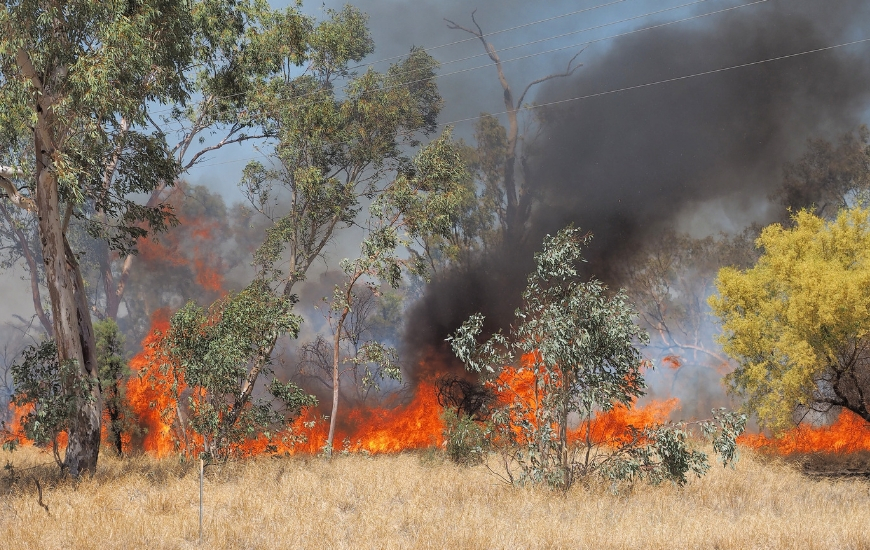 "We can go in and find the information we need that's critical to us, which is really good."
Complementing this is sophisticated software and mapping tools developed in-house at NBN Co that allow emergency managers to customise data about the network in an easy-to-read, visual manner.
"We take an aggregated feed of all the weather alerts and emergency services activity, and overlay that on a map," says Scott.
"We've also got our infrastructure layers in there so you can have a quick look and say, 'Okay, if this is the warning area, these are the assets that are actually inside.'"
NBN Co's proactive approach to disaster management has already paid dividends.
In our first response to a full-blown natural disaster in March 2017, NBN Co's Road Muster trucks rolled into the evacuation centre at Rockhampton in the aftermath of tropical Cyclone Debbie.
The satellite dish-equipped vehicles were able to provide internet services to these displaced residents, who could contact loved ones and keep on top of a fraught and dynamic situation.
The trucks also proved invaluable during the Tathra bushfires in March this year, after members of the nbn™ local team drove all night from Victoria to reach the scene. Two vehicles attended, assisting emergency services to transmit critical impact assessment data, as well as providing a Wi-Fi hotspot for affected community members at the evacuation centre.
Scott says, in the spirit of always being prepared, NBN Co is committed to continuing to push the technological envelope.
A Network on Wheels (NOW) trailer
One concept being explored is 'FTTN in a box': a large cube packed with Fibre-to-the-Node (FTTN) essentials, such as a node cabinet, generator and battery that can be dropped by the side of the road and used to rapidly 'plug holes' in the network.
Despite seemingly leaving no stone unturned when it comes to preparing for disaster, Scott says vigilance never sleeps.
"There's always more to do, more to think about. If you suddenly say, 'We're good to go,' something's going to come out and hit you from behind.
"Preparing never stops."