Connecting a Canberra icon: Parliament House
One of the most important houses in all the land, recently, it was Parliament House in Canberra's turn to get connected to our network…
The decision to create the nbn™ broadband access network and connect the nation to fast broadband began in the nation's capital, Canberra, almost a decade ago.
It's fitting then that Parliament House, the iconic building that's home to Australia's seat of national government, has now been brought into the nbn™ access network's fold.
Connecting Parliament House
After many months of negotiation and hard work, the inhabitants of Parliament House on Capital Hill in the Australian Capital Territory (ACT) now have access to the very services that past and present governments helped to conceive, build and run.
Neill Warby, Regional Deployment Manager ACT/NSW at NBN Co, says he's very proud to have been involved in such a landmark project.
"There's a real sense of accomplishment – followed by some relief!
"Designing and building a special part of the nbn™ access network was exciting and challenging but working together with a number of internal teams, our Delivery Partner and our customer, we were able to overcome each one of them as they arose."
Parliament House: 300 metres long and wide, it boasts 4500 rooms
As you might expect at such a site of national importance, chief among the challenges was satisfying security concerns.
"It took six hours to x-ray all the nbn™ supplied equipment and contractors' tools so it could be built," says Warby.
Then there were the extensive negotiations between Parliament House representatives and NBN Co's Field Services teams.
"The physical (Fibre-to-the-Building) build only took a few days, but the planning for it and negotiations for access took months.
"We had quite a few meetings and site visits to obtain all the stakeholders' inputs and thoughts to formulate a plan that everyone was happy with so we could make it a reality."
Eventually, all that hard work paid off.
"In the end, everyone worked well together to make this happen seamlessly."
Uniquely Parliament House
Just as NBN Co has found while rolling out the nbn™ access network in other locations around the country, Warby says there were some unique aspects to the Parliament House build.
For a start, workers use motorised golf carts to traverse the vast territory that makes up the bowels of the building below ground.
Plus, to ensure continued connectivity at the building that sees 5,000 people working in it when parliament meets, the team was responsible for installing a manual Diverse Fibre Feed comprising multiple fibre feeds from the nbn™ access network backbone to the FTTB cabinet in the basement.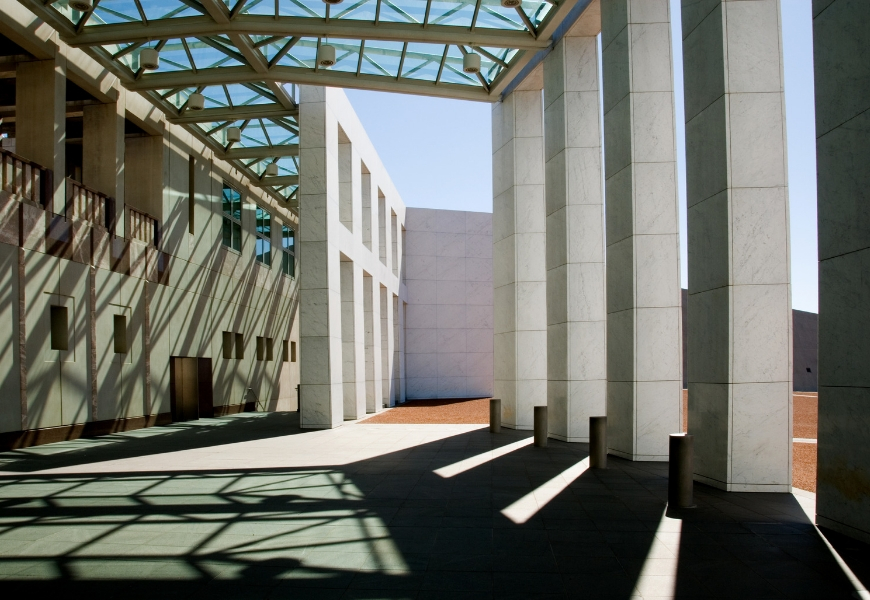 Explains Warby, "This allows Parliament House to remain operational if one of the fibre feeds becomes disconnected or damaged.
"The other fibre feed will still feed the entire site as required and continue to do so until the damaged or disconnected feed is restored to full service."
From iconic Australian landmarks like Parliament House, to homes and businesses right across the country, we're proud to be helping communities of all kinds with their connectivity needs.
Parliament House by the numbers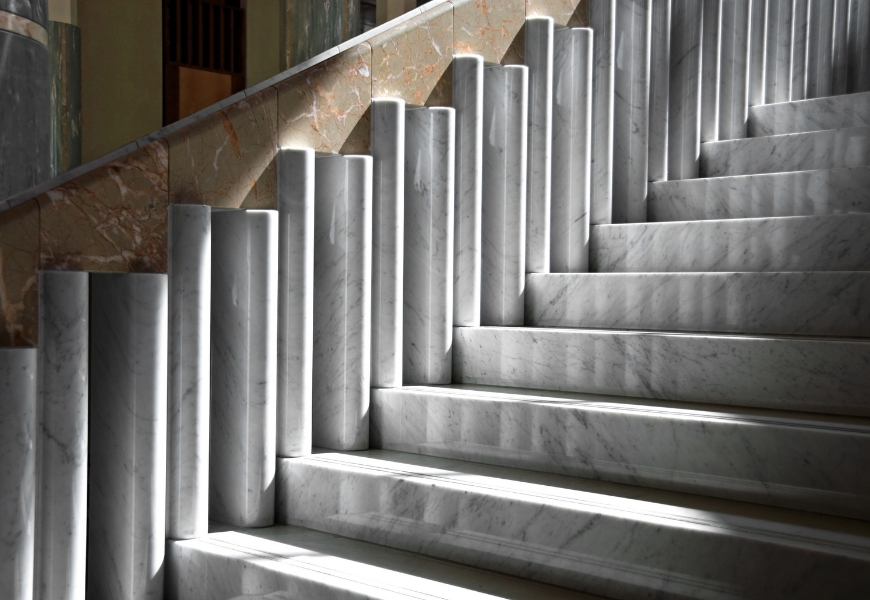 One of two marble staircases in the Marble Foyer at Parliament House, Canberra
7 – The number of years it took to complete construction of Parliament House.
35 – The number of sites suggested for Parliament House's location including Orange, Albury and Dalgety.
200 – Parliament House has been designed to last this many years.
300 – The building's length and width in metres.
1912 – The year Walter Burley Griffin was selected as the winner of an international competition to design the nation's new capital.
1988 – The year Parliament House was opened by Her Majesty Queen Elizabeth II.
4500 – The number of rooms at Parliament House.
10,000 – The number of workers it took to complete its construction.
250,000 – The floor area of Parliament House in square metres.
1 million – The number of people who visit Parliament House every year.
Source: Parliamentary Education Office