Connected Farms: Embracing the Internet of Things
Karl Gygar explores the benefits of bringing the Internet of Things and farming together, based on his experiences at Manbulloo's mango farms.
There's no denying that farming is a huge part of Australian life.
Right now, the agricultural sector contributes three per cent to Australia's gross domestic product and, as Australia grows, we need to grow, too.
Meanwhile, technology is also always evolving and becoming an increasingly important part of all of our lives. In less than 15 years' time, one in two Australians will require skills in programming and software development, according to NBN Co's Connecting Australia research.*
The report also states that, by 2021, the nbn™ broadband access network is expected to contribute towards $10.4 billion worth of economic activity per year.
So how can our sector leverage better internet connections to boost productivity and get a slice of the increased economic output?
The key is to use the Internet of Things (IoT).
Learn more about connected farming at Manbulloo:

Put simply, IoT is when internet connectivity is built into everyday items, like fridges and lights. For us farmers, it means pairing this technology trend with our existing equipment and processes to make them work smarter.
This could mean anything like remotely activated sprinkler systems, automatic tractors, and sensors on livestock, such as cattle.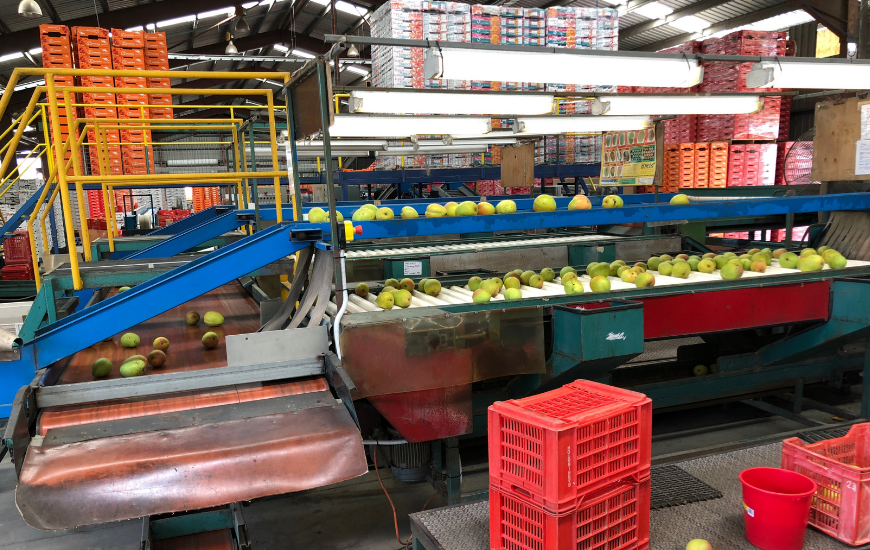 For farmers, IoT means one key outcome: increased efficiency. With smarter equipment and processes, we can work faster, with more precision and less wastage.
With Manbulloo expanding all the time, it's important we make sure our processes keep up with us. Access to services over the nbn™ access network is helping us with this; we've already made use of IoT technologies in a lot of our processes and we're seeing some great results.
Here are just some of the benefits we're seeing from making the transition to a 'connected farm'.
We now have the ability to take control of our processes on the go. This is a huge deal for us because we have so many farms in different locations, and it means I can get the lowdown on what's happening in, say, Melbourne while I'm handling something onsite in the Northern Territory.
With IoT, you can use trackers to keep on top of everything at your farm from anywhere. For us, it means putting trackers in our mango shipments and ripening rooms to get live temperature updates on our stock. We can track this no matter where we are. If you're looking to boost your operation's efficiency, this is a great way to go.
With automation, farms can be more efficient and more productive than ever. Think of a tractor that can drive itself, or a machine that can automatically harvest fruit. There are plenty of ways that automating your processes can save you time, money and effort.
It can even be as simple as automating something like watering. Our automated watering systems save us the hassle of going out to check on the pumps and turning them on and off manually.
The IoT efficiencies aren't just out in the field.
Having a clear view of everything that's going on at every step of the supply chain is a game changer. For us especially, this has been one of the most important benefits of being a more internet-connected operation. I can know exactly what's happening with my stock and produce from wherever I am, and keep in touch with people from the farm, shipping yards and suppliers.
Karl Gygar, Logistics Manager at Manbulloo Limited
Farming is a major part of Australia's economy and, as the nation's internet speeds get even faster, we'll see more opportunities to take our farming to the next level. For more information on how to create your own connected farm, visit the
AustralianFarmers website
.
Karl Gygar is Logistics Manager at Manbulloo Limited, Australia's largest grower of Kensington Pride mangoes.

* The Connecting Australia report was commissioned by NBN Co in 2017 through independent research agency AlphaBeta. It combines national census data with an Ipsos survey of 3500 individuals across 1700 postcodes in metropolitan, regional and remote areas. The report compares areas where the nbn™ broadband access network rollout was more than 90 per cent complete with areas where the rollout was less than 10 per cent complete.