Aussies hungry for data and speed
The appetite for faster nbn™ plans continues to soar with more than 2.4 million Australian homes now connected to higher speed tier products over the nbn™ broadband access network.
Australia's love affair with data and speed is showing no sign of slowing down with new research from NBN Co revealing that the average household is devouring 213GB every month as the take-up of plans based on our wholesale download speeds of 50Mbps* and faster plans continue to soar.
The new research (which analysed all data consumption over the network for September 2018) shows that while the network continues to roll out at pace – with more than 4.4 million homes and businesses signed up to a service over the nbn™ access network today (a 51 per cent jump since September 2017) – total network traffic over the nbn™ access network has skyrocketed by more than 130 per cent.
Across the country, NBN Co end users downloaded a whopping 929 Petabytes in September 2018, which is just shy of a mind-boggling exabyte (one billion gigabytes) or about 10 DVDs worth of information for each of Australia's 25 million inhabitants.
This overall traffic increase has seen the national household download average jump more than 30 per cent from 163GB a month to 213GB a month over the past year.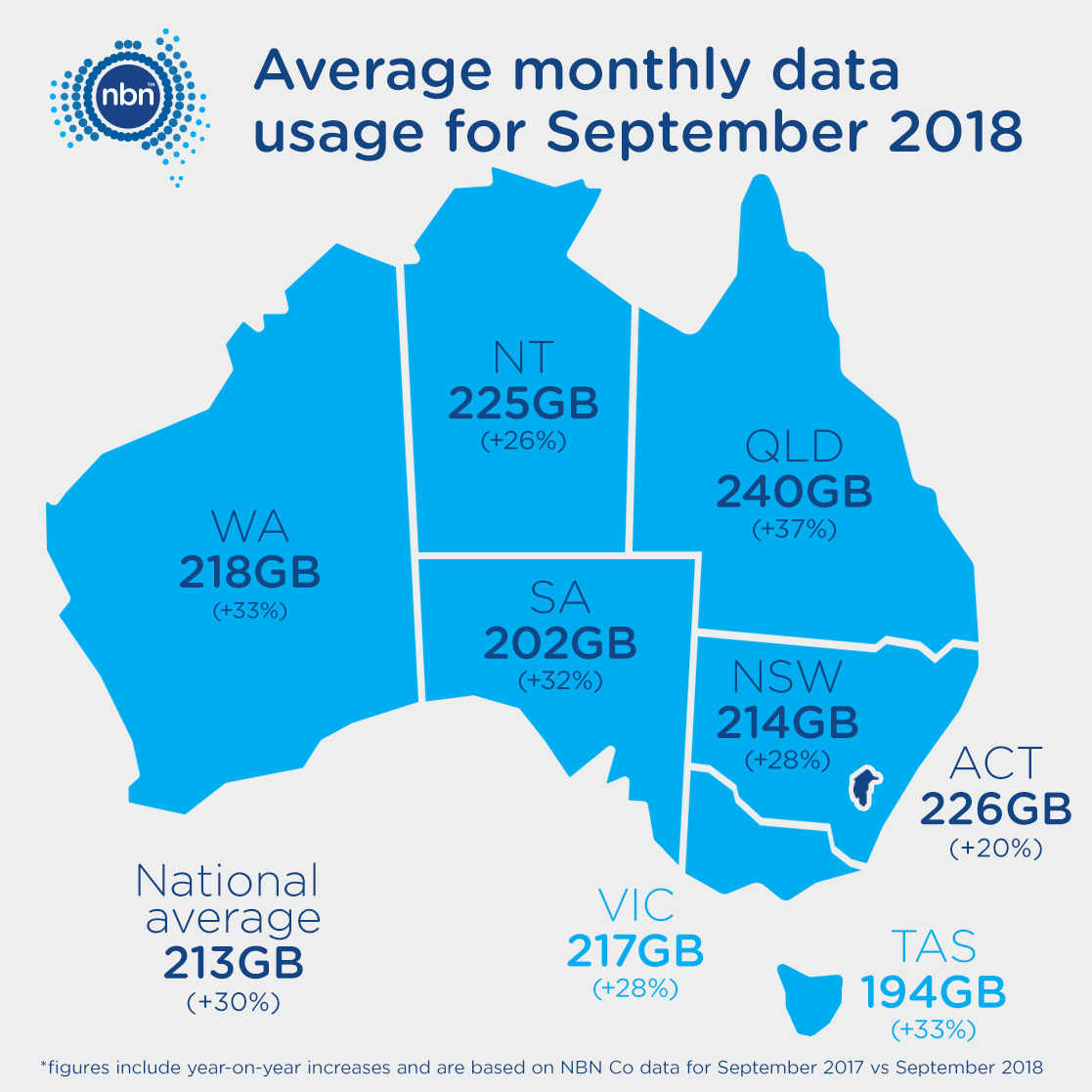 On a state-by-state basis, Queenslanders have come out on top for being the nation's largest downloaders with the average household data consumption across the big state coming in at 240GB per month thanks to a 37 per cent increase over the past year.
The top three household downloaders by state were rounded out by end users in the Australian Capital Territory and Northern Territory with average downloads of 226GB/month and 225GB/month respectively. Western Australia took out fourth place with 218GB/month, Victoria came next with 217GB/month, New South Wales tallied 214GB/month, end users from South Australia averaged a monthly total of 202GB while Tasmania rounded out the list with an average of 194GB a month.
While average household data consumption continues to climb, the mix of content and applications that people are using remains roughly the same. This typically includes live streaming, web browsing and tunnelling (usually via virtual private network technology for the purposes of security and virus protection).
Interestingly, and this was the case back in July, we continue to see end users across our fixed-line networks consuming very similar usage amounts of data each month, particularly on higher speed plans.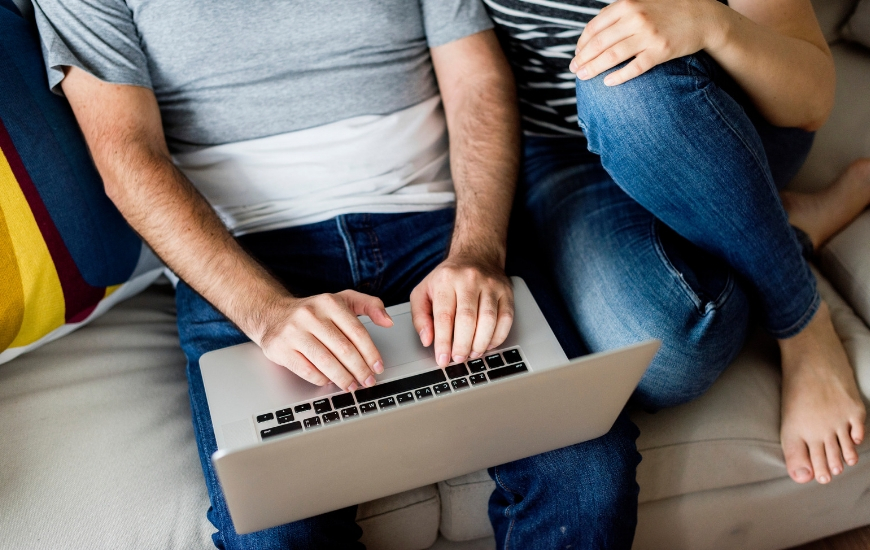 While these stats are interesting as standalone figures, they don't tell the full story of how downloads over the nbn™ access network are soaring as more and more end users move on to higher speed plans and unleash the potential benefits of access to fast broadband.
For that we can look to the success of our 'Focus on 50' promotion, which has exceeded our expectations with more than 2.4 million homes and businesses (more than half of all activated premises) on plans based on wholesale download speeds of 50Mbps* or faster today.
It's easy to see the reason for this consumption increase: when people have higher speed plans they are better equipped to make use of the many connected devices – whether that be a tablet, TV or telephone – that Australian households regularly access.
These significant leaps in data consumption come as we continue to face one of the busiest construction years we have ever tackled, and as we continually strive to get the right balance between doing our part to help deliver a quality broadband experience at the right wholesale price for phone and internet providers.
Thankfully, we are moving in the right direction and over the last 12 months we have shown what the potential of the nbn™ access network can be when the right speed plans and capacity is provisioned by phone and internet providers for end users.
We continue to build this network with one eye on the present and one on the future. We know how important it is to complete construction of the network by 2020, but we also know that the next phase to keep pace with the growing data demands of users is just as important.
Whether it's assessing the latest broadband upgrades or trialling the newest technologies, we are putting in place a big part of the broadband access backbone to support Australians' data needs into the future.

* An end user's experience, including the speeds actually achieved over the nbn™ broadband access network, depends on the nbn™ access network technology and configuration over which services are delivered to their premises, whether they are using the internet during the busy period, and some factors outside of nbn's control (like their equipment quality, software, chosen broadband plan, signal reception, or how their provider designs its network). Speeds may also be impacted by network congestion on the nbn™ Fixed Wireless network, including during busy periods. Sky Muster™ satellite end users may also experience latency.