Opening new opportunities for regional businesses
Recently, Mary Barra, the Chairman and Chief Executive of General Motors, predicted the auto industry would change more in the next five to 10 years than it has in the last 50.
I think, instinctively – particularly to those in
business
– know this: every industry from education, health and agriculture to mining and finance is on a tidal wave of change.
We are yet to hit the crest of that wave but we can feel the force of it pushing us along.
This means that businesses across the country are now facing a new set of challenges compared with a decade ago. Remaining competitive in an increasingly complex and changing digital environment means the smallest through to the largest of organisations have to be ready to respond.
To do this, businesses need access to a network that underpins their ability to navigate this technological change, which means high-speed connectivity and business continuity is no longer an expectation, it's a strategic imperative.
Providing nationwide broadband access
Until the introduction of the nbn™ broadband access network, many Australian businesses faced the same problems as households without universal access to broadband: namely, a 'Swiss cheese' kind of broadband coverage.
We are levelling the playing field by creating a wholesale access network built for all Australians, for all types of businesses, all over Australia. This means greater access to broadband solutions that fit the unique needs of your business.
Regional businesses, in particular, need this national connectivity to achieve the economies of scale necessary to compete on the international stage. As a result, we are already seeing the economic benefits that can happen when previously under-served regions and industries join the network.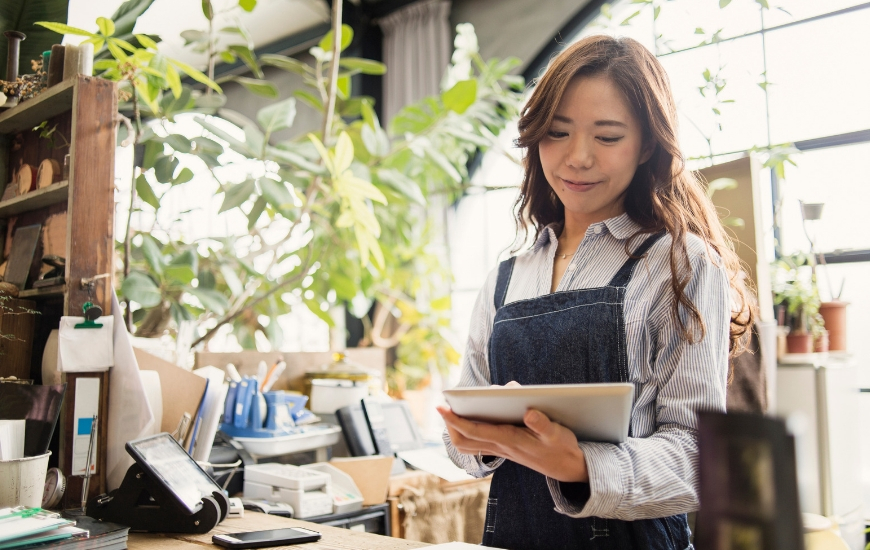 Boosting local businesses
Our research shows that growth in the number of new businesses in regions connected to the nbn™ access network accelerated at twice the pace of the national average with up to 5,400 additional new businesses created in 2017. This number is expected to grow to up to 80,000 new businesses by 2021.
With nationwide connectivity, we're seeing a growth in digital transformation emerging in regional and outer-metro tech hubs.
Take, for example, a local town such as Mount Gambier, located about 430 kilometres south-east of Adelaide. Running a small business in a regional town like this might seem like a challenge for some, but local milliner Ashlee Lauren leveraged connectivity to market her designs online from her garage-turned-studio. Ashlee propelled her small business internationally and recently unveiled her designs at New York Fashion Week.
Meeting the needs of the enterprise and government sector
We're not just supporting Australia's small business sector. Our team is continually investing and enhancing our wholesale product suite to ensure our offering is a compelling and valuable proposition for medium, enterprise and government organisations.
Today, we are pleased to announce we've furthered this investment with the launch of nbn™ Enterprise Ethernet after a year of consultation and successful industry trials with a number of service providers.
This product has been designed to meet the needs of large enterprise and government organisations by delivering wholesale symmetrical speeds of close to 1Gbps*.
This wholesale product has been developed with the specific needs of global enterprise and government organisations in mind. It is capable of delivering the service required by businesses that use data-intensive applications such enterprise network systems and cloud-based solutions.
nbn™ Enterprise Ethernet is also designed to meet an international standard capability set by the Metro Ethernet Forum, which means the new product can also benefit geographically dispersed sites through a seamless integration of networks between offices across the world.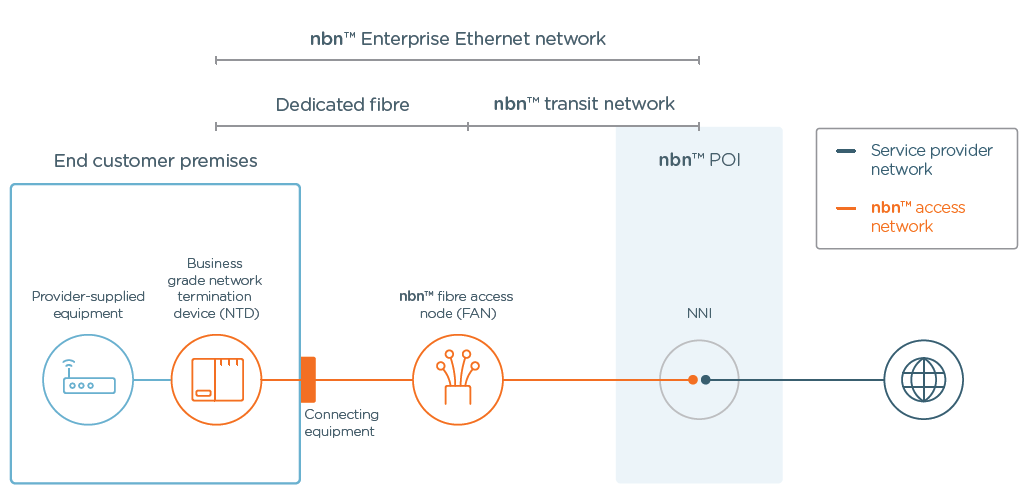 Our commitment to deliver a business-grade service model
Today, there are more than 450,000 businesses across Australia currently relying on our network to provide the underlying access network to enable them to seek out new opportunities and drive digital transformation.
We understand a critical enabler to achieve this growth is NBN Co's ability to work with the industry to deliver a network and service model fit for businesses, which is why we've progressively introduced new products, and services purpose-built for their unique needs.
In the last year, we've increased our commitment to improve customer experience on the nbn™ access network with the launch of a new Business Operations Centre, which has dedicated case managers to work with retailers to help resolve incidents and faults for business customers. We're also trialling new premium business-grade appointments, which aim to increase certainty of appointment times and reduce disruption to critical operations.
Our efforts to evolve and improve our offering does not stop here. We will continue to work with Australian businesses and our retail partners to ensure we are offering a compelling and valuable proposition to market. We are here to ensure businesses are ready to ride the wave of digital transformation, if they take the opportunity to leverage the access of network that provides the flexibility, choice and service levels required to tackle this challenge head on.
*Regardless of the retail service you purchase, the actual wholesale speeds delivered by the nbn™ Enterprise Ethernet product will be less than 1000Mbps and no more than 952Mbps due to equipment and network limitations. Your experience, including the speeds actually achieved over the nbn™ access network, depends on some factors outside our control (like your equipment quality, software, and how your service provider designs its network). If your service provider has not selected a bandwidth in the highest of three classes of service available for nbn™ Enterprise Ethernet, the speeds you experience may be affected by contention on the nbn™ access network, particularly in busy periods.
Last updated on 22 September 2020