Business agility and flex comes with digital investment
New data shows that small and medium Australian businesses are now fast-tracking their digital transformations in the wake of COVID-19 – a marked shift from pre-pandemic times.
Slow return, new people, processes and general uncertainty have been a drag for digital transformation efforts, leading many small and medium businesses (SMBs) to take an as-needed approach.
Yet since COVID-19 has forced businesses to rethink the way they work, some of these barriers have become less relevant.
As Australian businesses emerge from the effects of the pandemic and extreme weather, there are signs that the willingness to adopt tech is increasing with many more able to see the benefits from those investments faster.
In a recent nbn-commissioned Telsyte study, it was revealed that SMBs can – and are – going straight to the latest flexible, scalable and more cost-effective cloud tools. Almost half of Australian SMBs now have a cloud-first policy when it comes to tech adoption.
The Telsyte Australian Digital Workplace Study 2021 surveyed 374 ICT decision makers in organisations with up to 199 employees and found that 84 per cent of SMBs fast-tracked digital transformation strategy due to COVID-19-related disruption.
In fact, more than half (56 per cent) saw their digital strategies sped-up by more than six months as they worked to ensure business continuity.
As this acceleration took place, three quarters (76 per cent) invested in technology set ups likely to have high connectivity requirements, fast tracking the adoption of solutions ranging from cloud services to analytics and workforce health and wellbeing platforms.
A similar number (72 per cent) invested in the high connectivity required to support these new types of tech since the pandemic.
Increased productivity, agility and the flexibility of working from home were the top three outcomes that businesses reported the tech investments made. The outstanding question for leaders of small and medium businesses today is, 'How can I further refine and execute on a roadmap in a considered and cost-effective way?'
Planning for IT investment
The data uncovered other insights, and it's clear that connectivity is seen as a key factor for a successful business.
More than half (54 per cent) of all high-connectivity SMBs are excited to learn about the next new tech investments that can be applied, and this rises to 65 per cent within organisations from the hospitality and services sector.
Telsyte's research showed that fast connectivity is seen as critical for employee productivity, with 65 per cent of high connectivity SMBs identifying it is critical for this reason.
The appetite for further investment in tech tools is clear, although one in five (18 per cent) of small businesses with a digital strategy are not adopting technology strategically.
"As we look ahead, small and medium-sized businesses should continue to prioritise investment in digital innovation to power their growth and agility," says Foad Fadaghi, Managing Director and Principal Analyst at Telsyte.
Foad Fadaghi, Managing Director and Principal Analyst at Telsyte
"But, in doing so, it's critical that SMBs have a coherent strategy underlying their organisation's digital transformation. An SMB moving forward without this could run the risk of underwhelming – or worse yet, counterproductive – IT transformations.
"Without the network optimisation to ensure the right connectivity, productivity and experience for both employees and customers using these solutions can take a hit as more pressure is placed on the network – and so too can a small business's return on investment in digital innovation."
While ever evolving, the nbn™ network has become Australia's digital backbone, able to support businesses of all sizes to harness new digital capabilities.
By delivering a network that is flexible, scalable and responsive, business nbn™ solutions from service providers are supporting organisations working to achieve their digital transformation goals.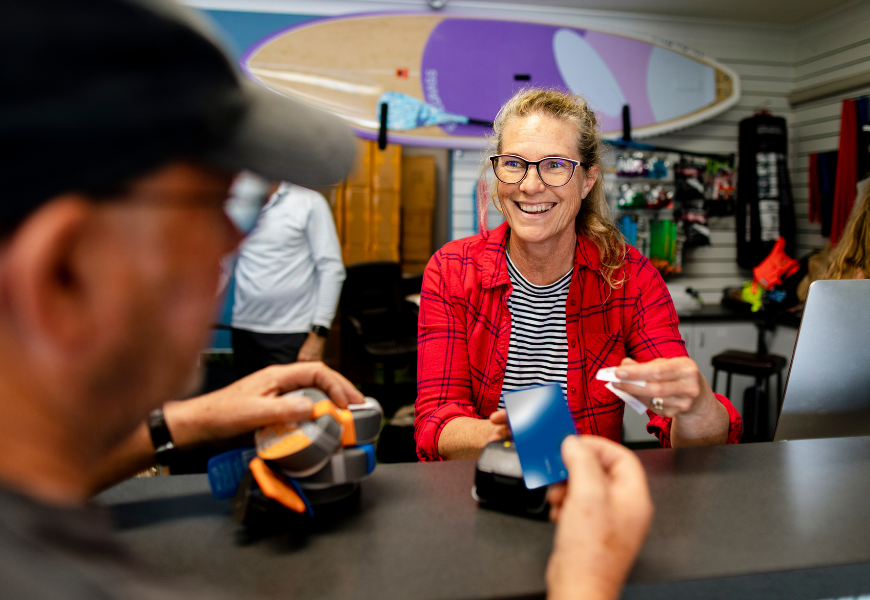 Business-grade fibre upgrades are now available to more than 90 per cent of Australian business premises, enabling access to plans based on wholesale business grade features, such as high upload capacity and prioritised data to service providers, that support a greater return on investment in digital transformation.*
Today, some two-thirds of SMBs are looking to invest in enhanced connectivity, with high upload capacity and prioritised data options.
Those in makers and builders industries are most likely to say that their connectivity is currently under strain (79 per cent), followed by hospitality and services (71 per cent), consultants (68 per cent), and educators and carers (54 per cent).

By making strategic tech investments, and with the right connectivity on the nbn™ network as the digital foundation, businesses can look forward to tapping into new and potentially game-changing approaches in the pandemic recovery phase.*
* Business-grade fibre (nbn™ Enterprise Ethernet) is only available in the nbn™ Fixed Line network footprint and at limited premises served by the nbn™ Fixed Wireless and Satellite networks. Your experience, including the speeds actually achieved over the nbn™ network, depends on the configuration over which services are delivered to your premises, whether you are using the service during the busy period, and some factors outside of nbn's control (like your equipment quality, software, chosen broadband plan or how your provider designs its network). If your service provider has not selected a bandwidth in the highest of three classes of service available for business nbn™ Enterprise Ethernet, the speeds you experience may be affected by contention on the nbn™ network, particularly in busy periods.