Broadband helps family winery take on the world
Discover how access to business nbn® Enterprise Ethernet is helping 75-year-old Griffith-based winery, Calabria Family Wines, compete on a global scale.
nbn has created 304 business nbn fibre zones across the country to date, with a third of those in regional areas.
Powered by Enterprise Ethernet, these zones give businesses access to symmetrical speeds – equally fast upload and download speeds – with the same pricing in CBD and regional locations.*, †
By increasing access to our higher wholesale speed tiers, we are clearing the way for more people in Australia to experience and enjoy the power and capability of the nbn network.
A great example is Calabria Family Wines.
Based in Griffith, New South Wales (Wiradjuri Country), the multi-generational family business began life more than 75 years ago as a way for Italian immigrants Francesco and Elisabetta Calabria to share homemade wine, like they enjoyed in the 'old country', with family and friends.
From such humble beginnings, Calabria Family Wines has grown over the decades into a thriving enterprise with multiple locations across Australia that produces and distributes award winning wines to the world.
While immensely proud of his family's wine-making traditions, third generation winemaker Michael Calabria says it is access to Enterprise Ethernet services that has really allowed Calabria Family Wines to compete on the global stage.
Michael Calabria from Calabria Family Wines
With 130 employees across Australia, along with sales and support staff based overseas, the business relies on business nbn fibre connectivity to perform a range of tasks.
This includes everything from connecting far flung staff via an integrated internet enabled phone system and regular video conference calls to customer service, in-house marketing and design, and pulling sales data from the cloud.
"It's (Enterprise Ethernet) been the best thing we've probably ever done as a company with the modern era of technology and cloud-based programs that we use," says Michael. ‡
Along with his three siblings, Michael is responsible for running the winery, with some guidance from their father Bill, who helped build the business into what it is today.
"I left school at 13 and started making wine," says Bill, Director at Calabria Family Wines, who followed in the footsteps of his father, Francesco.
"Now we're at the stage where I've got four children – Frank, Michael, Andrew and my daughter, Elizabeth – they all run the winery.
"They're taking it to the next generation and I'm very proud of them."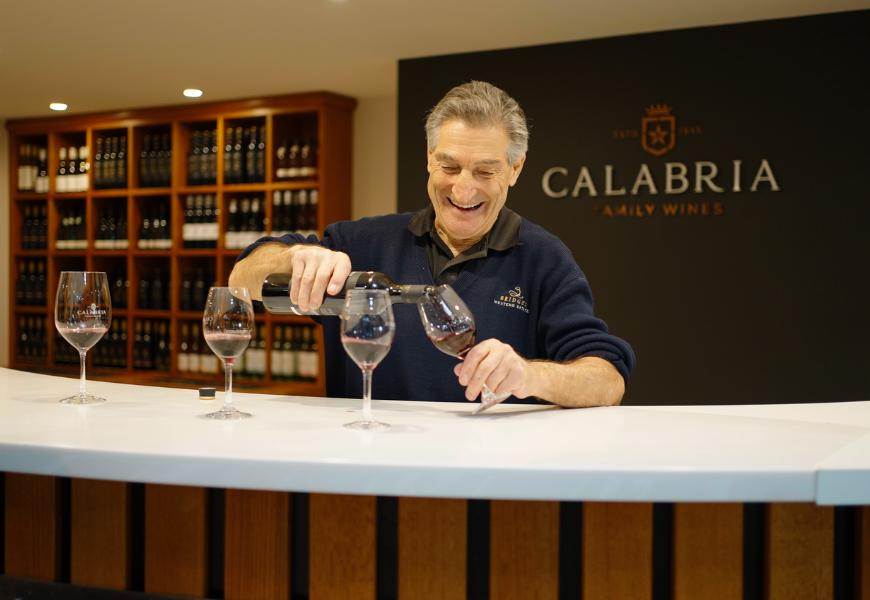 Bill Calabria from Calabria Family Wines
Calabria Family Wines has enjoyed rapid growth off the back of a strong overseas export market, expanding from a small wine crush processing 100 tonnes of fruit per year to more than 30,000 tonnes, backed up by a highly sophisticated bottling line capable of producing up to 15,000 bottles an hour.
"We produce it all, get it in the glass, package it all up, and then we run it out of our distribution centres and that goes around Australia, or we export to the destination countries," says Michael.
Lifting the digital capability of Australia
Now aged in his 70s and steeped in the rich traditions of wine making, Bill admits to still using a 'pencil and a rubber' as part of taking care of business.
He is by no means wedded to the past however, and fully grasps the power of Enterprise Ethernet broadband access to unleash the full potential of the family's business.
"If we don't keep up to date with technology, we're going to get left behind and, obviously, we're not going to do the job right," says Bill.
Gavin Williams, Chief Development Officer, Regional and Remote at nbn
Gavin Williams, Chief Development Officer, Regional and Remote at nbn, could not agree more.
"There's no part of the economy that's immune from the digital transformation," says Gavin, who recently paid a visit to Calabria Family Wines to see first-hand how access to Enterprise Ethernet is helping the business take its wines to the world.
"If you're going to compete on a global scale, you need globally competitive infrastructure," says Gavin.
"So, with nbn Business Fibre Zones, we deliver that to regional businesses so that they can reach their full potential."
* nbn is a wholesaler and does not control costs charged by service providers. Customers should contact their preferred service provider to ask about availability and any fees and charges from their provider that may be applicable. These pricing offers are not available for most premises in the nbn® Fixed Wireless or Satellite footprints or for most premises which have complex connections – further costs are likely to apply to these premises.

† business nbn® Enterprise Ethernet is only available in the business nbn Fibre Zones, nbn® Fixed Line network footprint and at limited premises served by the nbn® Fixed Wireless and Satellite networks.

‡ nbn is very happy with Calabria Family Wines' experience with the nbn® network. Of course, end customer experiences may vary. An end customer's experience, including the speeds actually achieved over the nbn® network, depends on the nbn® access technology and configuration over which services are delivered to their premises, whether they are using the internet during the busy period, and some factors outside of nbn's control (like their equipment quality, software, chosen broadband plan, signal reception, or how their provider designs its network).