Walking in two worlds with dignity and confidence
nbn is supporting the efforts of an innovative bilingual school in remote North East Arnhem Land inspiring cross-cultural confidence in First Peoples' students.
nbn's vision for reconciliation includes deepening relationships with First Nations communities, creating opportunity and helping to lift digital capability.
With this in mind, nbn employees reached into their own pockets recently to donate almost $20,000 to help support the remote Dhupuma Barker school in North East Arnhem Land.
The bilingual school – located on Gumatj land belonging to the Yunupingu, Burarrwanga and Munungirritj groups – blends the Australian national curriculum with traditional Yolngu teachings for 35 students ranging from kindergarten to year six.
The money will help provide much-needed equipment and courses, including musical instruments, sports clinics and literacy programs.
Dhupuma Barker teacher Tom Spencer says such tangible support makes a real difference to his students' lives.
"They love their art, they love their sport, they love their music.
"Anything that engages these kids and makes them want to come to school again the next day, that's what we do."
At our recent National Reconciliation Week employee event.
From left to right: Gavin Williams, Chief Development Officer – Regional and Remote at nbn; Dan Johnson, Jawun secondee and Senior Manager, End User Services at nbn; Jeff Smith, Jawun secondee and Service Experience Business Partner at nbn; Sally Kincaid, Chief People and Culture Officer at nbn; and Che Cockatoo-Collins, Executive Manager, Indigenous Affairs at nbn.
Dhupuma Barker is part of a wider education initiative led by the Yothu Yindi Foundation that enables on-Country learning for Yolngu people from early childhood education through to university.
The aim of the program is to build students' English language skills, alongside a foundation in their own language and culture that empowers them to 'walk in two worlds with dignity and confidence'.
Some nbn employees have also experienced life in the Gunyangara community as participants in nbn's secondment partnership with Jawun.
An innovative non-profit organisation, Jawun increases the capacity of First Peoples' leaders, organisations and communities to achieve their own development goals by placing secondees from Australia's leading companies and government agencies into First Peoples' organisations.
Our First Peoples' partnership with Jawun gives our people the opportunity to spend up to six weeks virtually or on country, working with Indigenous organisations.
Secondees use their skills and expertise to help support the organisations, located in 12 regions across the nation, to achieve their aims.
Participants, meanwhile, walk away from their involvement with a deeper appreciation and understanding of First Peoples' communities.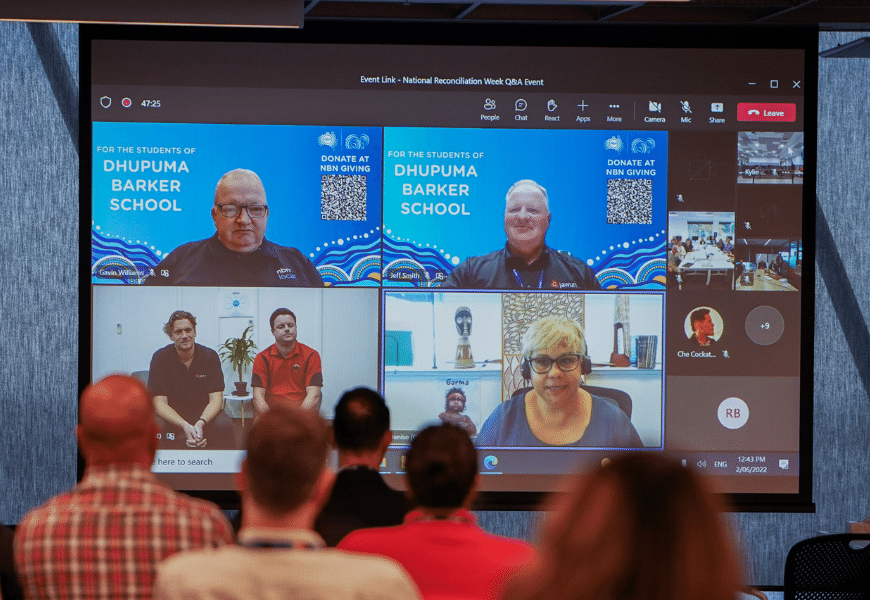 An nbn employee event during National Reconciliation Week featuring the Yothu Yindi Foundation and Dhupuma Barker school.
Gavin Williams, Chief Development Officer – Regional and Remote at nbn, says support for initiatives, such as Dhupuma Barker school and nbn's ongoing secondment partnership with Jawun, are part of the company's commitment to First Peoples, articulated in nbn's Reconciliation Action Plan (RAP).
"Working with First Peoples is so crucial to our purpose of lifting the digital capability of Australia," says Gavin.
"nbn's vision for reconciliation is to be deeply engaged and connected with First Peoples' cultures and aspirations for digital inclusion, and actively supporting cross-cultural educational initiatives, such as Dhupuma Barker and Jawun, are very tangible ways to achieve this."
We have released our fourth Reconciliation Action Plan and launched nbn® Liakukana Connect, an internal network to bring our First Peoples employees together and support mentoring and leadership growth opportunities.

Last updated on 02 August 2022