Agribusiness connectivity and customer experience
As an established agribusiness serving primary producers, McGregor Gourlay recently turned to a high-speed solution over nbn® Enterprise Ethernet from provider Field Solutions Group to help its customers get more from their data.†‡
For more than 120 years, McGregor Gourlay has provided products and services to help Australian primary producers deliver bountiful harvests and herds.
With a dedicated team of 130 employees in 13 locations across the country, McGregor Gourlay consults on water management, cultivating livestock and horticulture, and providing access to agronomists with expertise in the science and technology of producing plants for fuel, food, and other purposes.
As primary producers are rapidly turning to technology and data to deliver better yields, McGregor Gourlay recently needed network support to help deliver those services and solutions needed for the lives and businesses of its customers.
Say hello to Agriculture 4.0
"City folk can often have this belief that farmers and growers in rural areas are simpler and don't really know how to use technology – but nothing could be further from the truth," says Allan Every, Group Systems and Processes Manager at McGregor Gourlay.
"We've probably got more innovative technology in our backyards than your average business in the city."
According to Austrade*, there are more than 300 startups, scaleups and enterprises aimed at the agtech and foodtech sectors, with Australia one of the ideal testing grounds for new technologies to deploy around the world due to its strong research capabilities and mix of soils, climates and production systems.
And agritech is an industry that has "the potential to add $40Bn per annum value accretion to the Australian economy", says the Australian Agritech Association, of which nbn is a founding member and which is dedicated to building a prominent agritech sector.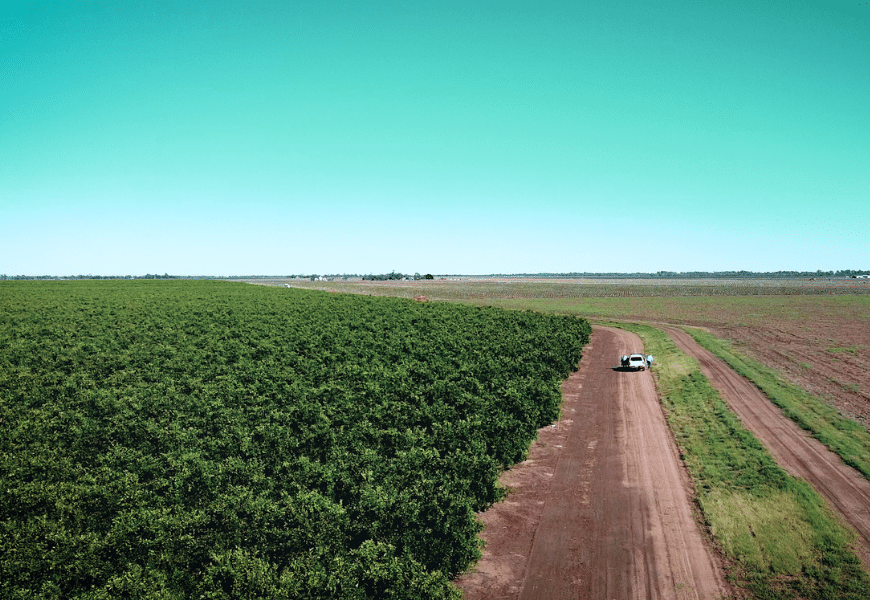 Real-time data collection is becoming business critical for primary producers and this is being enabled with technology ranging from livestock monitoring tags to moisture sensors and digital water management tools.
Further solutions, like satellite technology to map pasture growth and density, Software as a Service (SaaS) solutions to analyse data and predict patterns for optimal outcomes, and the Internet of Things (IoT), have changed the way producers take their products to market.
It's clear that leaders in Australia's agribusiness sector, like McGregor Gourlay, are championing innovative technologies and improving efficiency and sustainability across the supply chain.
Research by nbn and AlphaBeta found that internet-enabled digital agriculture has the potential to add $15.6 billion per year to the value of Australian agriculture by 2030 (Connecting Australian Agriculture, November 2021) – and the nbn network is poised to play a key role in making this a reality.
An effective and efficient solution
McGregor Gourlay needed a solution for a number of sites to help its customers achieve their digital transformations, says Greg McCormack, Head of Business Development at Field Solutions Group (FSG).
"With business nbn® Enterprise Ethernet, we found a suitable solution that let us get on with modernising their business further."
FSG specialises in connecting regional Australia to help bridge the technology gap between rural and metropolitan areas – and with business nbn® Enterprise Ethernet connectivity, FSG is able to offer more innovative technology solutions to its customers in rural locations.
As part of its digital transformation plans, McGregor Gourlay wanted to shift to SaaS and cloud applications to help productivity. With the improved network reliability of Enterprise Ethernet, this is possible.†
FSG is helping to migrate McGregor Gourlay across to cloud-based application servers for enterprise resource planning and disaster recovery. The McGregor Gourlay team can now tap into a SaaS-based business intelligence tool to help draw on its business data to serve customers more efficiently.
Nurturing and growing the business
With a shift to Enterprise Ethernet, the team at McGregor Gourlay is enjoying the benefits of a reliable network and new technology.
"We've seen a significant improvement to both our employee and customer satisfaction rates since connecting to our high-speed solution over business nbn Enterprise Ethernet," says Allan.
"Before, we could only dream of having all of our team connect up through video conferencing. If just one staff member attended via video conference, it used to cause us connectivity problems, impacting productivity. Now everyone can attend, and our staff members are set up to win, so they can do their jobs easily with more efficiency."
Since the introduction of the nbn network, customers in regional and rural Australia have experienced benefits to the way they live and work, bringing economic and social opportunities to many.
And the results speak for themselves.
"At our staff annual reviews, the lack of connectivity that met our needs always came up as an issue, but since we've connected to our high-speed solution over business nbn Enterprise Ethernet, we've not heard one bad word."
McGregor Gourlay is now equipped with a modern fleet of business tools that empower the team to liaise with producers around their own digital technology solutions. Together with their Enterprise Ethernet solution, they can help farmers and growers to achieve their very best outcomes.
Supporting Connected Agriculture
nbn is a founding member of the Australian Agritech Association, the peak body representing agritech developers in Australia. Today, nbn is investing almost $1 billion to continuously improve regional telecommunications that help regional Australians access improvements to the connectivity needed for the digital economy.
Our report on Connecting Australian Agriculture, in partnership with National Farmers' Federation, highlights the impetus we can expect internet-based digital technology to have on the agricultural sector. The nbn network can help contribute numerous benefits, including saving time, boosting productivity and powering more informed decisions in farming.
*
Why Australia for Agriculture 4.0

†
nbn
is very happy with McGregor Gourlay's experience with the
nbn
™ broadband access network. Of course, end customer experiences may vary. Your experience, including the speeds actually achieved over the
nbn
™ broadband access network, depends on the
nbn
™ access network technology and configuration over which services are delivered to your premises, whether you are using the internet during the busy period, and some factors outside of
nbn
's control (like your equipment quality, software, chosen broadband plan, signal reception, or how your provider designs its network). Speeds may also be impacted by the number of concurrent users on the
nbn
™ Fixed Wireless network, including during busy periods. Satellite end customers may also experience latency. For business
nbn
™ Enterprise Ethernet, if your service provider has not selected a bandwidth in the highest of three classes of service available for business
nbn
™ Enterprise Ethernet, the speeds you experience may be affected by contention on the
nbn
™ network, particularly in busy periods.

‡
business
nbn
Enterprise Ethernet is only available in the
nbn
Fixed Line network footprint and at limited premises served by the
nbn
Fixed Wireless and Satellite networks.