Life on Red Hill: how internet helps on the farm
On a vast cattle farm in North Queensland, the Strettons are using internet via the Sky Muster™ satellite service to help with high-density rotational grazing.
Kylie Stretton and her husband Shane run a livestock agency and Red Hill Station, a 13,000-acre cattle property, 40 kilometres as the crow flies northeast of Charters Towers.
One of their highest priorities is to improve the vibrancy of our natural environment and they use high-density rotational grazing methods to achieve this.
The property has a variety of red dirt, Burdekin River flats, Northern Goldfields country, black soil with basalt, and spinifex.
"We have all these land types on our property that all need different management, and this is where things like the internet and mapping comes into play because we really need to know how each parcel of land needs to be managed properly," says Mrs Stretton.
"We are moving into an era where we have to prove ourselves that we are doing things really well and at best standards for industry. With the help of technology, such as mapping and satellite imagery, and using that data we can prove that we are really top of the game when it comes to raising beef around the world.
"Putting collars on cattle, rather than having to build real fences, we can do all this via the internet, which is a lot easier for me because I can't go and shift a fence for us to practice high density grazing. I can't shift it physically, but I can shift it on a computer."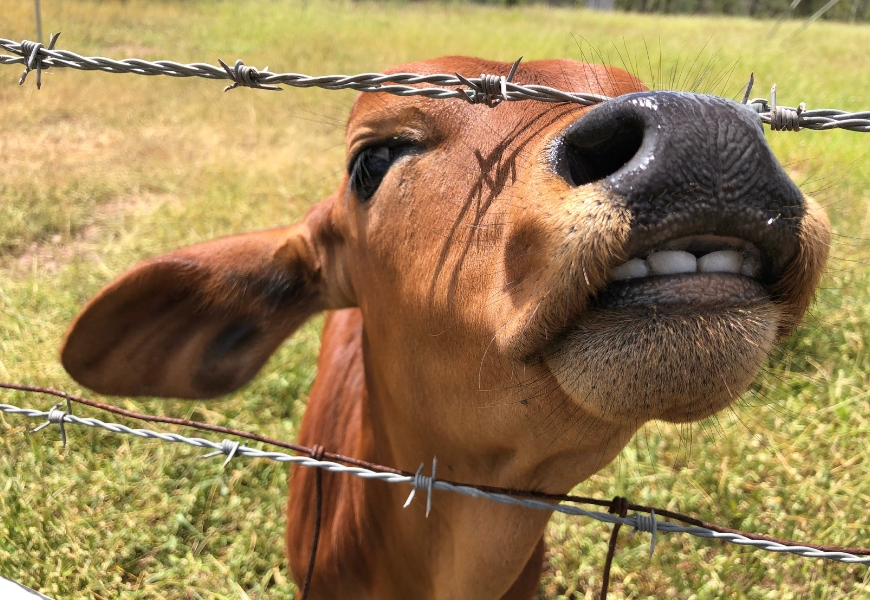 One of Red Hill Station's friendly cows
Stretton says she has been very pleased with the performance of NBN Co's Sky Muster™ satellite service.*
"Sky Muster™ has actually worked really well for us. I was a little bit tentative about it to start off with, but obviously the past few years it's just getting better and better, and since we have moved here Sky Muster™ has actually been great.*
"It's been our most reliable source of communication, been much better than our old radio phone and much better than our mobile phone.*"
Stretton says that, at Red Hill, they recently received nearly their annual rainfall within 10 to 13 days and Sky Muster™ did not falter.* Her images and videos on the rain event were shared around the world.
Kylie Stretton is co-founder of Better Internet for Regional, Rural and Remote Australia (BIRRR) and the Chairperson of the NFF Telecommunications and Social Policy Committee.
She runs Life on Red Hill on Facebook, documenting her family's day to day farming life.
*nbn is very happy with Kylie Stretton's experience with the nbn™ broadband access network. Of course, end user experiences may vary. An end user's experience, including the speeds actually achieved over the nbn™ broadband access network, depends on the nbn™ access network technology and configuration over which services are delivered to their premises, whether they are using the internet during the busy period, and some factors outside of nbn's control (like their equipment quality, software, chosen broadband plan, signal reception, or how their provider designs its network). Speeds may also be impacted by the number of concurrent users on the nbn™ Fixed Wireless network, including during busy periods. Sky Muster™ satellite end users may also experience latency.